Table of Contents
Symptoms of a corrupted SD card
SD card is a very light and compact portable storage device, which is often built into various portable media devices. The SD card itself has both external characteristics such as sturdiness and impact resistance, and internal characteristics such as fast reading and writing and large space. With the advancement of technology, the popularity of SD cards in all walks of life is very high, whether in life or work, SD cards are widely used. SD card has greatly improved work efficiency, and now most of the work is inseparable from SD card. When SD card is corrupted, the following symptoms may occur:
1. The partition cannot be opened and shows an error message as below. Location is not available. Drive is not accessible. The file or directory is corrupted and unreadable.
2. SD card cannot be opened and reports an error, shown as following picture. You need to format the disk in drive G: before you can use it. Do you want to format it?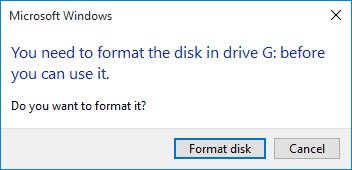 3. SD card partition cannot be opened and it prompts following error message when you try to open it. Location is not available. Drive is not accessible. The parameter is incorrect.
4. The SD card cannot be accessed in Windows File Explorer, and reports "Location is not available. Drive is not accessible. The volume does not contain a recognized file system. Please make sure that all required file system drivers are located and that the volume is not corrupted."

5. SD card displays 0 bytes, and the file system becomes RAW format.
6. SD card read and write speed slows down, and partition disappears.
Why does SD card get corrupted?
The corrupted SD card mainly refers to partition damage, to be precise, file system of the partition is damaged. The file system is responsible for recording the storage method and location of data. When file system is damaged, operating system cannot read the records in file system, and thus it cannot access data in the partition. The following may cause damage to file system.
Unstable USB port. When you transfer data to SD card on the computer, if there is any looseness issue on the USB port, or the SD card is pulled out before data transfer is completed, it is very likely that the SD card will get corrupted, and files get lost.
SD card infects virus. When SD card is infected with a virus, files on the SD card may become damaged or lost, files cannot be access properly, such as garbled characters, failure to open normally, and loss.
Fake SD card. For example, the actual size of the SD card is 8G, but it is marked as 16G. When data stored by user exceeds 8G, the data exceeding the actual capacity will become corrupted or lost.
Logical damage. When partition table of the SD card is damaged, or there is a problem with the file system, data in the SD card will be affected. In this case, the SD card may prompt to be unformatted, cannot be recognized by Windows, or cannot be opened by double-clicking its drive letter.
SD card is physically damaged. Physical damage means that the hardware of the SD card is damaged. When components of the SD card are physically damaged, it cannot be fixed by software, and you need to seek technical help from professionals.
How to recover photos from corrupted SD card?
When SD card is corrupted, please do not try operations such as formatting, defragment, chkdsk, etc. Otherwise, lost data will not be restored with original directory structures.
It is actually very easy to recover pictures from an inaccessible SD card that is logically corrupted. You can use data recovery software like DiskGenius to easily recover lost photos from SD card which is corrupted or formatted with ease. DiskGenius is powerful data recovery software that has accumulated millions of downloads across the world, and it is loved by both novices and professionals. DiskGenius provides specialized functions to quickly recover data from corrupted partitions. The following is a step-by-step tutorial of recovering photos from corrupted SD card.
Step 1: Download DiskGenius, and then install and run the software.
Free download the latest version of DiskGenius from the official website, and you can install and launch it on your computer easily.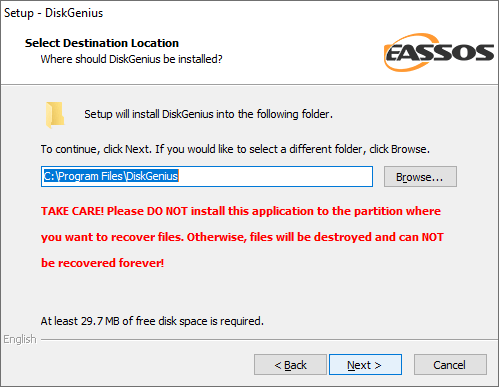 Step 2: Select the corrupted SD card containing pictures that you want to recover, and then click the "File Recovery" button.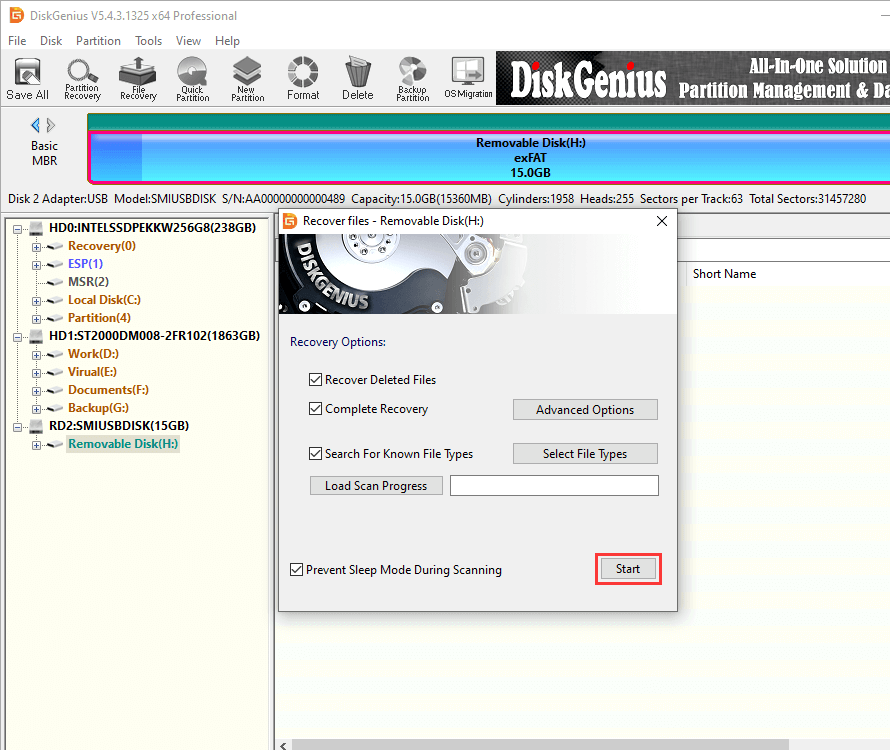 Click the "Start" button on the pop-up file recovery window to let the software start a complete scan of this partition.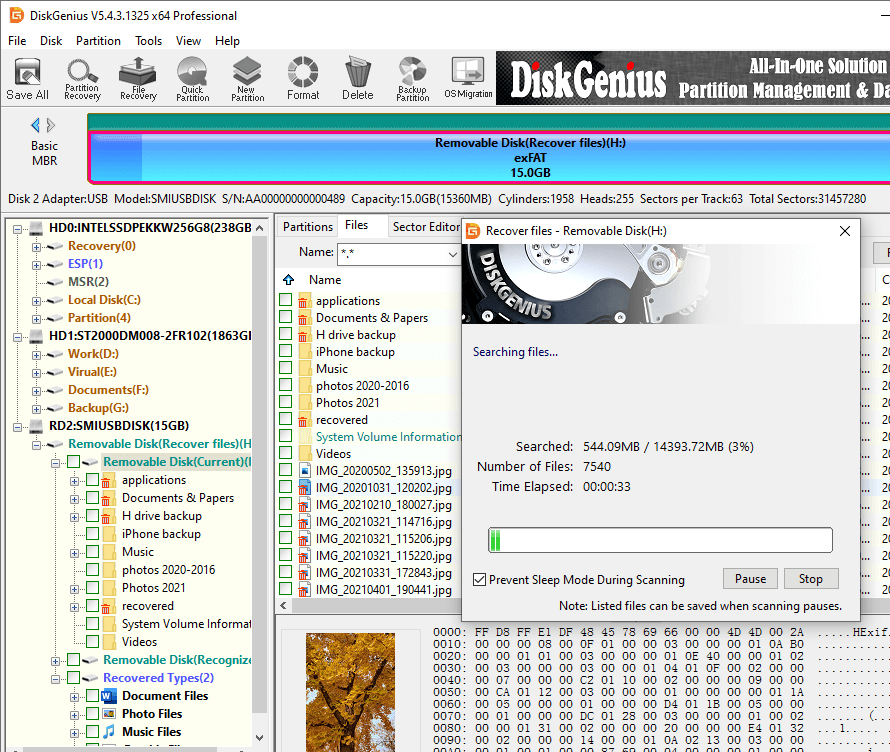 Note: For severe damage to the original directory structure, it is recommended to check the "Search for Known File Types" option. In this way, the software will perform an in-depth scanning for lost data. even when the original directory structure is damaged, DiskGenius is still able to find out as much data as possible.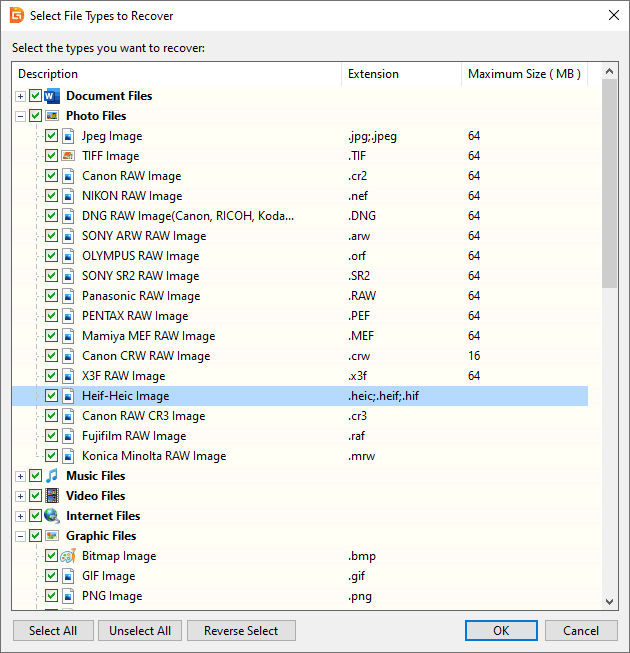 Step 3: Preview files listed in the scan result.
After scan is completed, you can view and preview lost data in the software, which helps you check whether desired data is found and whether lost data is damaged. Double-click a file or right-click it and select "Preview" to open the preview window where you can view file content with original quality.
As shown in the picture below, the JPG image file can be previewed normally, which indicates that the file is not damaged. That means this file can be opened normally after it is finally recovered.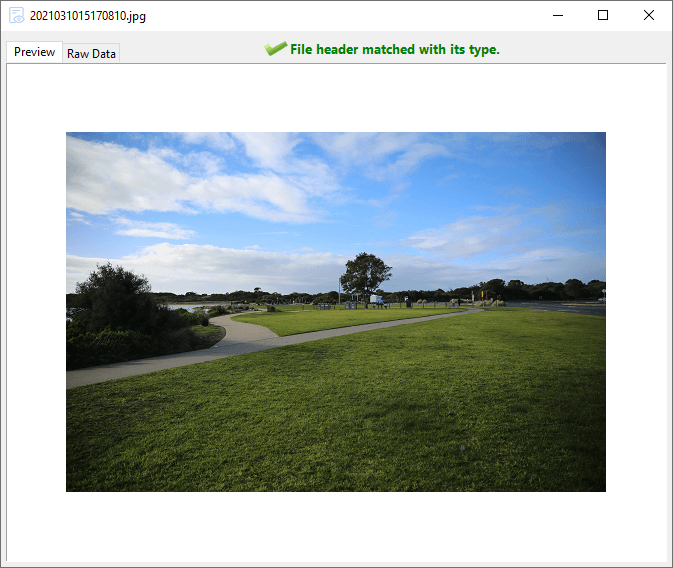 Step 4: Copy photos that you need to other disks.
Tick photos you want to recover in the scan results, right-click selected files and select "Copy To" option. After that, you can follow prompts of the software to select a location in the computer and save recovered photos.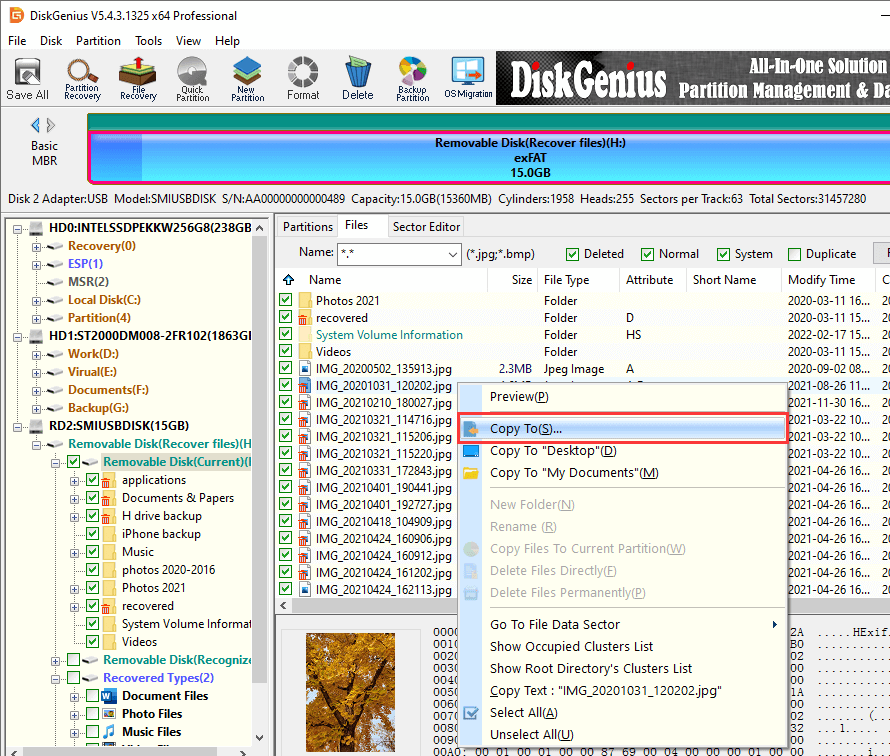 Conclusion
The above is the solution to recover photos from corrupted SD card. When you encounter similar problems, don't panic, just follow the method in this article and you can get back lost files easily and safely.