Table of contents:
Can a corrupted USB be fixed?
A USB drive can be a pen drive, thumb drive, USB stick, jump drive, an SD card with a card reader, USB flash drive, etc. which helps you store, back up or transfer data between computers. The big problem while using a USB drive is that it may get corrupted or damaged. The consequence of a corrupted USB drive is losing data.
How to tell if the USB flash drive needs to be repaired? When you insert the USB drive to computer, a message box pops up automatically telling some error message such as "You need to format the disk in drive before using it. Do you want to format it?" "The parameter is incorrect" "Location is not available. Drive is not accessible. The volume does not contain a recognized file system. Please make sure that all required file system drivers are loaded and that the volume is not corrupted." "Please insert disk into removable disk" "USB device not recognized or malfunctioned". On top of that, the file system of the USB drive is RAW instead of FAT32 or exFAT.
In most cases, the USB flash drive corruption is a logical level problem that can be repaired with simple steps. The USB repair tool can be Windows built-in tools like Command Prompt, Disk Management, etc. The problem is that these repair processes often result in the loss of flash drive data. What should I do if there is important data in the corrupted USB flash drive? Recover data first and then repair the USB drive.
How do I fix an unreadable USB with USB repair tool in Windows 10?
Disclaimer: USB flash drive repair is not a means of data recovery, and there is a possibility that USB flash drive repairing process may destroy data. If there is important data in the USB flash drive, please back up the data or recover data in advance before trying the repair methods below.
Free download USB repair tool & data recovery software
USB repair tools are designed to check and repair errors on USB devices such as pen drive, flash drive, memory card, USB disk drives, etc. When you google "USB repair tool" or "Windows repair USB", you will find numerous results that claiming to support repairing damaged USB drive. However, Windows OS provides repairing tools as well, and these tools are free of charge. The only shortcoming is that data recovery is not available.
If you prefer third-party repairing tool to Windows built-in tools, then try DiskGenius which covers a wide range of features regarding data recovery, data backup, disk utilities, etc. With DiskGenius, you can easily restore lost data from corrupted or RAW drives, check and repair bad sectors, clone disk with bad sectors, erase USB drive/SD card/HDD data permanently, format 64GB and larger USB drive to FAT32, and more.
Fix #1: Check or repair bad sectors for the USB drive
DiskGenius supports to scan both internal and external drives to verify if there are bad sectors. The bad sector checking process is safe to use, as the process is read-only and does not affecting files on the USB drive. However, if you want repair bad sectors, then backup or recover data first.
Step 1. Launch DiskGenius Free Edition, select the drive you want to scan for bad sectors, and click "Verify Or Repair Bad Sectors" option from "Disk" menu.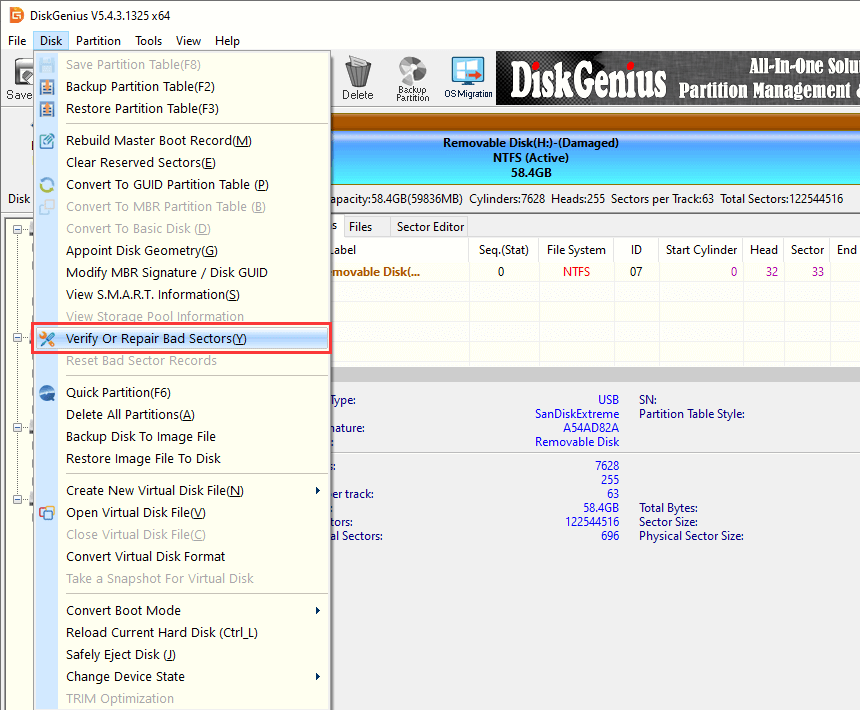 Step 2. Click "Start Verify" button and the program starts to scan the drive.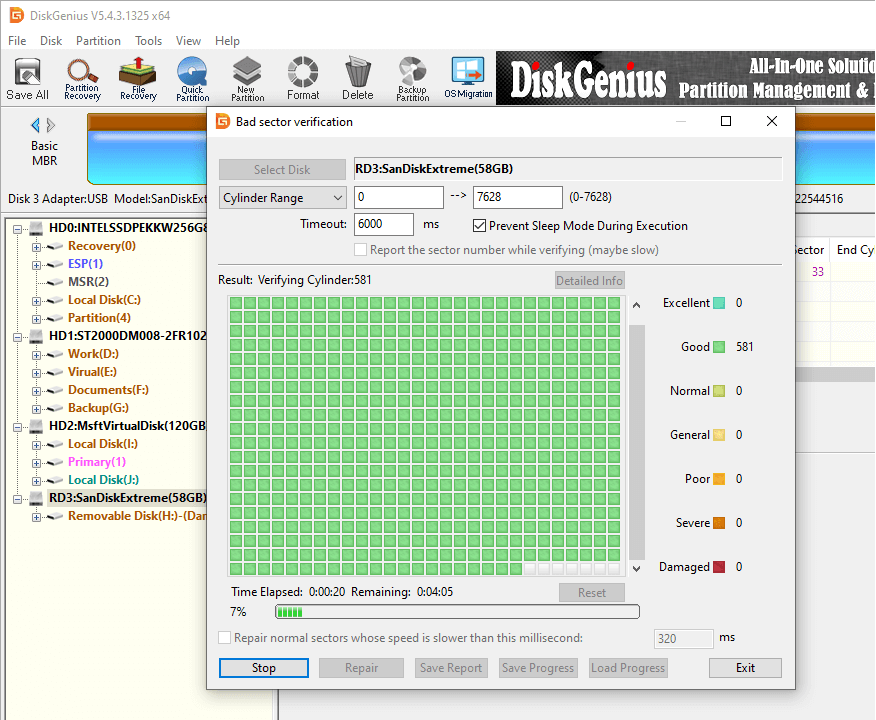 Fix #2: Use disk checking tool in Windows File Explorer
Step 1. Insert the damaged USB flash drive to computer USB port, and open Windows File Explorer.
Step 2. Right-click the USB drive and choose "Properties" option.
Step 3. On the pop-up box click "Tools" tab and click "Check" button under "Error checking section"
Step 4. Click "Scan and repair drive" and wait for the error checking process to finish.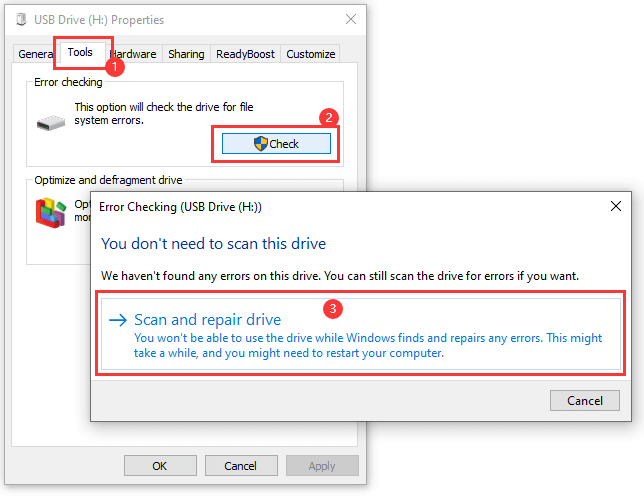 Fix #3: Format the corrupted drive to FAT32/NTFS
Step 1. Right-click "Start" button and choose "Disk Management".
Step 2. Find the drive you want to repair, right-click it and choose "Format" option from the appeared menu.
Step 3. Select a file system type based on your requirement and click "OK" button.
Step 4. Formatting the drive will erase all data on it. Back up any data you want to keep before formatting. Click "OK" button to start the formatting process.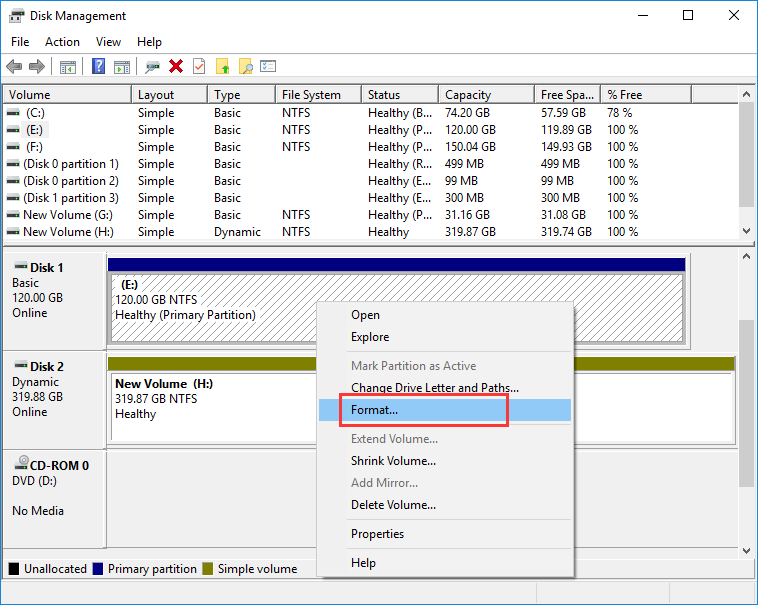 Fix #4: Repair corrupted drive with diskpart
Step 1. Type cmd in the searching box next to Start menu, and you will find "Command Prompt" in the searching result. Click "Run as administrator".
Step 2. Type diskpart and press Enter key.
Step 3. Type following commands one by one, and press Enter key after each command.
List volume
Select volume # (please replace # with the volume number you want to repair)
Format fs=FAT32 quick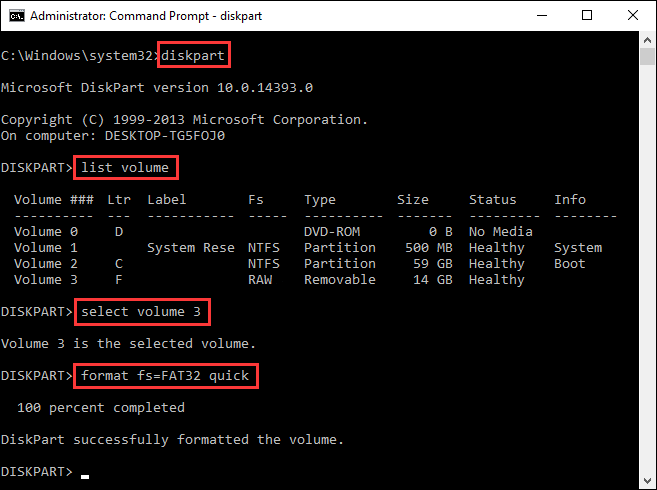 USB drive physical problem
How to tell if the USB flash drive is suffering from physical damages? The USB drive cannot be detected by computer, the drive cannot be formatted by Windows, it freezes computer, the drive is full of bad sectors, etc.
It's hard to keep USB drives away from physical problems, as all storage devices have a lifespan, which means the hardware-mechanical problem is inevitable. When a USB drive had a hardware failure, it is usually the controller, firmware, pins of the USB connector or the chip gets broken.
USB repair tools for physical problem is not available for downloading, for they are usually physical machines instead of software. If you seek to recover data from such USB drives, you will need to send the drive to the data recovery company.
How to recover data from corrupted USB drive?
DiskGenius is reliable USB repair tool and data recovery software, and it is the best option to deal with corrupted, RAW or unreadable USB drive, hard drive and external hard drive. The file recovery feature can safely retrieve lost files from formatted or damaged drives for you. Still, you can also use it to format the corrupted USB drive to FAT32 regardless of its capacity, check and repair bad sectors, etc.
Steps to recover lost files from corrupted, unformatted, damaged or inaccessible USB drives:
Step 1. Download and install DiskGenius on your computer and connect the USB drive that needs file recovery to computer as well.
Make sure the USB drive can be deleted by the software and do not disconnect the USB drive before the data recovery process is done.
Step 2. Run DiskGenius and locate the USB drive on the main screen. Right-click the drive and choose "Recover Lost Files" from context menu.
All hard drives and external disks are listed in the software, you can see the disk list on the left pane. Select the USB drive and you can see the partition on the main interface.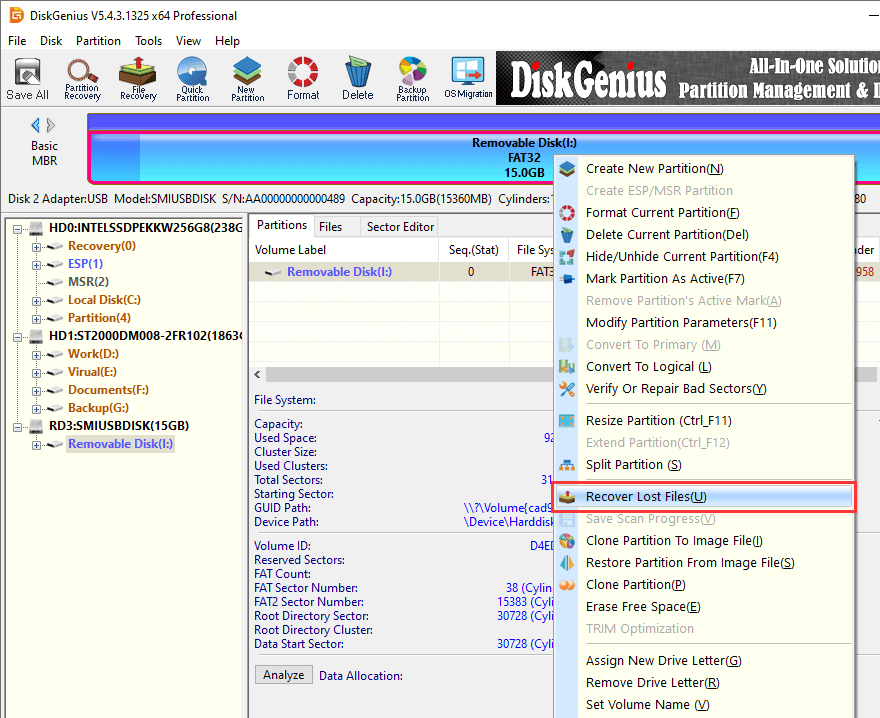 Step 3. Click "Start" button and the application begins to scan the drive. Generally, the scanning of a USB drive won't take long.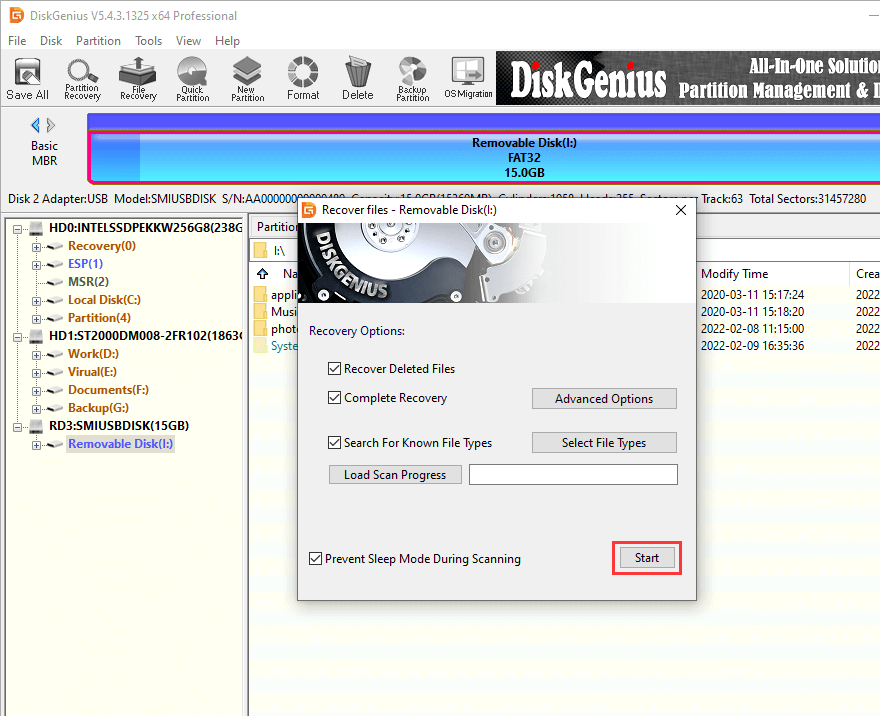 Wait for the scanning to complete.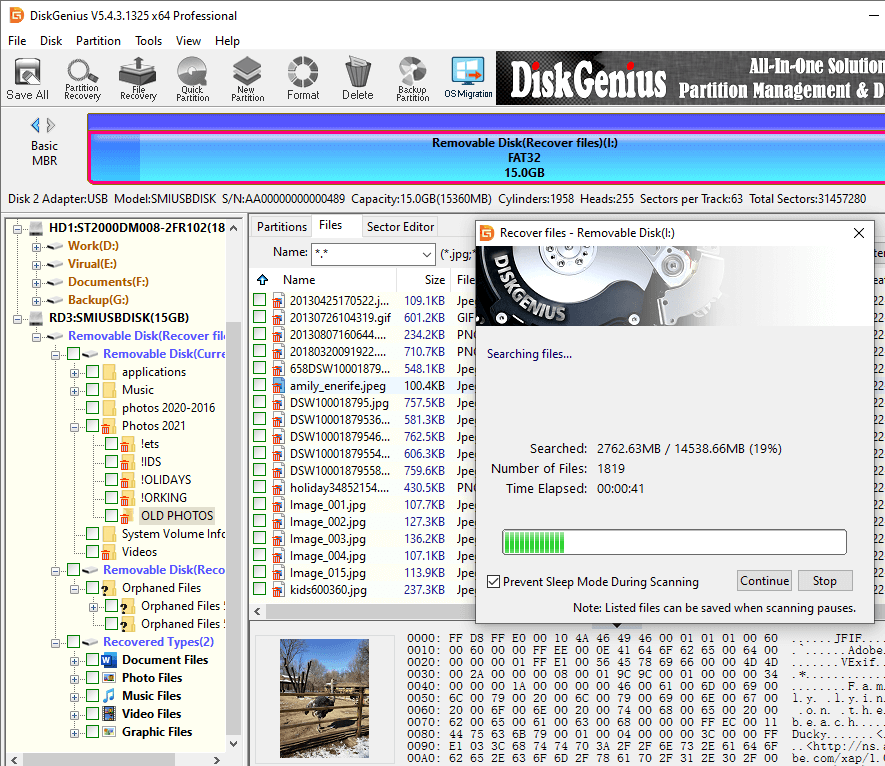 Step 4. Preview lost files and check if they are correct.
There must be many files listed in the scanning result. File preview helps to check whether these files are what you want to restore and whether they get corrupted when the USB drive gets damaged.
Double-clicking a file can open the preview window which shows file content as follows. If your files can be previewed without errors, they can be correctly recovered in the end.
Do preview all directories listed in the software, especially those files that are displayed under "Recovered Types".
Step 5. Copy files you want to restore to computer hard drive.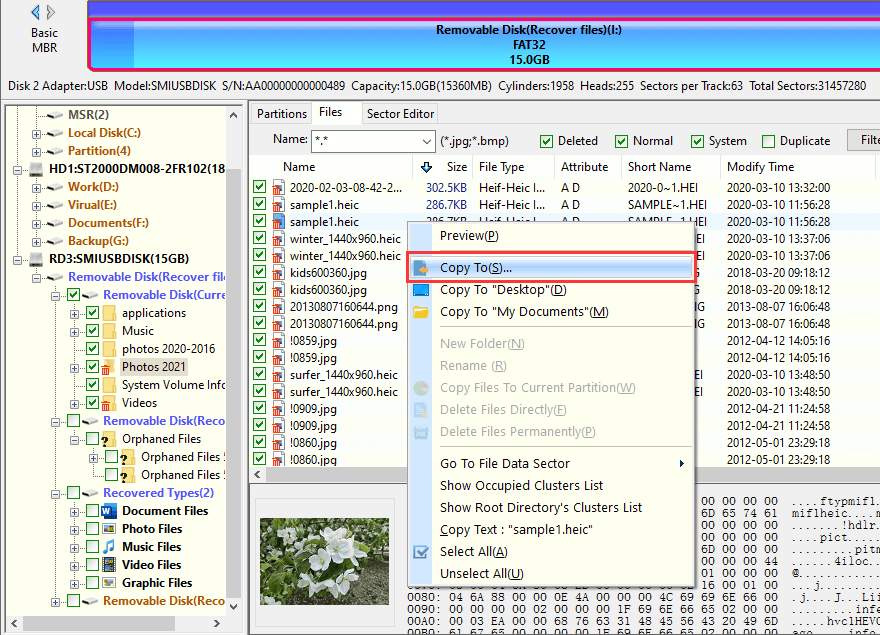 Suggestions to increase the success rate of USB drive data recovery:
Do not format the USB flash drive before files are recovered.
Do not run chkdsk to repair errors on the USB drive. This might cause further damage to the drive again.
Do not save recovered files back to the USB drive while you are recovering data with recovery software.
When lost files are found in data recovery software, preview them one by one to check if they are correct before registering the software.
If files with original names cannot be opened, then view files listed under "Recovered Types". Also, you can contact the technical support who will try the best to help you improve the recovery.
How to avoid data loss on USB flash drives?
Data loss is the last thing we want to encounter while using a USB flash drive. Most often data loss issue can be avoided if we take certain steps:
Be careful when deleting files or formatting the drive: deletion and formatting removes files, and you should make sure such actions are made to the right data.
Safely eject the USB drive before disconnecting it from computer: removing USB drive directly without clicking the safely ejecting media will corrupt the file system.
Protect the USB flash drive from physical damages: USB flash drive and other storage devices are more fragile than you've imagined. Use them with care.
Back up files: the most reliable way to safeguard data safety is creating backups. Be sure to keep the backup copies on different devices.
FAQs on flash drive repair in Windows
How do I run Windows repair from USB?
Windows startup repair can help us fix some problems such as Black screen on Windows 10, Blue screen, system restore, etc.
Step 1. Create a Windows Recovery drive (Start > Create a recovery drive > Next > insert a USB drive and click Next > Create).
Step 2. Boot computer via this USB drive.
Step 3. Click Advanced options > Troubleshoot > Advanced options > Startup Repair
How do I scan and repair USB Windows 10?
When there is a problem with the USB drive, you can scan and repair it with these steps:
Step 1. Select and right-click the USB drive > Properties > Tools > Check.
Step 2. Click "Scan and repair drive" option.
Can a USB be restored?
Yes, files can be restored from a formatted or corrupted USB drive with the help of data recovery software like Eassos Recovery, DiskGenius, etc. There is no need to contact data recovery services, as you can do it on your own.
How can I fix a corrupted USB for free?
How much does it cost to repair a flash drive? It's free actually. To fix corrupted USB drive without paying anything and keep files intact, try these steps:
Step 1. Recover files from the USB drive using "File Recovery" feature of DiskGenius.
Step 2. Format the flash drive in Windows Disk Management.
How do I get my flash drive to work again?
Are you wondering where you can get flash drive repaired? You can try repairing flash drive via following methods:
Try connecting the flash drive to a different USB port.
Update flash drive drivers.
Format the USB flash drive.
Check and repair bad sectors.
Conclusion
It's common to see that a USB flash drive gets corrupted or damaged, and yet there are various solutions you can try to get the USB drive repaired. Once the USB drive is badly damaged with hardware problems, it might be easier to buy a new one. In the case that the corrupted USB flash drive stores important files, you can use DiskGenius to easily restore lost files.
Related articles