MKV video is the most inclusive type of digital video. It is a multimedia package format that can hold an unlimited number of video, audio, picture or subtitle tracks in a file. It's not a compressed format, but rather a multimedia container file defined by Matroska. Its goal is to save common multimedia content such as movies and TV programs as a unified format. In some cases, MKV video files may be damaged or lost, thus affecting people's normal viewing and other work. Then, how to recover MKV video files?
Part 1: MKV video file damage or loss reasons
As a common digital file, MKV video can be edited, saved and transferred. In these processes, video files may be damaged or lost due to operation, equipment, and media problems
Suddenly shut down the system
Incompatible media player
Bad sectors on the hard drive
Malware and viruses
Accidental deletion and formatting
Part 2: How to recover MKV video files
The best three ways to recover deleted MKV videos:
Method 1: Use the best MKV video recovery software
MKV format does not require a dedicated player, any player can play MKV, OGM, MP4 files, such as common Media Player Classic, BSplayer, ZoomPlayer, and even Windows Media Player. Simply install the appropriate decoder splitter plug-in. If MKV files are lost, it is recommended to use a professional MKV file recovery tool, so that MKV video files can be easily recovered.
DiskGenius is an efficient data recovery tool, whose recovery function can quickly help users solve problems. It is compatible with multiple devices, covers multiple scenarios, and supports multiple video formats. Here's how to recover MKV video files.
Step 1. In DiskGenius, select the partition where you want to restore MKV files and click File Recovery. Then click Start to search for files.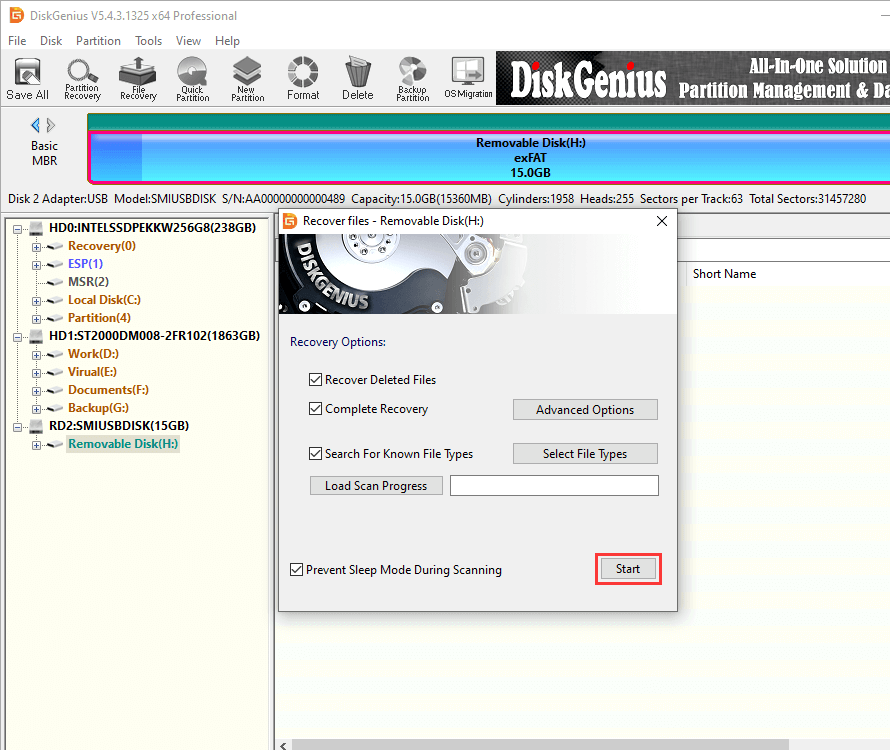 DiskGenius is scanning the partition: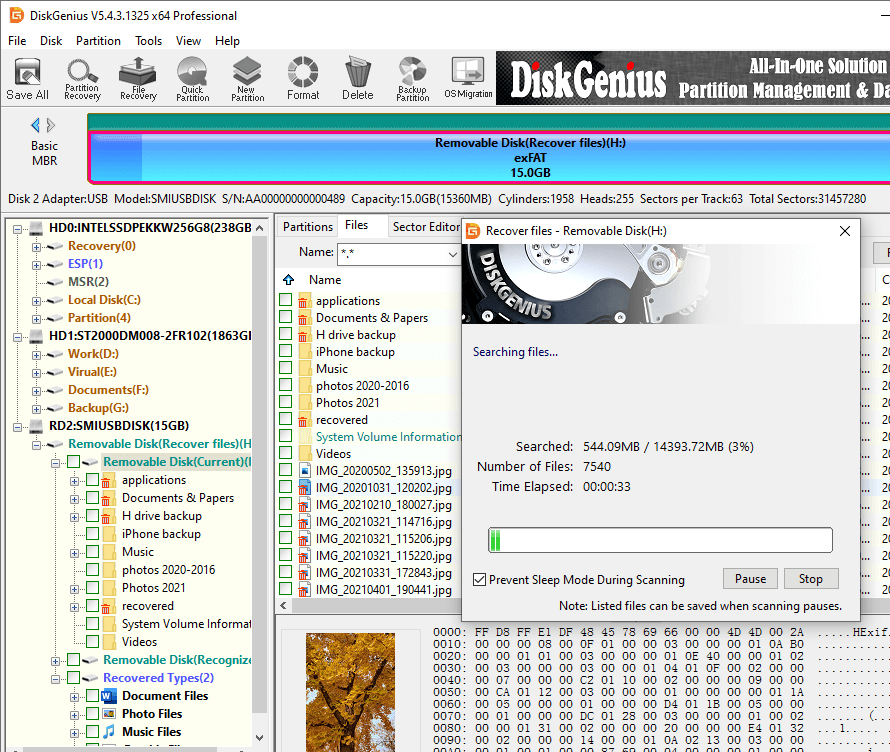 Step 2. Preview the file effect in the scan result, if the MKV file can play normally, then it can be successfully restored.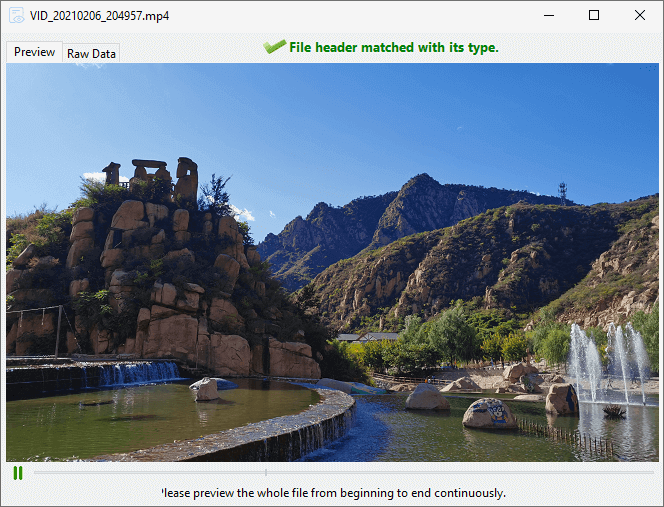 Step 3. Select the files you want to restore and click Copy To to restore the MKV files to a safe location. The whole recovery process is complete.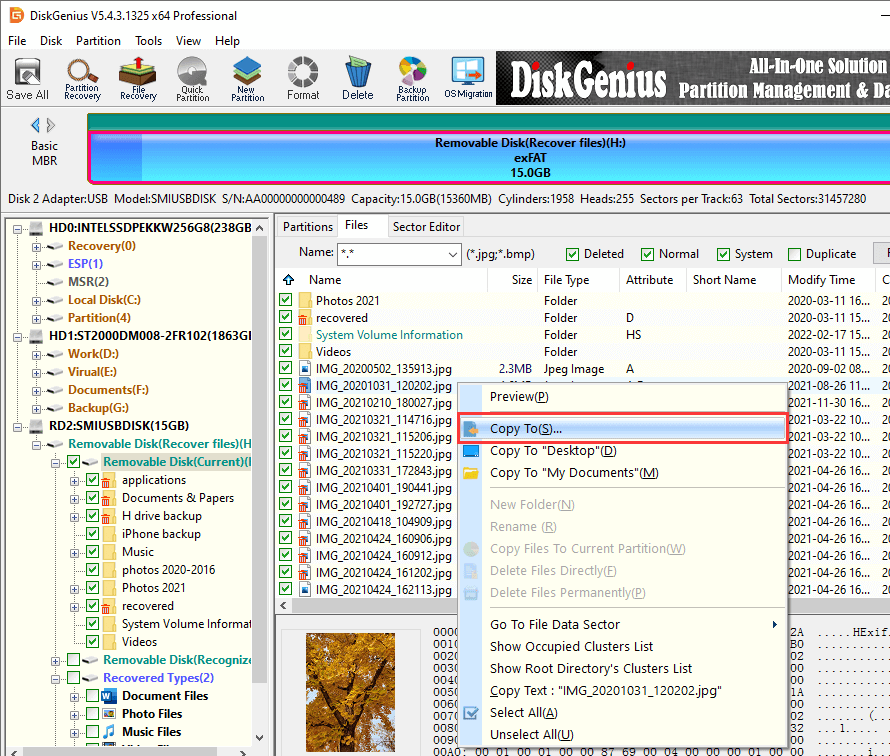 Method 2: Collect MKV files from the Recycle Bin
If you have recently deleted MKV files from your drive, they must exist in the Recycle Bin of your computer or in the trash on your Mac. The "Recycle Bin" or "Trash Can" will hold deleted files for at least 30 days before permanently deleting them from the computer. But if you can't find deleted MKV files here, video recovery software is your last resort.
Method 3: Restore MKV videos from the backup folder
Create backups to overcome such file loss situations. Deleted or lost MKV files can be easily recovered if you have updated backup folders on your system, external storage drive, or cloud.
Part 3: Tips to prevent damage or loss of MKV video:
Prevention is always the best way to protect MKV video from damage. The following tips provide users with preventive measures to prevent MKV video from damage or loss:
Use backup power to prevent damage caused by sudden power outages.
Install anti-virus software in your computer to protect against viruses, malware, spyware and adware threats.
Be careful when converting MKV video files to other formats. Do not use irregular video converters.
Format the hard disk from time to time to eliminate its bad sectors and store MKV files on an external hard disk as a backup.
Conclusion
When you need to restore MKV files, you can refer to the three security methods provided above. However, users have a variety of use scenarios. A tool cannot achieve comprehensive coverage, and can only take care of most users. Therefore, it is recommended to back up some important video files, such as USB flash disk, mobile hard disk or network disk. If it is a hardware storage device, it should also be cleaned regularly to prevent the influence of bad sectors.
FAQs -MKV video file recovery
Why choose MKV recovery software?
Fast, barrier-free MKV file recovery
Restore the video regardless of the cause of loss - deletion, formatting, viruses, corrupted drives, and so on.
Restore MKV files without affecting the quality of the original video
Allows previewing recoverable MKV videos before saving
MKV recovery can be performed from SD cards, HDDs, 4K hard drives, SSDs, memory cards, CD/DVD, and USB flash drives.
What program opens MKV files?
The video player supporting MKV can play videos in MKV file format from CD, DVD, hard disk, mobile phone, etc. You can open MKV files in VLC media player, MX player, MKVPlayer, KMPlayer, etc. on windows, MacOS, Android and IOS.
Why can't my MKV file play?
If the recovered MKV file is not played on your PC or Mac, your video may be corrupted. Try playing on another video player, such as VLC media player or KMPlayer. If it still doesn't open or play normally, use the video repair software. The video repair software repairs any damage in the MKV video file header, data, movement, frame or sound part. After repair, MKV video can be seamlessly opened and played on any media player.
Related Guides