Overview on MP3 file recovery
MP3 is the abbreviation of MPEG-1 Audio Layer III or MPEG-2 Audio Layer III. It is the most common digital audio format, widely used in music, recording, audiobooks, etc. Just like other files, such as pictures, videos, emails, documents, etc., your cherished MP3 files may be lost or deleted for reasons such as formatting, virus attacks, system crashes, etc. Among the various causes of data loss, accidental or intentional deletion is probably the main reason your MP3 files are missing. Fortunately, with the help of DiskGenius, you can easily and quickly perform MP3 recovery. In addition to audio files, DiskGenius can also recover other types of files such as videos, photos, documents, emails, etc.
How do I recover deleted or lost MP3 files on my computer or SD card?
Please follow the following steps to restore MP3 files:
Step 1. Download and run the latest version of DiskGenius from the website.
Step 2. Select the partition with missing MP3 Files, click the "File Recovery" button in the toolbar, and then click "Start".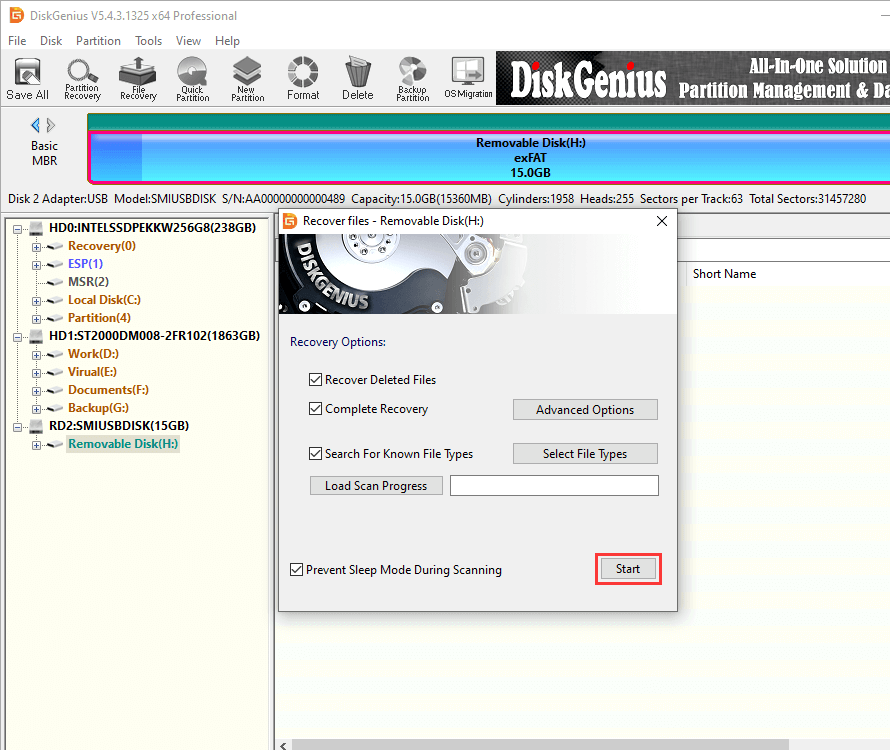 DiskGenius will scan the partition: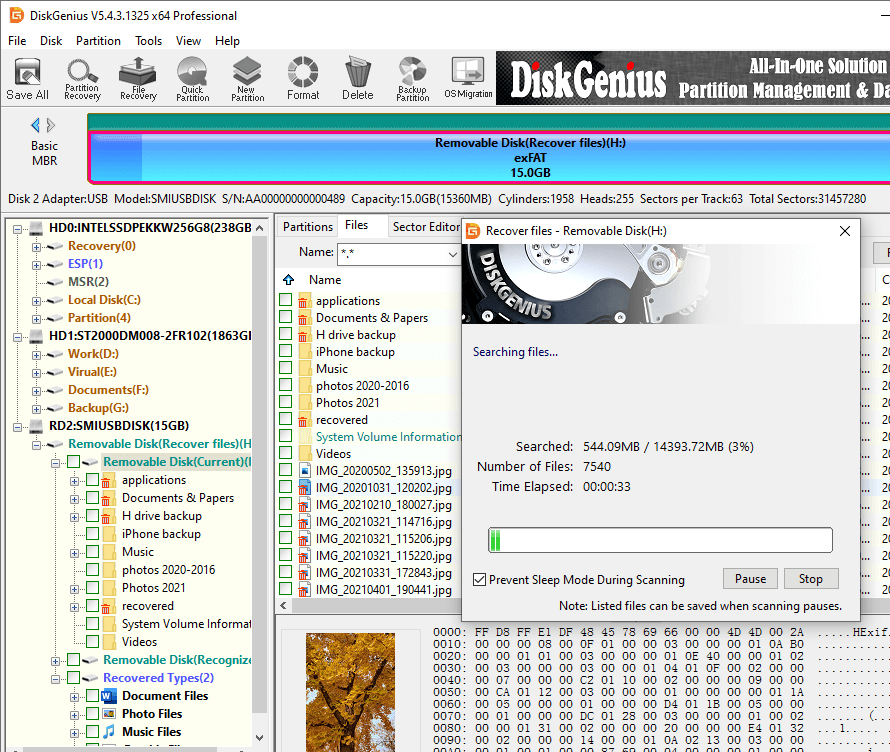 Step 3. After the scan, you can preview the effect of files, and if the MP3 file is able to play normally, you can restore it.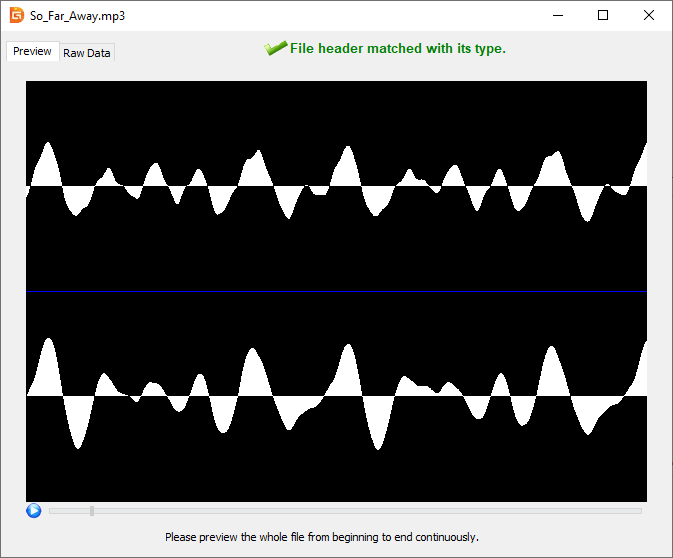 Step 4. Right-click on the MP3 files you want to restore, click "Copy To" and copy them to a secure location.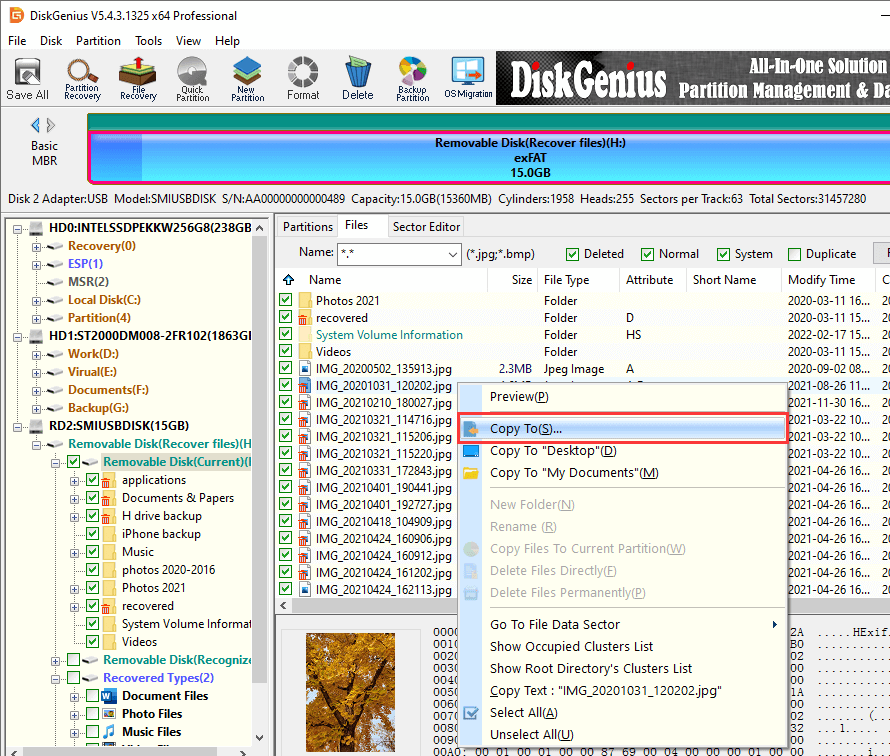 Other methods to recover deleted MP3 files
Restore MP3 files from backup: The best way to avoid losing your files completely is to back them up somewhere else. Speaking of backups, you can manually copy MP3 files from one place to another, use free backup software, or sync them to cloud storage. These three methods are common whether you want to back up your music files or something else. If you don't have many files, copying files manually may help. If you have a lot of files and are looking for a way to save time, you can use professional data backup software. DiskGenius can bring you a great experience.
Recovering MP3 files from the Recycle Bin: If files have been deleted on your Windows system, you can restore them from the Recycle Bin.
Reinstall the driver: If the system cannot recognize your memory card, SD card, USB drive, you can try to reinstall the driver on the system.
Executing Chkdsk: This command is designed to repair corrupted file system, and it works when the partition is not damaged to a very bad extent. After executing Chkdsk, you can restore MP3 files. It can repair minor damage in the media where MP3 audio files are stored.
Note:
Once you lose MP3 files on your hard disk, SD card, USB flash, iPod, music player or other devices, please stop using the device immediately to eliminate the chance of data overwriting, and use data recovery software to restore music files as soon as possible.
Do not save recovered files to the place where they were lost. Otherwise, MP3 file recovery may fail. Please select another drive or storage device to store them.
It's easy to lose MP3 files from storage devices and MP3 players. In this case, you'd better back up your MP3 files on your computer.
Conclusion
The above to you introduced the tutorial of restoring MP3 files and related knowledge, as long as according to the above steps, restoring MP3 file is not a problem. In addition to the data recovery and backup functions mentioned above, DiskGenius also supports to migrate Windows, resize partition, clone disk, edit hex data, manage virtual disks and more. For detailed instructions and tutorials, please refer to the DiskGenius official website. If you encounter other problems that cannot be solved, you can try to contact DiskGenius professional technical personnel or customer service, we will be committed to solve the problem for you.
More Articles