Summary
Accidentally lost or deleted important data on ASUS laptop, such as photos, documents, videos, etc.? For those who have already backed up their laptop to retrieve the data, this is certainly an easy thing to do. If you don't have a backup, don't worry. In fact, the data you deleted does not disappear, but it still exists somewhere in the computer hard disk. However, once you find that you have deleted some content by mistake, you'd better stop using the computer to avoid covering the information. This article offers the best ASUS data recovery software to help you recover deleted or lost data from ASUS computers.
Asus laptop data loss reasons
Pressing the "Shift + Delete" keys combination accidentally deleted important data on the Asus computer
A malfunction or a hard drive crash on an Asus laptop
Accidentally formatting the hard drive of an Asus laptop
Operating system failure or operating system reinstallation
Asus laptop hard drives were infected with viruses or malware
If any of these things happen to your Asus laptop, don't feel stressed. With the help of third-party software, retrieving lost or deleted data from Asus computers isn't challenging. Of the various data recovery software available online, DiskGenius is your best choice to save your Asus computer data. It is a powerful and efficient program designed to help users solve unexpected data loss problems, easy to operate. This following part will show you the easiest way to recover data from an Asus computer using DiskGenius.
How do I recover deleted or lost data from ASUS laptop?
Follow these steps to perform ASUS data recovery and restore deleted or lost data with just a few clicks:
Step 1. Download and start the latest version of DiskGenius on your Asus laptop.
Step 2. Select the laptop hard disk with lost data, click the "File Recovery" button.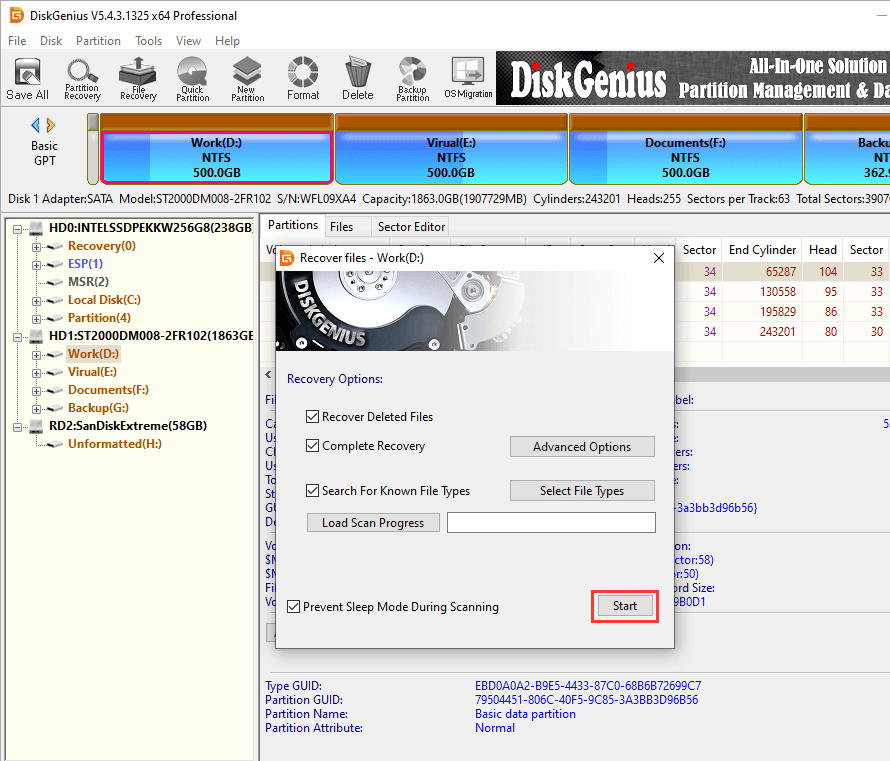 Set Recovery Options as needed in the pop-up window, and then click "Start" to scan the lost data.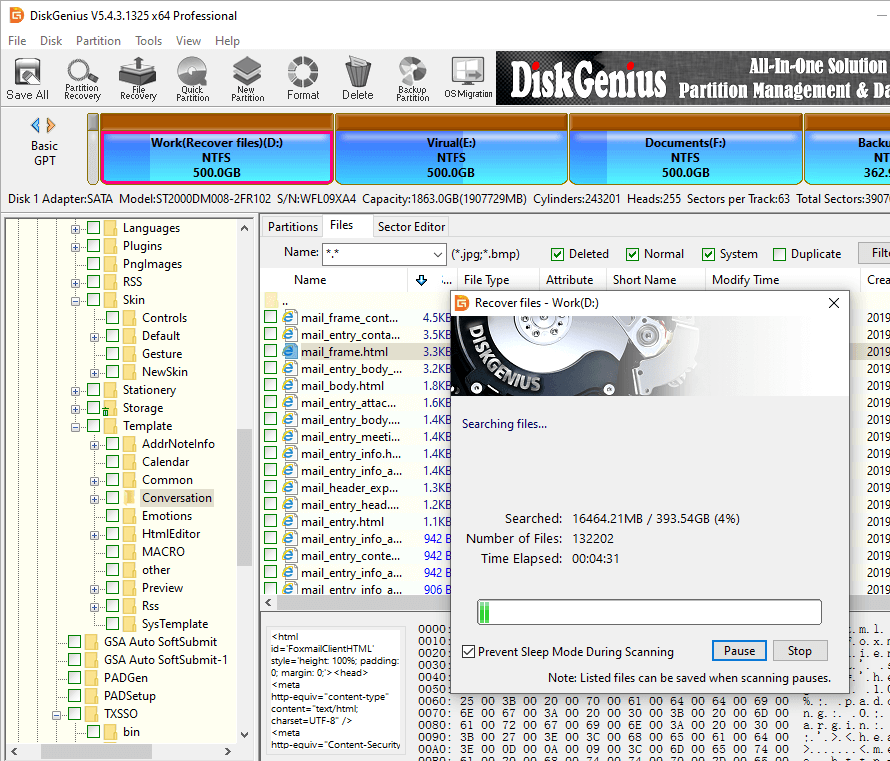 Step 3. Preview data from Asus laptop. After the scan, all recovered data on the Asus laptop's hard drive can be previewed.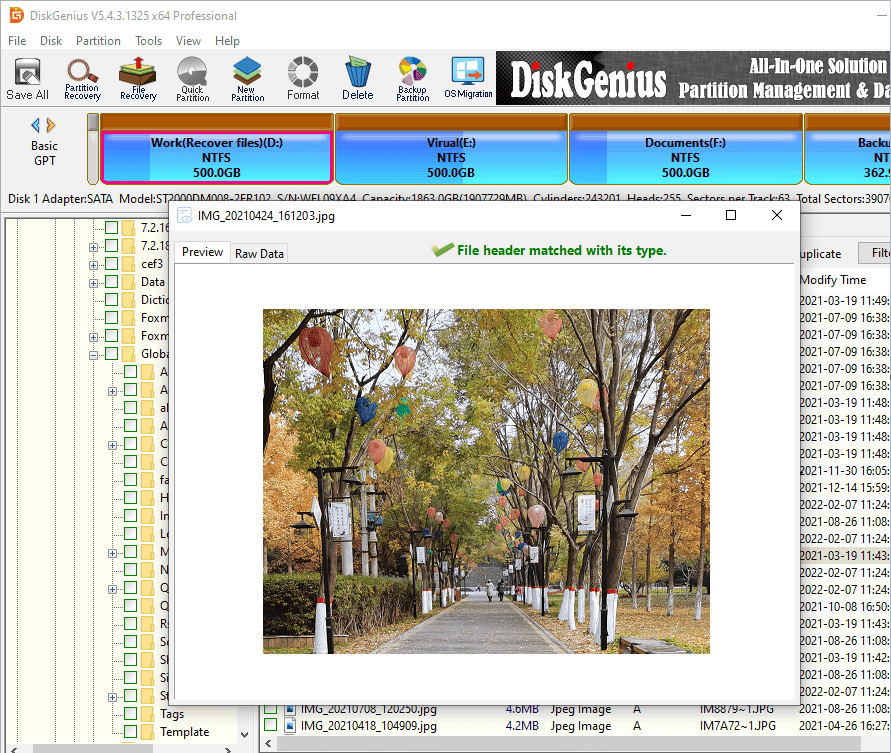 Step 4. Right-click selected data to be recovered and select "Copy To". Then you can specify a target location to store recovered data.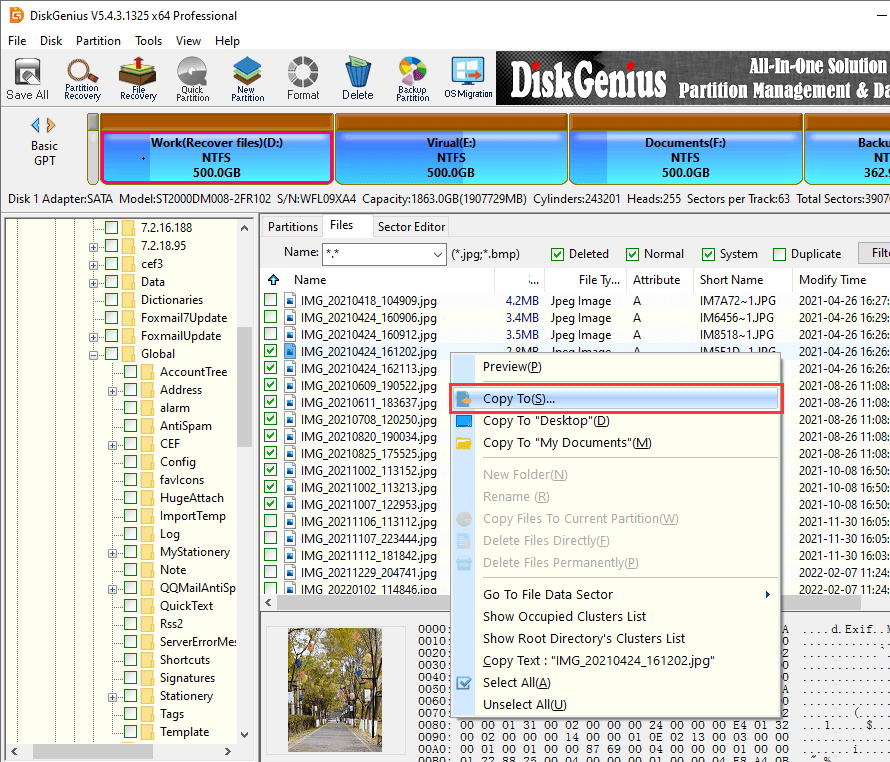 Note: please do not save the recovered data to the original partition of ASUS laptop.
How to prevent data loss on ASUS computers?
Install anti-virus software, try not to visit some unsafe websites, do not use unsafe software. Avoid virus damage data, more to avoid data theft by virus.
Backup important data, you can use a copy of the external hard disk, and even backup a double, multiple copies.
Develop a good habit of using computer. Generally, do not save the file on the desktop or C disk. Data stored on the desktop is the easiest to be deleted by mistake, and as long as the C disk is turned on, new files will be generated continuously. In case of data loss, the data lost on the C disk is also the easiest to be destroyed.
Files that do not involve privacy and confidentiality, such as ordinary photos, can be backed up to the network hard disk. When the local hard disk data is lost, it can be downloaded and recovered from the network hard disk. Of course, the data backed up to the network hard disk is not a private and confidential file, because the security of the network hard disk is not controlled by itself after all.
Regularly clean up the hard disk, so that there won't be too many fragments in the disk. In case of accidental loss of data, the success rate of data recovery is also higher.
When copying files, try to use Copy_Paste instead of Cut_Paste. If you only need to keep one copy, delete the one you don't need after copying and pasting them to a safe location. If error occurs to Cut_Paste process, it is easy to see that the source files are lost, but they are not copied in the new directory, and there are no files on either side.
Conclusion
In short, although ASUS data recovery can be easily achieved via steps above, backups are essential in modern life. Losing any important data would be frustrating because we are building closer ties with our computers. Important data such as electronic documents are stored on computers. Please remember to back up your computer data to protect it properly. However, if you don't backup and accidentally leave out important data, you can still recover them from your computer using computer data recovery software DiskGenius. You can download a trial version of the software completely free of charge. With the help of DiskGenius, no matter what kind of data you lose on your computer, you can easily recover it.
Also read