"Help! I have an important file disappeared, I usually put my files in the F disk, but today, When I open the F disk, I couldn't find the file. Is there any way to recover the lost files?"
How to recover lost files? With the continuous development of technology, computers have become the most common office equipment. And as the computer continues to be used for longer, more and more files will be stored on it. The problem comes when it comes to storing files! The files that had been stored on the computer were mysteriously lost. So, how to recover lost files? Relax! Here are four ways to do it! It can be said that it is easy to find a way to deal with file loss.
Plan 1: Retrieve files by searching
Your file disappeared, probably because you pulled it into another folder, in which case you only need to search the name of the file on your computer.
Plan 2: Retrieve files from hidden files
There is another case when the file disappears, that is, it is set as a hidden file. The recovery method for this case is as follows. Take Windows 10 system as an example:
Open the file storage partition, select "View" → "Hidden Project" in the menu bar, you will find that the missing files is still in the partition.
Plan 3: Check the Recycle Bin
If plan 1 and Plan 2 fail to find the missing files, then your files may have been deleted by mistake.
For accidentally deleted files, we can first open the Recycle Bin to check, because the deleted files will be stored in the Recycle Bin first. If you have emptied the Recycle Bin after deleting your files by mistake, don't worry, we still have a way to help you find your missing files, see Plan 4!
Plan 4: Use professional data recovery software
At present, there are many software that can recover lost files on the computer on the Internet, but we all know that there is a certain gap in the recovery success rate and the operation methods of recovery! So, which software is suitable for recovering files on your computer? DiskGenius is recommended here. It can help you recover lost files effectively and safely through simple steps.
Step 1: Download and run the latest version of DiskGenius on your computer, right-click the partition where the files are missing, and select "Load Current Partition Intelligently".
Step 2: If you find the missing files and they can be previewed correctly, and you can recover them directly.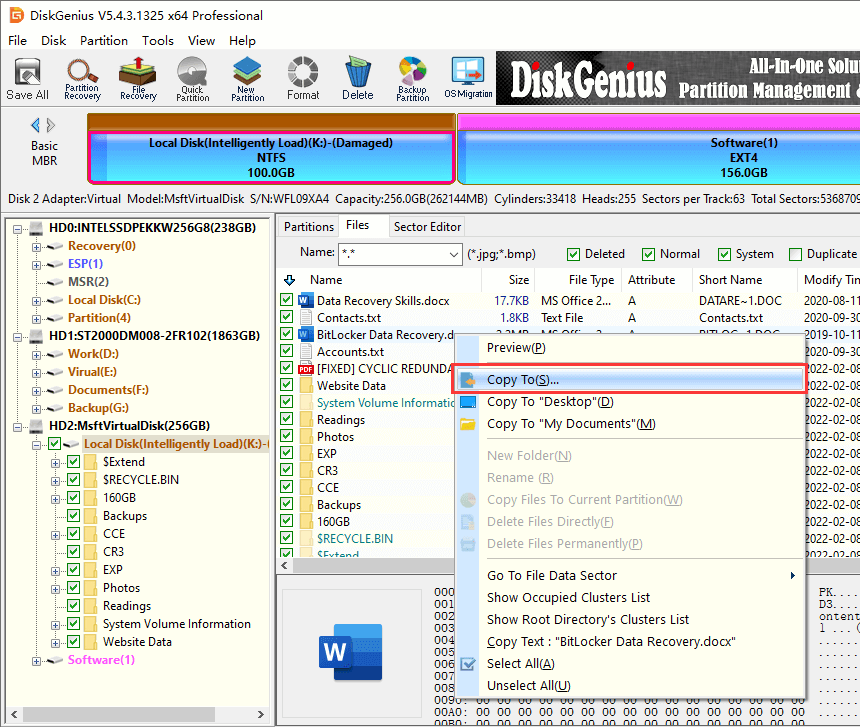 Step 3: If the missing files are not found in Step 1, still select the partition where the files are missing, click "File Recovery".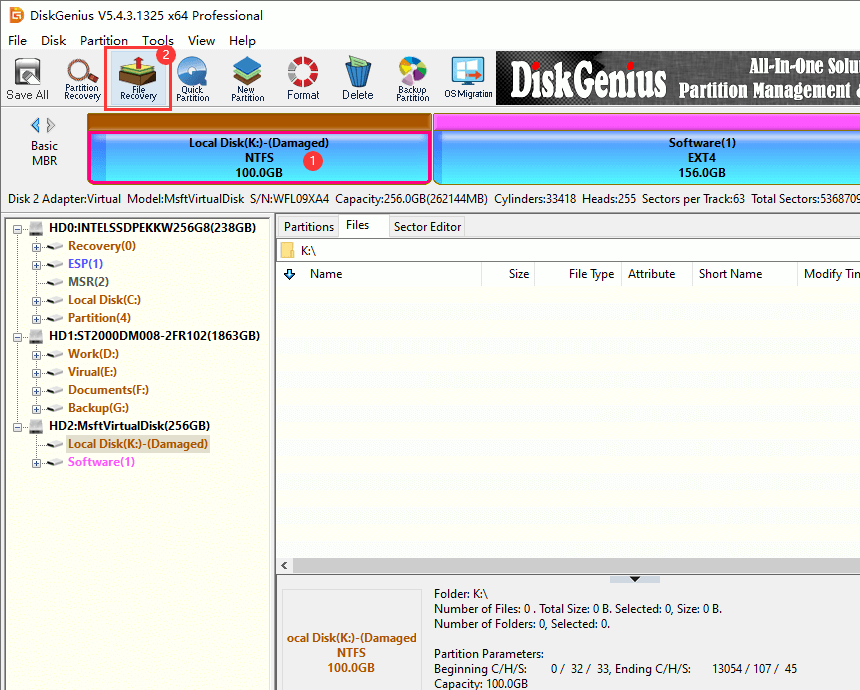 Then click "Start" in the pop-up window..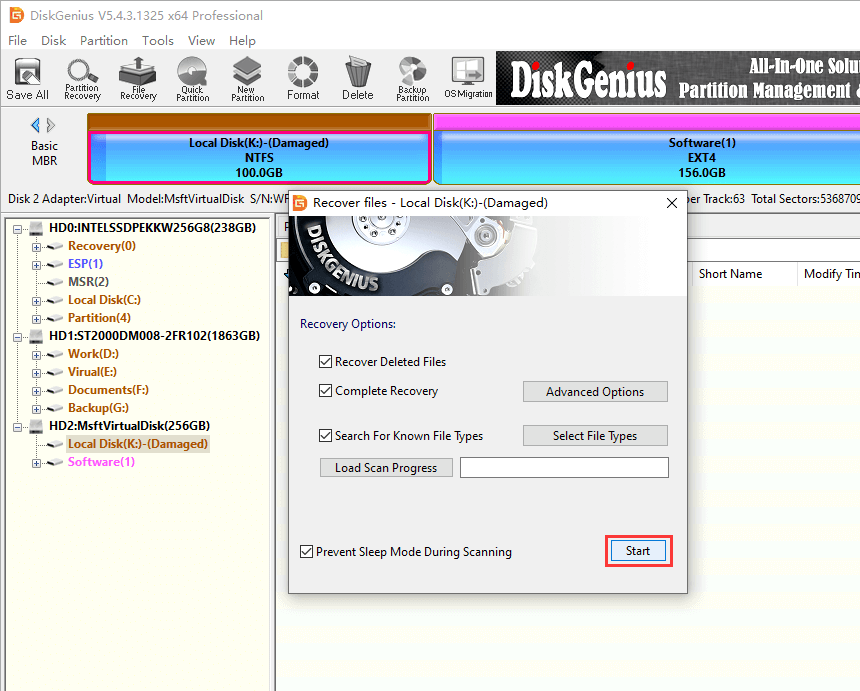 DiskGenius will start scanning this partition: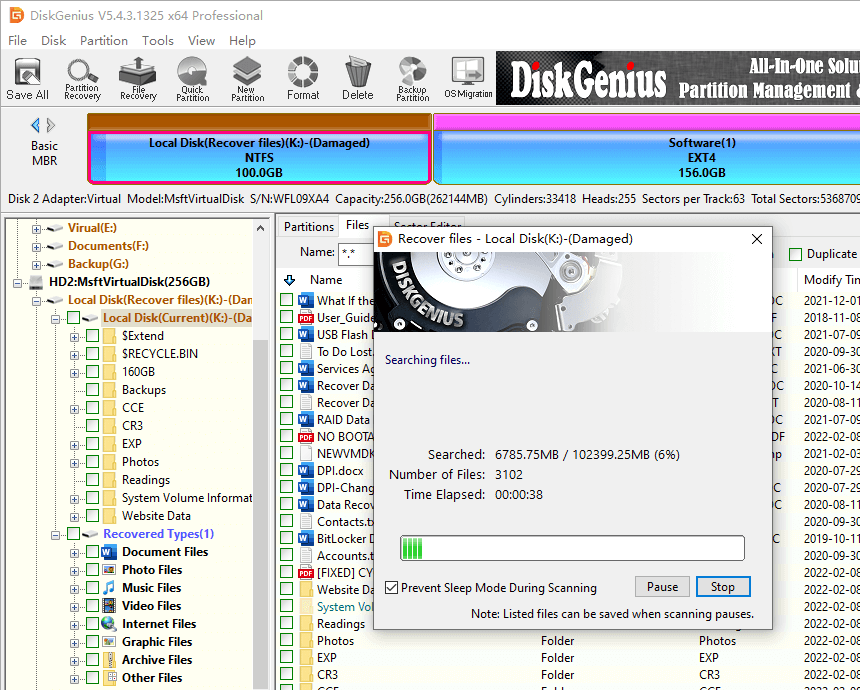 Step 4: After scanning, preview the listed files. If files can be previewed correctly as shown in the figure below, they can be recovered successfully.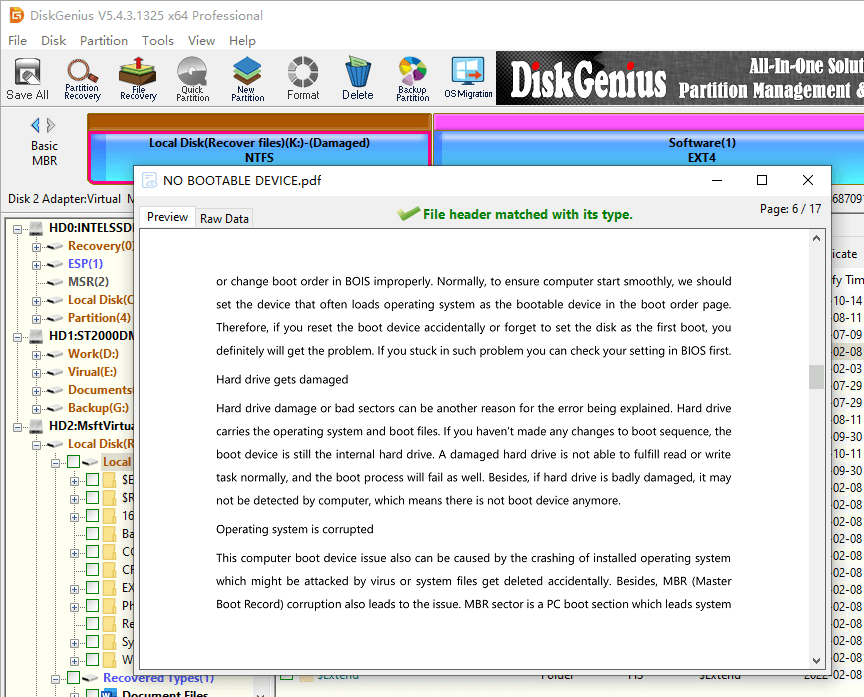 Step 5: Copy the required files.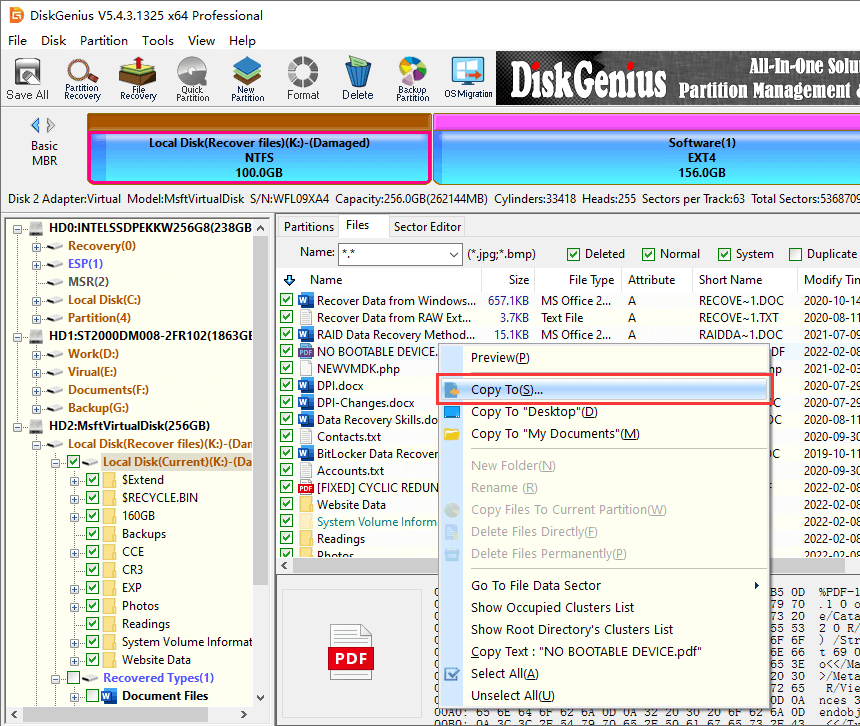 FAQs about data recovery
1. How to choose the right data recovery program?
Here are some factors you should consider when choosing a data recovery program for your professional or personal needs.
Recovery rate
The data recovery program must be able to recover as much data as possible. Only in this way can you select what you really want from the list of deleted / missing files or folders.
Compatibility
The data recovery program should also be applicable to different formats and disk types. You may encounter formats such as NTFS and FAT32.
Price
You cannot always rely on free data recovery software. If you want to get the most results, you must pay for advanced features, which costs some money.
2. What are the main reasons for data loss?
Users' awareness of hard disk data protection is not high.
At present, whether enterprise users or individual users, most of them have installed one or more anti-virus software in their computers, and then think they can rest easy. This over reliance on anti-virus software makes users neglect the protection of data. When the data disaster occurs, they find that protection software is not omnipotent! At that time, it's too late to regret!
Hacker intrusion and virus infection.
It is believed that this factor accounts for the highest proportion of data disasters. Today's hackers can get in and out of the network equipped with firewall freely, viruses can spread all over the world in a few hours, and threaten the security of our data all the time. These are unpredictable things.
Hard disk or system or software failure.
Most of the data loss caused by this reason are: data cannot be found, the system does not recognize the device used, the machine makes noise, the computer or hard disk does not work, etc. This is related to the way users use the computer and the software installed on the computer, which can not be generalized.
Natural damage.
Wind, lightning, flood and accidents (such as electromagnetic interference, floor vibration, etc.) may also lead to data loss, but the possibility of this factor is much lower than the previous three points.
Man-made loss.
For example, we lost files caused by formatting, partitioning, cloning, deleting and other operations on the storage device.
3. How to prevent data loss?
- Never save your data on the same drive disk of the operating system.
- Back up your data regularly, no matter where they are stored
- Beware of human error
Conclusion
When you find that your data suddenly disappears, don't panic. Please try the above methods to retrieve the lost data. If the above methods can not help you completely solve the problem, you can contact our technicians and customer service personnel at any time, and we will provide you with answers.
Similar Topics