About Partition
Although you do not need to understand how partitions work to recover partitions, at least you have a very basic understanding of the role of partitions in allowing you to store data on storage devices, which can help you choose the best possible recovery method and avoid making potentially catastrophic mistakes.
Partition definition: the part of a storage device that is separate from other segments. You can think of a partition as a container for data stored on a storage device, such as an internal hard drive or USB flash drive. Without at least one partition, Windows will not know where to save files, which will make the storage device almost useless. The partition information is stored in the partition table, which is located in a special area on the storage device, called the master boot record (MBR) or GUID partition table (GPT) or other similar area. The information stored in the partition table includes the file system of each partition on the storage device. This information is very important because different operating systems can only access the partitions of a specific file system: when a partition does not have any file system, it will be displayed as RAW, and like an unpartitioned storage device, it cannot be used to save files.
Can the deleted partition be restored?
To determine whether a lost partition on Windows 10 can be recovered, you must first find out what happened to it, and the disk management can help you do that.
The purpose of this utility is to enable advanced storage tasks that cannot be performed from file explorer, which lists only partitions that are in good working condition. To start the disk management, simply open the Start menu, enter Disk Management, and press Enter.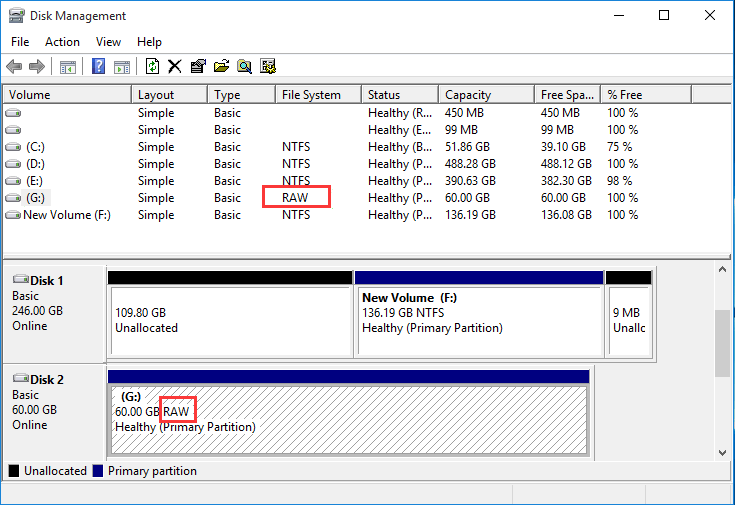 You should see all the storage devices connected to the computer and their partitions. The Disk Management tool displays any physical space that does not belong to partitions as Unallocated. The partition with no file system is displayed as RAW. You might also encounter a partition that looks healthy but is not assigned a drive letter. In all of these cases, partition recovery is usually possible.
On the other hand, when the lost partition has been clearly overwritten by another partition and used to store new data, partition recovery is usually impossible. In this case, the only option is to scan the entire storage device using a data recovery software application.
DiskGenius is efficient partition recovery software which can help you recover partitions lost due to deletion, disk failure, virus attack, system failure, disk reformatting, repartition, system reinstallation, etc. it has an easy-to-use and easy to understand GUI interface and supports the recovery of deleted or lost FAT32, NTFS, exFAT, Ext2, Ext3 and Ext4 partitions.
Take a look at the specific operation steps to restore deleted partitions in Windows 10
Step 1. Select the disk where you want to restore lost partitions and click Partition Recovery. If you just want to search for missing partitions from unallocated disk space, select free disk space before clicking the Partition Recovery button.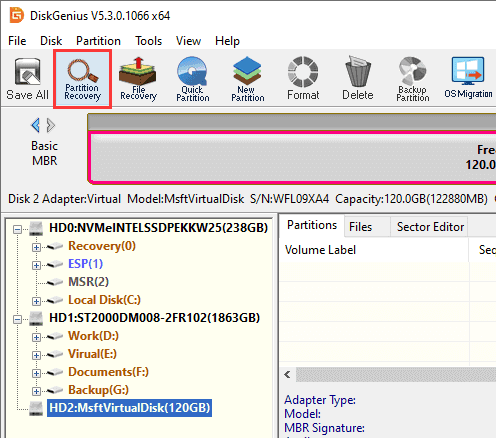 Step 2. Set the searching range, click the "Start" button, and DiskGenius starts searching for missing partitions.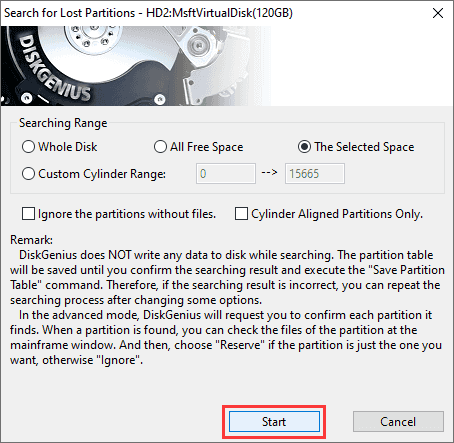 Step 3. Reserve or ignore partition.
When DiskGenius finds a partition, it asks whether to keep it. You can choose whether to reserve or ignore as needed. You can preview files in the partition to confirm whether you want to restore it.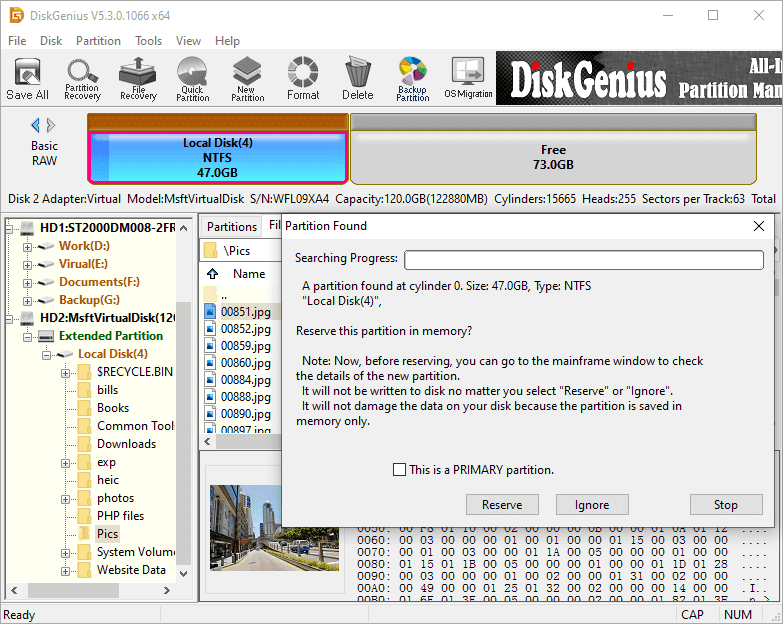 Step 4. After DiskGenius finishes scanning, click OK.

Step 5. There are two ways to recover the searched data:
Method 1: Right-click the files you want to restore and click Copy To, restore them to another location.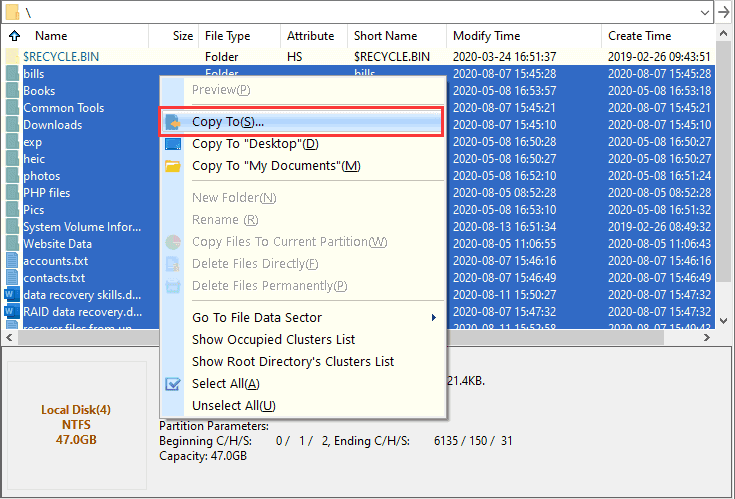 Method 2: Click Save All on the toolbar or click Disk and Save Partition Table to save lost partitions to the current partition table. The missing partitions listed in the scan result will be recognized by operating system.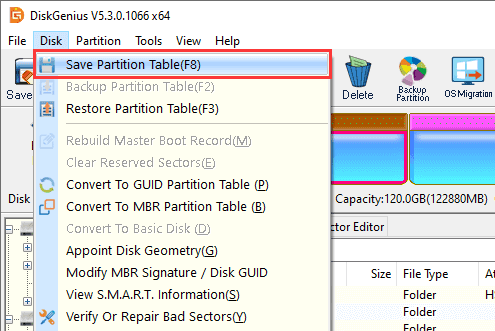 Reasons for partition loss in Windows 10
Hardware failure. Many computer devices are designed to last for years. However, unexpected situations, including hard drive errors, can occur, leaving you with little opportunity to salvage any files. Because this is inevitable, users still run the risk of losing partitions on Windows devices.
Malware and viruses. Malicious programs designed specifically for your computer's hard drive can destroy all your existing data. At present, the loss of partitions caused by malware and virus attacks is very common. Hackers have devised more sophisticated methods to attack your important files.
Unexpected changes to Windows disk management. Unless you have advanced technical skills, you do not have the right to modify Settings related to Windows disk management system. The slightest adjustment can result in the loss or deletion of important disk volumes. Therefore, clarity is recommended when it comes to making changes to the disk management system in Windows 10.
Power cuts. A sudden surge in power flow to your device could be the cause of a partition loss on your PC. In rare and unfortunate circumstances, a power surge can wipe or damage data on a hard drive.
Tips for avoiding future partition loss
In this article, we describe several ways to restore partitions on Windows 10. Even if partition recovery is possible and not so difficult, you should avoid partition loss as much as possible, because recovery success cannot be 100% guaranteed. To avoid partition loss:
Be careful during partition management: Many errors can occur during partition management, so you need to be extra careful and double-check every action you do to avoid accidentally deleting important partitions or making them inaccessible.
Avoid using poorly reviewed partition management tools: There are many partition management tools available for free download on the Web, and you should always do some research to avoid using poorly reviewed partition management tools, as they may do more harm than good.
Install reliable anti-virus software: Some malware is designed to cause as much damage as possible. A reliable anti-virus program can help you guard against them.
Create backups for your storage device: Backups can be used to restore the entire storage device, including all its partitions.
Related topics