Table of Contents:
Can RAW files be recovered?
RAW means unprocessed, so RAW is also used to refer to an unformatted disk. The file system of a USB flash drive may become RAW when it infects virus, contains bad sectors, or not safely ejected from computer. It can also be caused by a system failure. A RAW partition is a state of a hard drive partition or any storage device that Windows cannot read or access because it is not formatted as FAT12, FAT16, FAT32, exAFT, NTFS, or NTFS5.
External hard disk, USB flash drive, hard disk and SD card are very common data storage devices, and users in the usual use of these devices will inevitably encounter some problems due to various reasons, such as partition into RAW format, cannot be accessed, formatted prompts, mistakenly deleted and so on. In this case, the user will not be able to read the data, and thus faces the risk of data loss. How can I recover files from a RAW partition? On this page, we will show you the step-by-step guide of recovering RAW partition.
How to recover data from RAW partition?
Free Download RAW Partition Recovery Software - DiskGenius
Step 1. Download and run the DiskGenius free trial. Locate the RAW partition in the software, and then click on the "Tools" - " Load Current Partition Intelligently" menu items. Once the files are loaded, you can jump to Step 3 for a preview of the file.
RAW partitions on DiskGenius are usually marked "damaged" or "unformatted" which are easy to find.
Some partitions that are not damaged too badly will be recognized by DiskGenius immediately when you open the software. In this case, you can skip the scan process, so you can view lost files directly, and then copy and save the data that needs to be recovered to other partitions.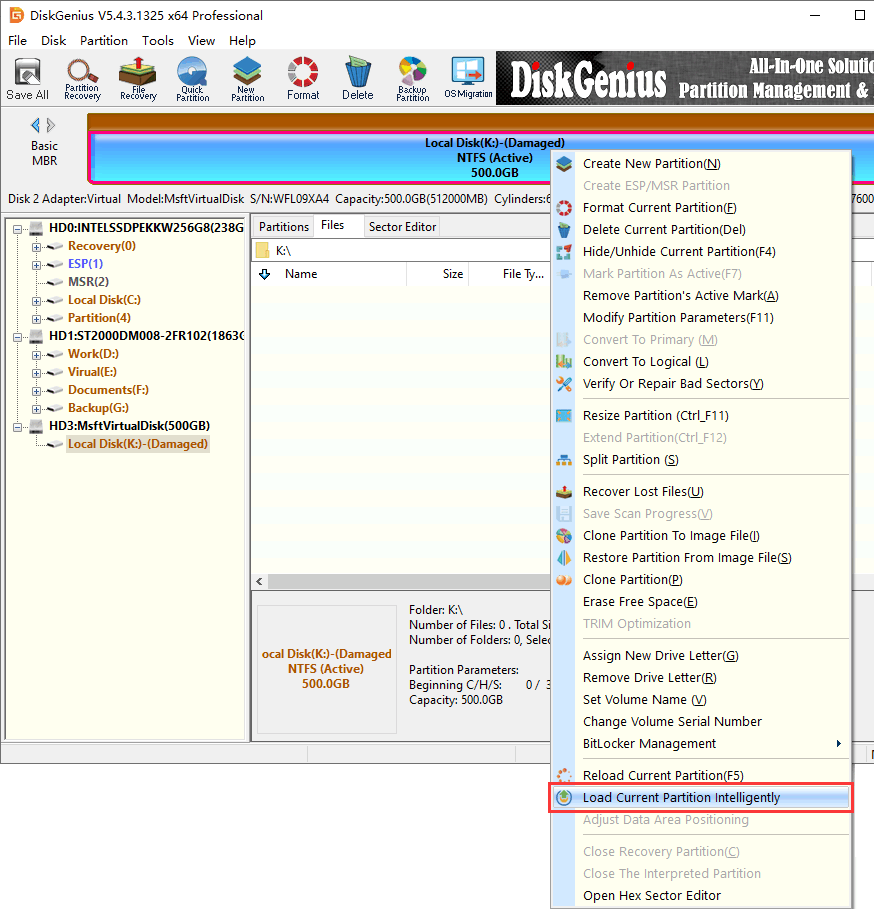 Step 2. When the "Load Current Partition Intelligently" function cannot find lost files, you can also use the "File Recovery" function to scan the RAW partition: select the partition with lost data and click the "File Recovery" button > and click the "Start" button to enter the scanning stage.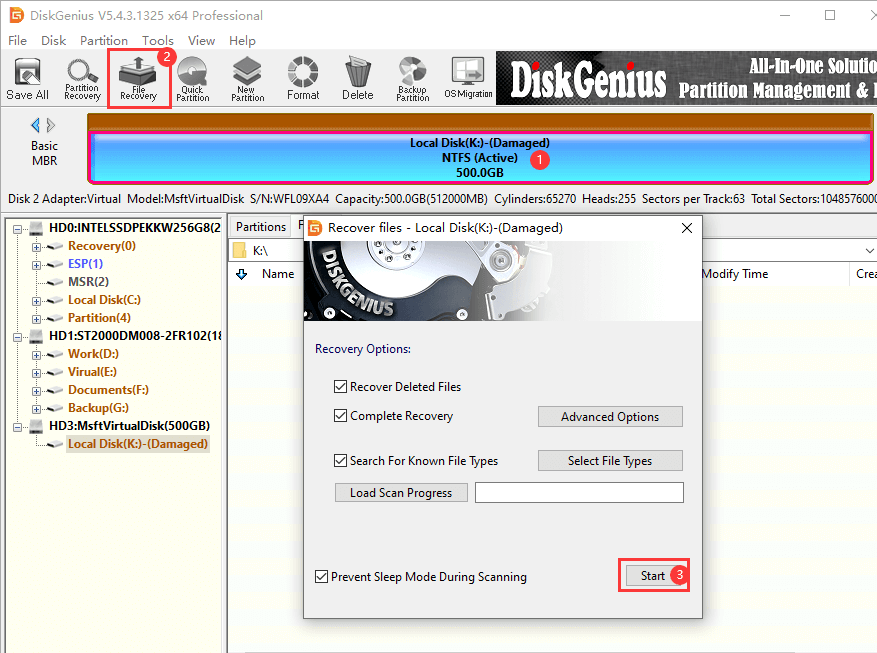 Step 3. Preview the missing files and check if files can be recovered properly.
The file preview is simple. Double-click a file listed in the software to open the window shown in the following image. If the content of the file can be viewed normally, it means that the file is not damaged and can be recovered normally eventually.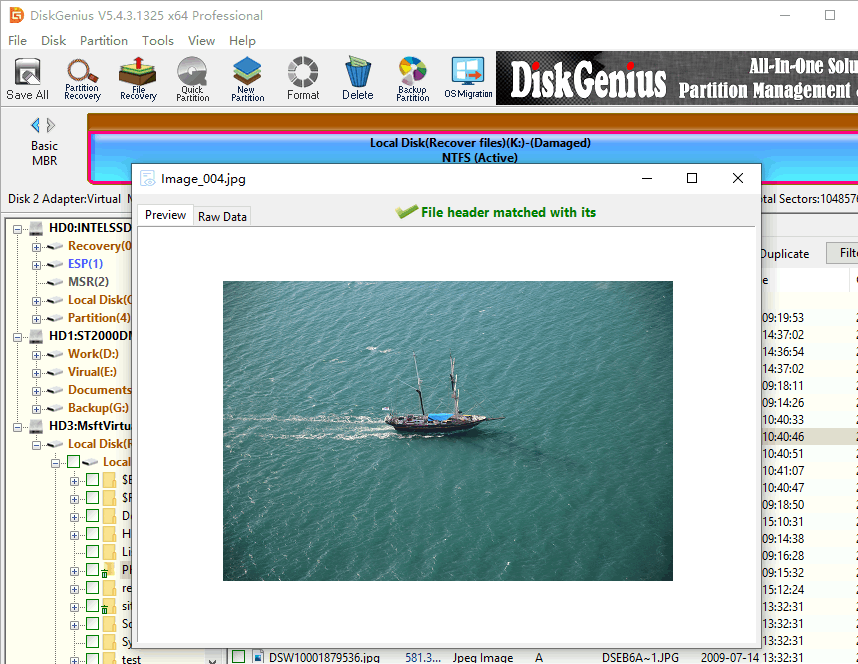 Step 4. Check the files you want to restore, then right-click and select the "Copy To" menu item. After that, select a location in the pop-up dialog to store the recovered data.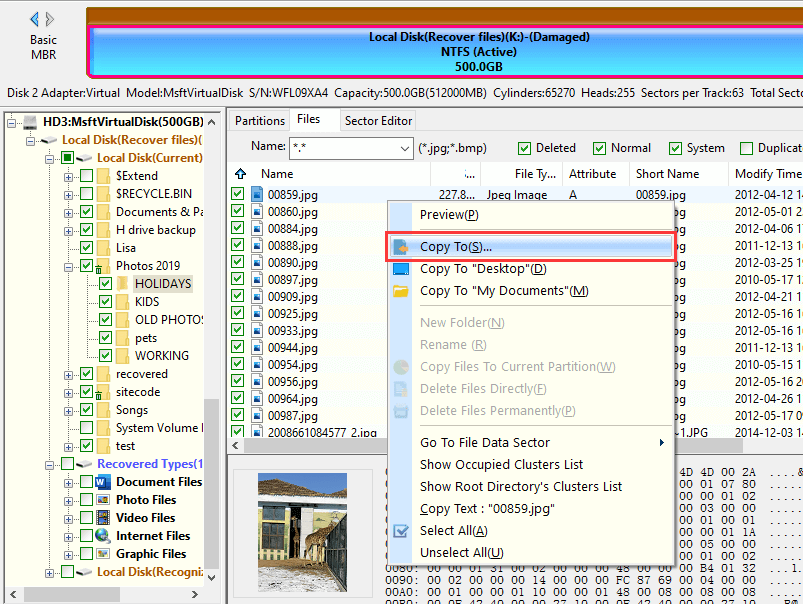 Why does the partition become RAW?
There are many reasons for data loss of devices such as mobile hard disk or USB flash drive to become RAW format. The following are some common reasons:
When removing a hard drive or USB flash drive, unplug the drive without clicking "Safely Remove Hardware and Eject Media".
Incomplete read and write operations that cause file system damage or confusion, such as shutting down or rebooting system suddenly while it is reading and writing data.
The power supply of the portable hard disk or the computer's USB port is unstable, resulting in disk I/O error.
A bad track on disk (bad sector), a bad track appears on the disk area that stores file system or at a critical location in the partition table can cause the partition to be unreadable.
Disk aging. To some extent, the hard disk storage device also has a service life, the use of a long time is prone to various problems.
Hardware quality problems, the use of fake USB disk, inferior external enclosure and so on will lead to data storage problems, such as storage addressing error, write information disorder.
A virus or malware that corrupts some critical data on the partition.
File system errors occur during operations such as resizing or merging partitions.
Disks are dropped or vibrated while the hard disk is reading or writing data, causing the head to be unstable or damaged.
Conclusion
Hard drives are vulnerable to corruption due to several factors such as bad sectors, malware or virus infection, improper handling, sudden shock, or system crash, and more. A Windows-based hard drive partition turns RAW when the file system gets damaged. However, with the help of DiskGenius, you can retrieve lost files from RAW partition of hard drive, SD card, and other removable disks.
Related Articles