Are deleted files go forever?
No matter in work or daily life, people use many kinds of devices to store various files like photos, documents, videos, audios, etc. When using these devices, it is unavoidable to operate by accident, for example, users may delete some important files by mistake. Deleting important files accidentally causes huge trouble to people. When meeting this problem, some people would like to spend a lot of money to get help from technical data recovery staff. However, some people even have no idea on how to solve this problem. If important files cannot be restored properly, they have to face the huge losses.
In general, when files are deleted from hard drive, we can restore them from Recycle Bin. However, if files are further deleted from Recycle Bin or files are deleted from USB disks, they cannot be restored in this way anymore. Does that mean deleted files are lost forever? Speaking of where deleted files go, they are not completely erased from hard drive even when you empty the Recycle Bin. As long as the disk space where recently deleted files existed hasn't been overwritten by other data, deleted files can be recovered by data recovery software.
How can I recover recently deleted files?
When it comes to recover deleted data, it is recommended to use a recovery program that has very good recovery result to do the job. DiskGenius is a professional data recovery program, and it can recover lost data from different devices such as computer, USB drive, hard drive, external hard drive, SD card, camera, voice recorder and so on. This software provides file recovery function which can deal with all types of data loss problems. The following explains the process of recovering deleted and lost files with DiskGenius.
Step 1: Open DiskGenius and choose the partition where deleted files existed. Then click File Recovery button.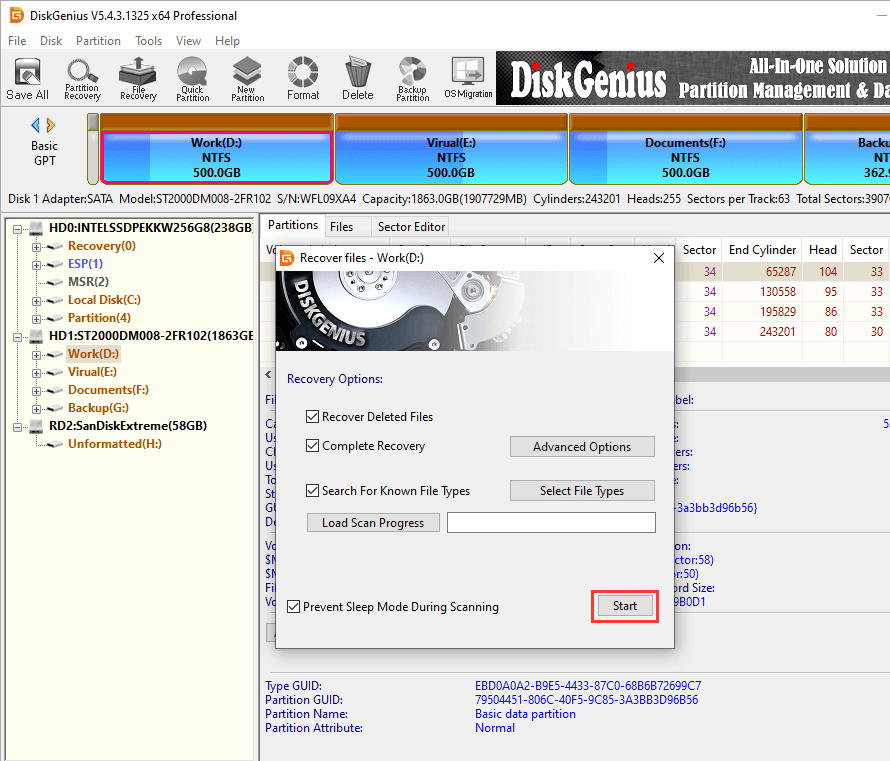 Step 2: Click Start button and the software will start scanning the partition to look for lost files.
DiskGenius provides three recovery options, i.e. Recover Deleted Files, Complete Recovery and Search For Known File Types. After checking all of the three options, the software will carry out a complete and deep scanning for the selected partition.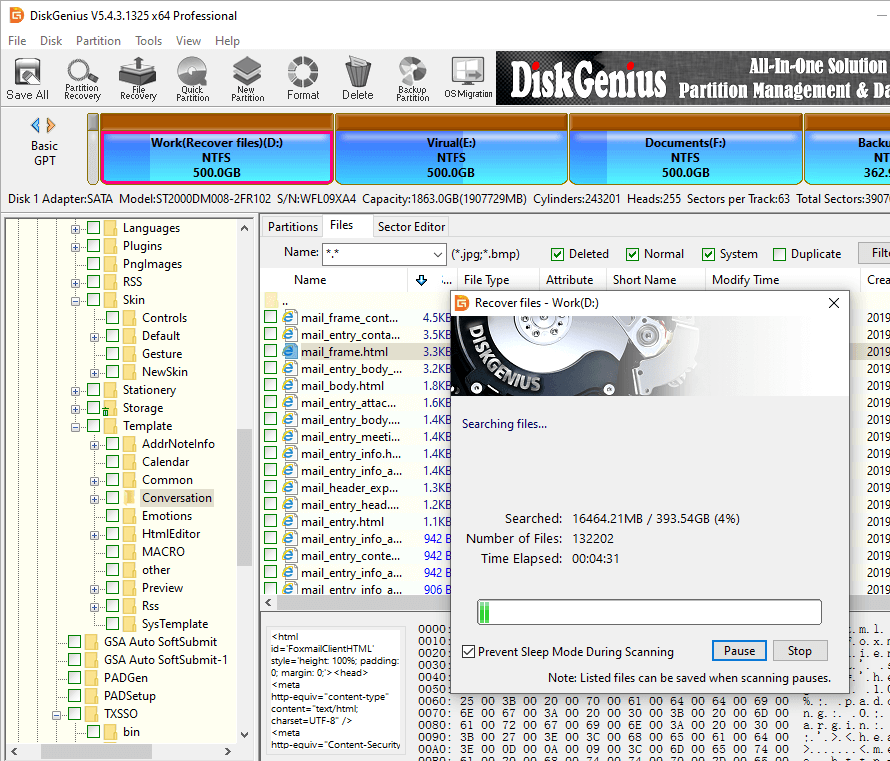 Step 3: Preview files and check whether they can be recovered correctly.
Double-click a file in the scanning result, and a preview window will pop up, showing file content. If files can be viewed without errors, then they can be recovered correctly in the end.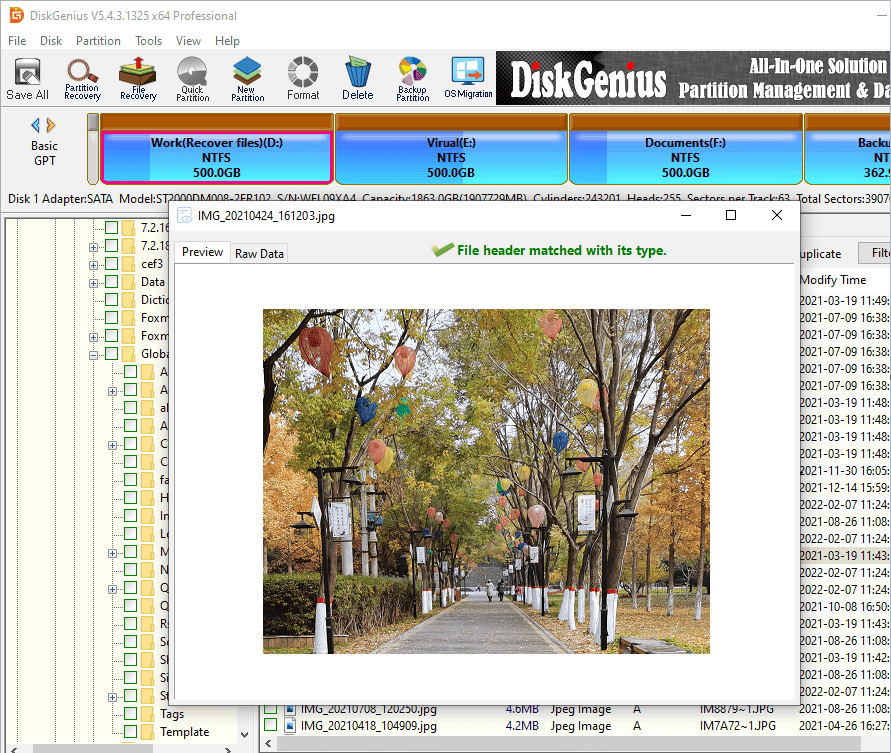 Step 4: Copy files to a secure location. Choose files you want to recover, right-click the mouse, and choose Copy To from appeared context menu. After this, you can specify a location to save recovered data.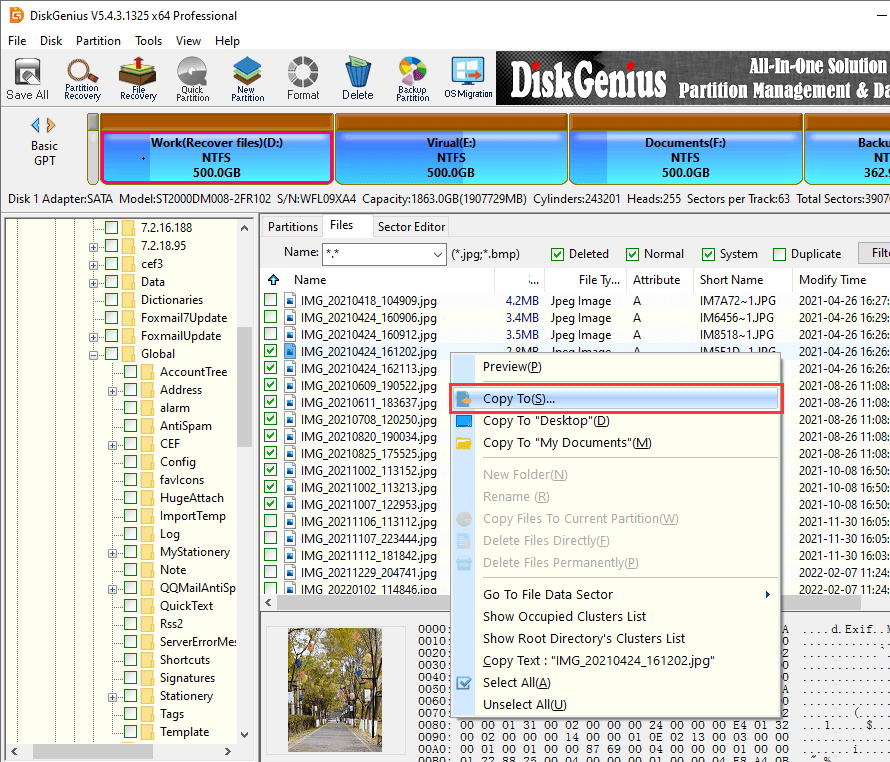 Note: Data recovery is not an all-powerful technology, and it cannot guarantee that all lost data can be recovered in 100% all the time. For instance, lost files which have been overwritten cannot be recovered. Therefore, when you realize important files get lost, the first move is to protect lost files from being overwritten. How to avoid data to overwrite? The method is very easy in fact: stop using the drive and do not make any changes to the drive either.
Frequently asked questions on deleted file recovery
1. How to recover deleted files from USB drive?
Step 1: Insert the USB drive to computer USB port, and wait for the computer to recognize USB drive.
Step 2: Run DiskGenius, and then use File Recovery function to scan the USB drive.
Step 3: Preview and copy files to a safe place.
2. How do I recover permanently deleted files from Windows PC?
To recover permanently deleted files from Windows PC:
Step 1: Launch DiskGenius, select the partition from which you want to recover data and click File Recovery.
Step 2: Click Start button to search for lost files.
Step 3: Preview and copy wanted files to another drive.
For step-by-step guide: How to recover permanently deleted files in Windows 10/8/7?
3. Can you recover photos after deleting from recently deleted?
If you've deleted photos from the "Recently Deleted" folder, these photos cannot be restored directly from it. In this case, you can try restoring deleted photos either from previous backups or using photo recovery programs.
4. Is there a recently deleted on files?
Yes. The Recycle Bin works like the recently deleted on files. When you delete files from internal hard drive unintentionally, you can search for them in Recycle Bin and then restore files to their original location.
Verdict
After reading the tutorial above, you should become able to undelete files from hard drive and external USB drives on your own. As a kind reminder, when suffering from data loss issues, the first thing that we should do is to prevent deleted files from being overwritten. Then, use data recovery software to recover recently deleted files. Moreover, to avoid losing important data, it is necessary to back up important data in time.
Recommended for you