Table of Contents
How do I recover a NTFS partition?
NTFS is one of the widely used file systems, and hard drives used in Windows are formatted as NTFS by default. NTFS refers to New Technology File System and it was initially developed by Microsoft. Other operating systems such as Mac OS X supports to read NTFS disk by default. Despite the advantages of using NTFS, users care more about data security. NTFS partition and files stored in the partition may get lost due to various factors, for example, you accidentally format the partition, the partition becomes RAW, etc. How can I recover a NTFS partition? Partition recovery software can easily get back data from NTFS partitions. Before starting NTFS data recovery, please make sure the following:
Do not write any data on the drive and do not make any changes to the drive either. Otherwise, lost files will be overwritten.
The NTFS drive is in good physical condition. A hard drive may get hardware damages due to lots of reasons, and partition recovery software does not work on such hard drives.
Free download partition recovery software to recover NTFS partition
DiskGenius is reliable partition recovery software, and it supports to recover deleted / lost partitions as well as retrieve files from formatted / deleted / RAW partitions. It is designed with a "Windows File Explorer" style interface, making the partition recovery clear and effective. When it finishes scanning the disk, all found partitions will be displayed so that you can access lost files easily. When recovering RAW partitions, the intelligent scanning technology will find lost files existing in the drive rapidly without scanning the entire drive sector by sector.
Host System: Compatible with all versions of Windows operating system, including, Windows 10/8/7/Vista/XP, Windows Server 2021/2019/2016/2012/2008/2003, Windows PE.
Supported devices: hard drive, external hard drive, memory cards, USB flash drives, RAID, Windows Storage Spaces, Virtual Disks (VMDK, VHD, VHDX, VDI, HDD), LVM, and so on.
Supported file system: NTFS, exFAT, FAT32, FAT16, FAT12, EXT2, EXT3 and EXT4.
Guide #1: How to recover deleted or lost NTFS partitions?
Is it possible to recover deleted partition? Is it possible to recover deleted files from NTFS? Yes, deleted NTFS partitions and files can be restored to their original status as long as they are not overwritten.
The trial edition of DiskGenius allows users to search for lost partitions and preview files in found partitions. So, you can verify whether lost NTFS partitions can be recovered correctly before you pay a penny. If lost partitions can be found by DiskGenius without errors, go ahead and buy a license code to get lost partitions and files recovered.
Here is how to recover deleted and lost NTFS partitions using DiskGenius.
Step 1. Free download, install and run DiskGenius on your PC. Select the hard drive where lost NTFS partitions were located and click "Search Lost Partitions (Partition Recovery)" from "Tools" menu.
Step 2. Set searching range and click "Start" button.
Four options (Whole Disk, All Free Space, The Selected Space and Customer Cylinder Range) are available for the scanning range, and you can either choose one on your own or just follow the default setting.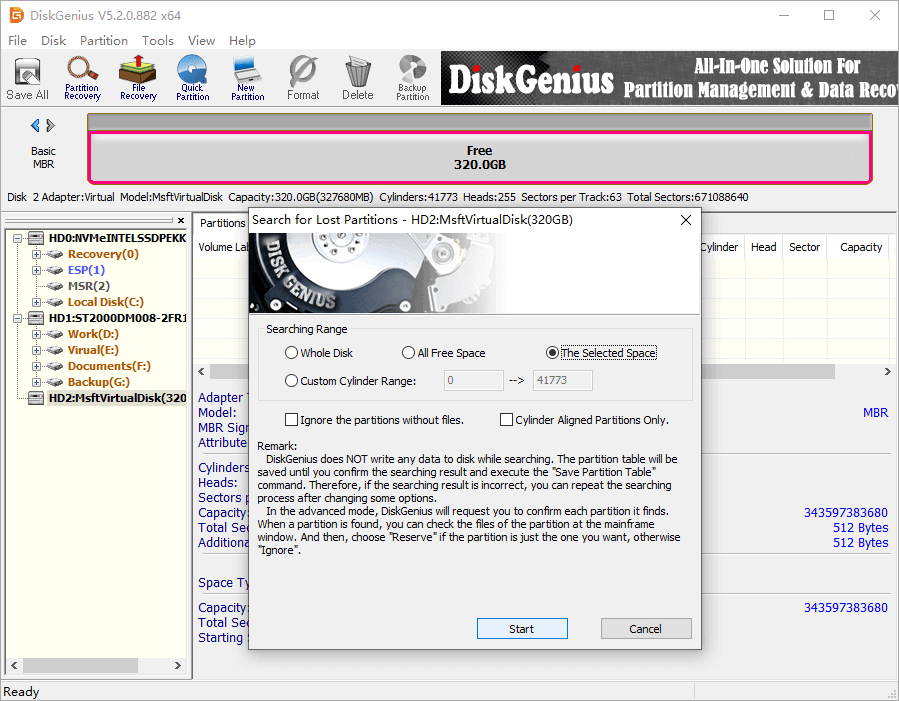 Step 3. Reserve or Ignore partition.
Once a partition is found, it will be displayed in the software. At the same time, you will see a dialog box as the picture below. You need to decide to "Reserve" or "Ignore" it. How to make the choice? You can view and preview files in this partition to make sure if this is one of the lost NTFS partitions you want to restore. Click "Reserve" button if you want to restore it, otherwise click "Ignore". Repeat the operation for each partition found by DiskGenius until the scanning finishes.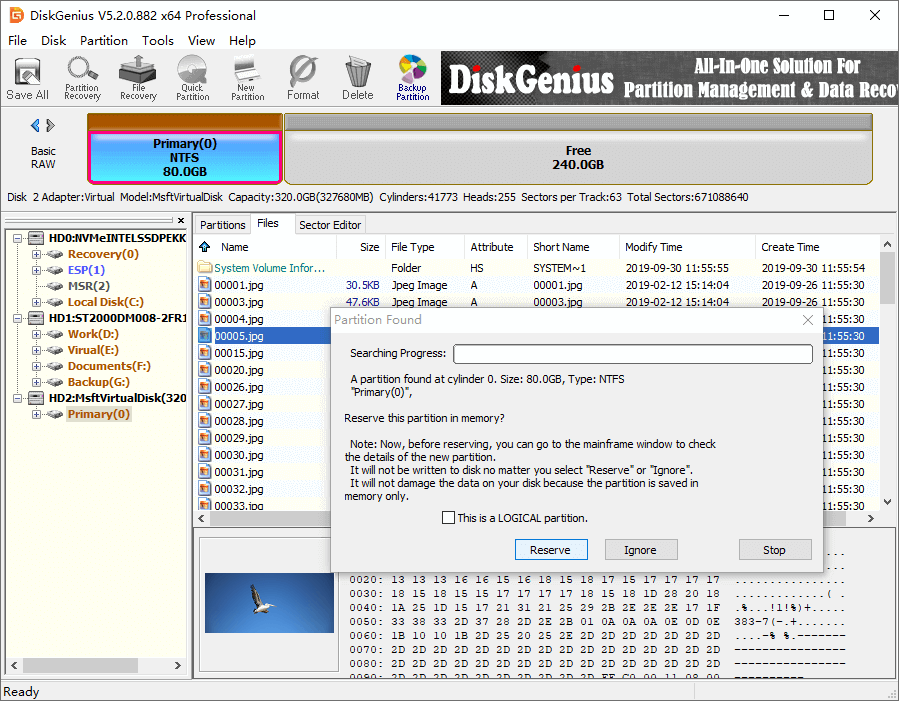 Step 4. Click "OK" button when DiskGenius finishes searching for lost partitions. Then you can view all partitions and files in the software.
To access these partitions in Windows File Explorer, you need to register the software to a proper edition and save partition table.

Step 5. Get lost partitions recovered. Now you can either copy files you want to restore to another hard drive or save partition table.
Guide #2: How to recover data from formatted or corrupted NTFS partition?
Can a formatted partition be recovered? How do I recover files from corrupted / RAW NTFS partition? It is common to see a NTFS partition gets formatted or corrupted for some reason. Fortunately, you stand a good chance to perform NTFS data recovery. Now follow the guidance below to recover lost data from corrupted/formatted NTFS drive.
Step 1. Right-click the corrupted NTFS partition > choose "Load Current Partition Intelligently" option.
This feature will try to load all files that existed in the NTFS partition before it gets corrupted, and it also works well on RAW drives recovery. It does not matter even if your files are not found by this feature, you can still go on with Step 2.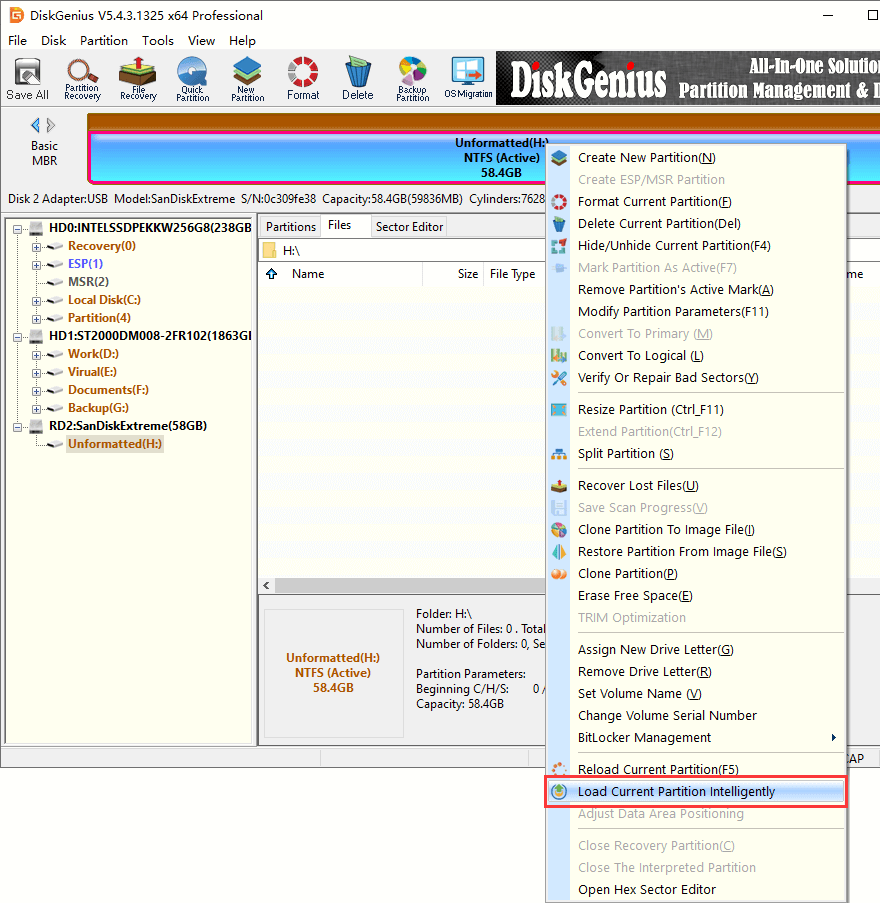 Step 2. Right-click the NTFS partition that waits for recovering data and choose "Recover Lost Files" from the appeared menu.
Tip: this feature also applies to recovering deleted files from NTFS partitions.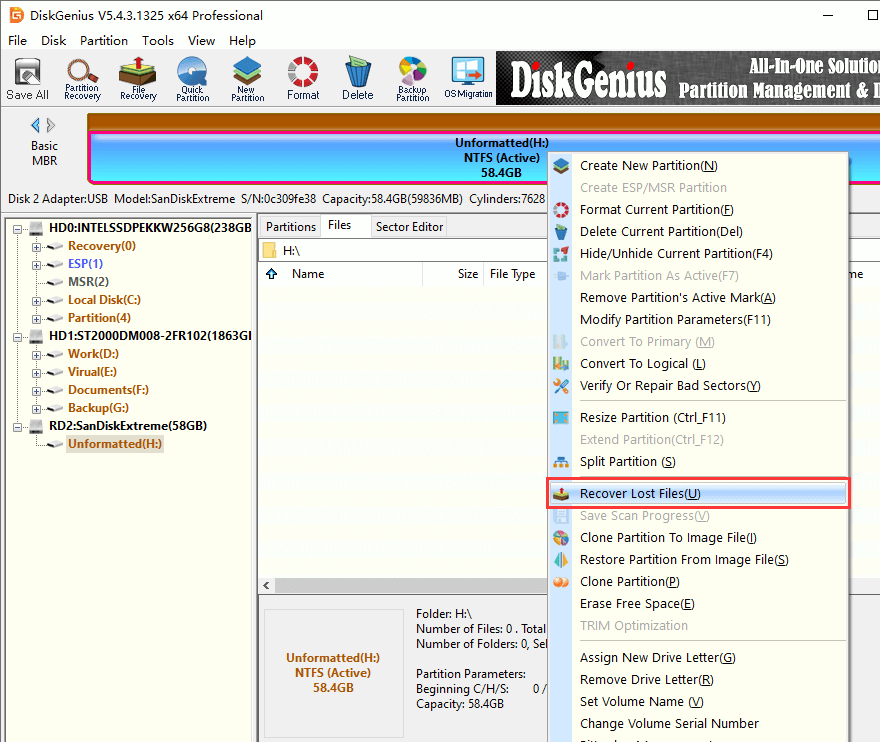 Step 3. Choose scanning mode and click "Start" button to initiate the scanning.
Recover Deleted Files: DiskGenius will quickly scan free space on a partition to locate deleted files. This option will be greyed out if the partition is not accessible.
Complete Recovery: DiskGenius will run a full scan of the selected searching range to look for lost files caused by formatting, RAW drive, etc. and it takes longer time than recovering deleted files.
Search for Known File Types: DiskGenius will run a deep scanning for the specified drive, and the software scans every sector to recognize as many files as possible. This scanning method works even file system gets damaged.
Thus, in order to get a better recovery result, all of these recovery modes should be selected.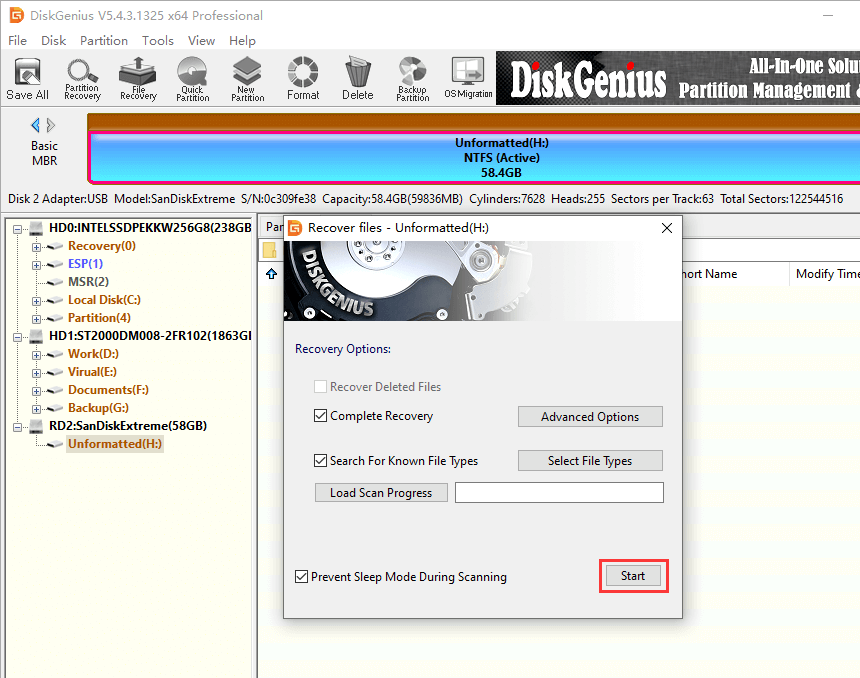 Step 4. Preview lost files to evaluate recovery result in advance.
DiskGenius supports to preview photos, videos, audio, text, Microsoft Office Documents, and PDF files, helping you confirm whether lost files are correct. Double-click a file listed in the software, and you can view original file content on a pop-up window. Besides, you can use the Filter feature to screen files and quickly find out what you need.
If you are not satisfied with the scanning result, feel free to contact the support team who will analyze causes and figure out solutions for you.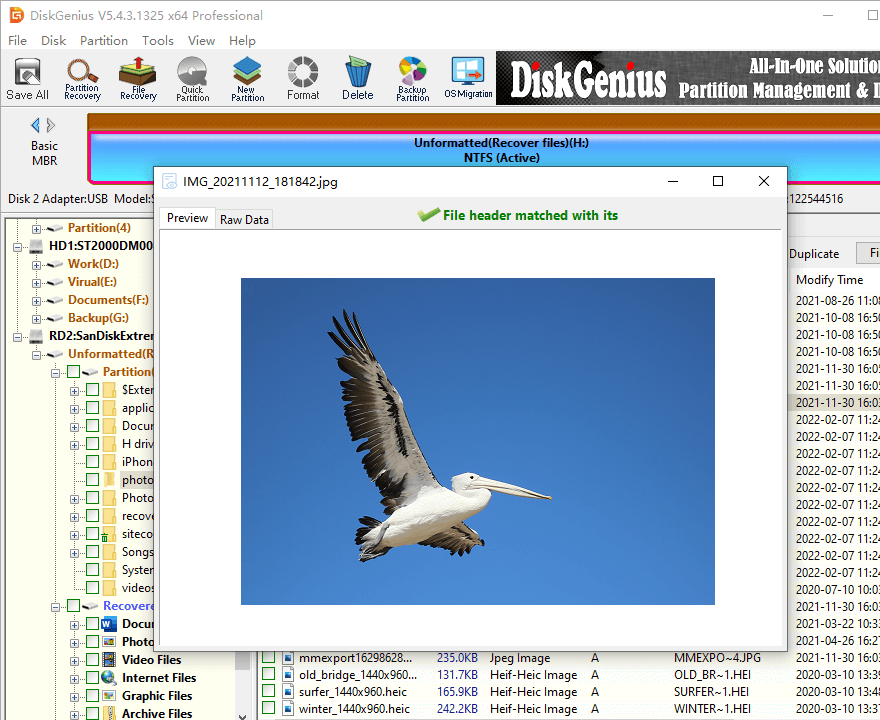 Step 5. Choose files and folders you want to recover from this NTFS partition and copy them to another partition.
The target partition should be different from the NTFS partition you are recovering data, otherwise, lost files will be overwritten.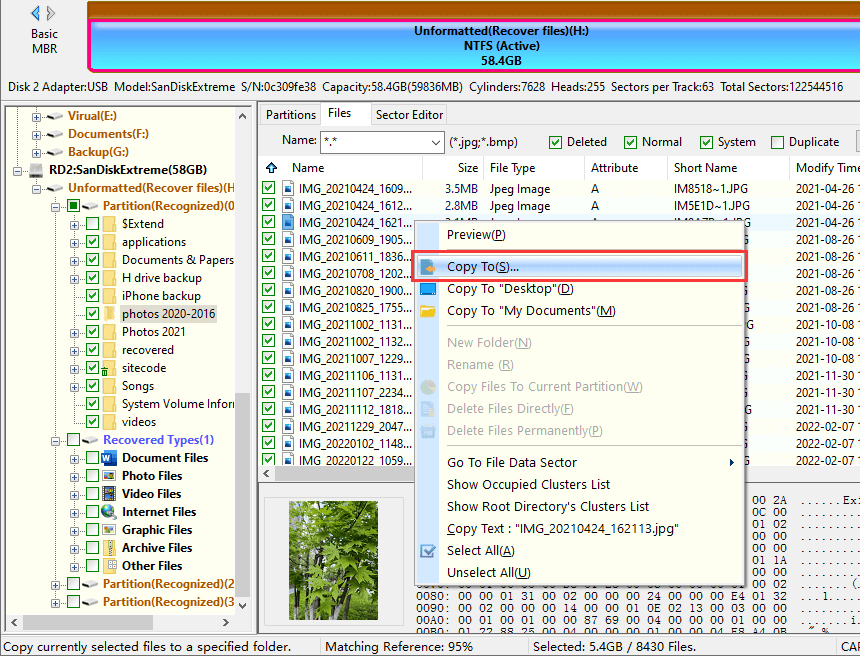 You may also ask
1. How do I fix a corrupted NTFS partition?
To fix a corrupted NTFS file system drive, please follow these steps:
Step 1. Recover files from the corrupted NTFS drive and copy recovered files to another healthy drive.
Step 2. Format the corrupted partition to make it accessible. If the formatting cannot complete, then check bad sectors with DiskGenius Free Edition.
2. How do I recover a corrupted partition?
First, do not format the corrupted partition. Second, start the recovery as soon as possible. A partition recovery tool is needed in order to retrieve data from a corrupted partition. Follow these steps to conduct the recovery.
Step 1. In DiskGenius, right-click the corrupted drive and choose "Load Current Partition Intelligently".
Step 2. Preview files and copy them to an accessible partition.
3. What does partition recovery do?
Partition recovery refers to the process of rescuing lost files from corrupted, formatted or lost partitions as well as the task of restoring deleted/lost partitions. It helps us to get back lost files and partitions from various storage devices.
4. Can NTFS partitions be recovered?
Yes, deleted partitions can be recovered. Typically, when a partition is deleted, Windows removes its record from partition table and tag disk space as Unallocated, allowing users to create a new partition if needed. As long as the disk space remains untouched, the lost partition and files can be restored using a partition recovery program.
5. How do I recover a partition on a USB drive?
There is only one extra step when recovering a partition on a USB drive comparing with recovering partition on hard drive, i.e., connect the USB drive to computer and make sure it can be detected by Windows properly. Then follow steps talked about above to start the recovery.
6. How do I expand my NTFS partition?
If you want to expand NTFS partition in Disk Management, there must be unallocated space adjacent to it and the unallocated space should be on the right side. In other cases, use DiskGenius Free edition to expand NTFS partition.
Conclusion
Tutorials above shows that DiskGenius is effective partition recovery software to recover NTFS partition after it is formatted, deleted or corrupted. It's worth noting that the successful recovery owes to the fact that the NTFS partition is not physically damaged, and no data was written to the hard drive after data loss happened. Whenever you want to recover data from NTFS partition, try steps above and you can find and preview files with DiskGenius trial edition.
Related Topics