Can I move Windows 10 from HDD to a new SSD? If your computer takes too long to boot up, you should consider moving your Windows operating system to a solid-state drive (SSD), which is one of the best upgrades you can get to speed up your computer. Running Windows 10 and software on an SSD enables you to start programs or load games much faster. In addition, the price of SSD drives has become much cheaper these days, which is why you should buy one for your computer. When it comes to replacing HDD with SSD without reinstalling Windows, the best solution is to migrate Windows OS to SSD. In the next section, you will learn how to transfer Windows to a new SSD or HDD using DiskGenius Free Edition.
How do I move Windows 10 to a new SSD using DiskGenius Free Edition?
DiskGenius Free Edition provides the function of system migration, which allows you to easily migrate Windows operating system to SSD or other storage devices, eliminating the need to reinstall the system and various software.
Here is the step-by-step guide of system migration.
Step 1. Run DiskGenius and click System Migration button from toolbar, or choose Tools > System Migration.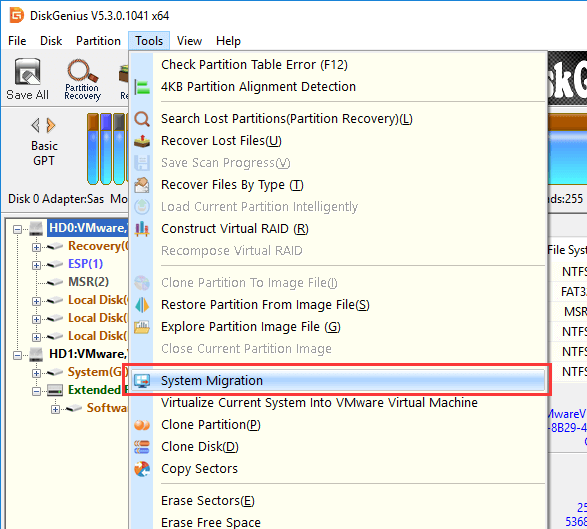 Step 2. Select the target disk and click OK from pop-up window.
Warning: Files and partitions on the target disk will be erased, please make sure you've backed up important files beforehand.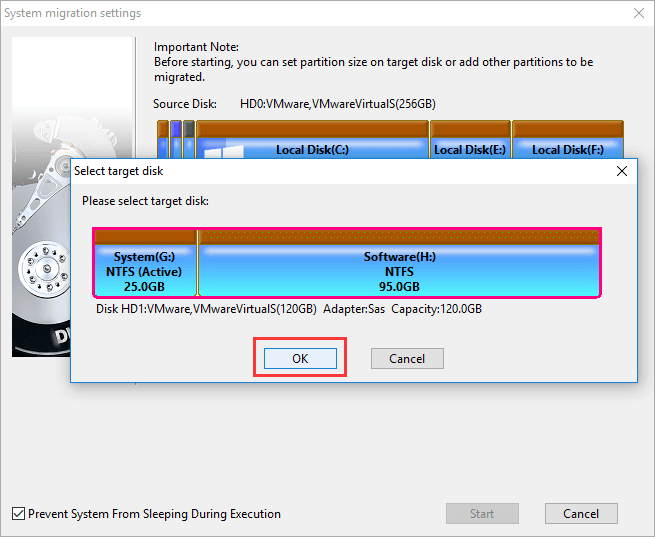 Step 3. Set partition size on the target disk.
You can drag arrows between partitions to set partition size on the target disk.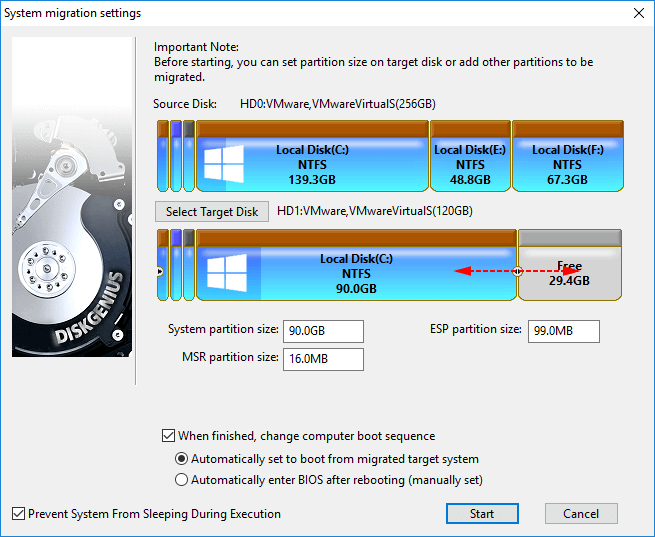 If your computer uses UEFI, you can also set whether to change computer boot sequence, for example, if you choose "Automatically set to boot from migrated target system", your computer will boot from target disk automatically. If you want to continue booting from original disk, just leave this option unselected.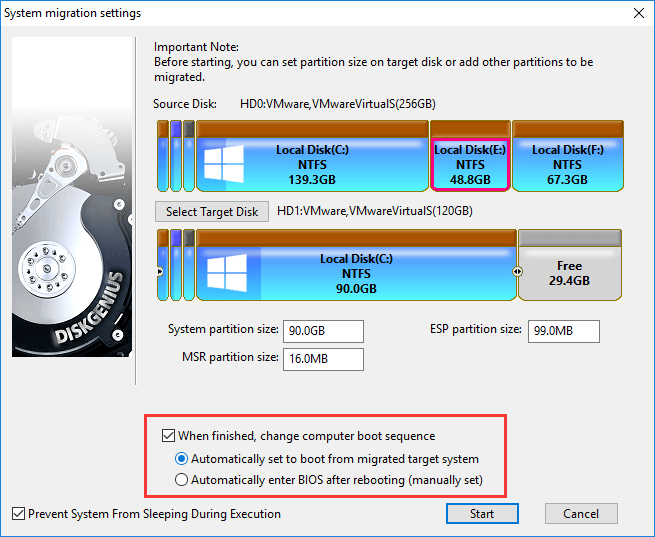 Step 4. View settings and click Start button. Then click OK if all files on target disk have been backed up.

Step 5. Select system migration method.
How Migration: DiskGenius migrates OS to target disk without shutting down system.
Reboot to WinPE: Computer will reboot to DiskGenius WinPE edition to complete system migration.

Step 6. Wait for the OS migration process to complete.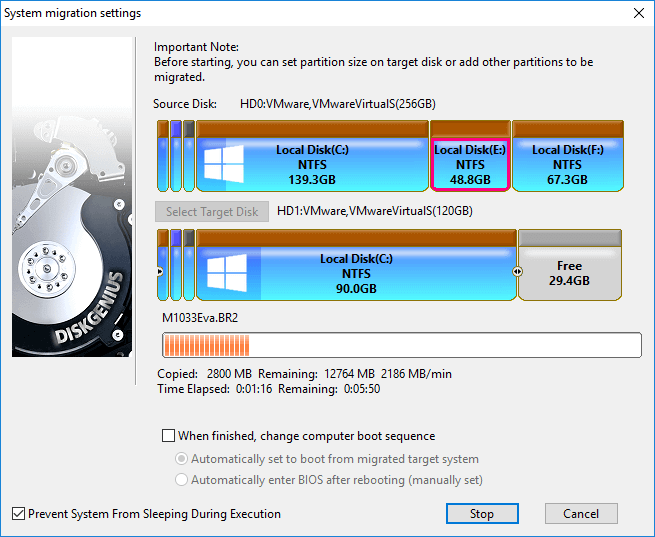 Important Notes:
For security and ease of use, DiskGenius will repartition the target disk during migration system. This means that if there is any data on the target disk, it will be lost, so it is necessary to back up the important data on the target disk first. If the user forgot to back up the data before migrating the system, and the original data on the target hard drive is very important, you can contact DiskGenius data recovery customer service to ask if it is possible to restore the data.
Although DiskGenius supports to migrate Windows to a smaller SSD or HDD, you have to make sure the capacity of target SSD or HDD is large enough to hold the operating system and other files to be transferred.
After system migration finished, either original disk or target disk can be used to boot the computer. By default, computer continues to boot from original disk, and you need to manually change boot sequence in BOIS if you want to boot from the new SSD.
Conclusion
That's all you need to know about how to move Windows 10 to SSD. I hope you found this article useful. DiskGenius Free Edition includes many other useful features like clone hard drive, format SD card to FAT32, wipe a hard drive, etc. Free download it and try it now.
Related Pages