Backup data using third-party backup software
In our daily work and life, the most commonly used way may be to use third-party tools to back up data. The use of backup software is not limited by time and place, and the operation process is very simple and convenient. It is recommended that you download and use DiskGenius, the partition backup function of DiskGenius can backup all data and settings of the partition to a specified file, which is usually called an image file. With backup files, you can restore a partition when it is damaged or data is lost.
DiskGenius provides three ways to backup partitions:
Sector by sector backup: it allows you to create images of all sectors on the selected partition, including sectors containing data and blank sectors. Therefore, this process may take longer than a normal partition backup. Image files can be restored to the source partition or another partition of exactly the same size.
Backup partition by data storage structure: backup the valid data of the source partition to the image file according to the file system structure without making any changes. This mode backs up only valid data and is the fastest. However, when you restore data from an image file, the target partition should be the same size as the source partition.
Backup partition by file: backup all files and other valid data of the source file to the image file without backing up invalid data, which takes less time. Image files can be restored to any partition that can store them. Files restored from image files will be reorganized without file fragmentation.
Backup files can be compressed, and you can set fast, normal and high-quality compression levels. Generally, image files with higher compression levels are smaller in size but take longer. In most cases, fast is the default and best choice.
DiskGenius supports hot backup when backing up system related partitions, so that the system can be backed up when Windows is running without restarting to WinPE or DOS environment.
Backup type: full backup and incremental backup.
Full backup: back up all data, whether or not there is a backup.
Incremental backup: backs up only changed data or content.
The following are the specific operation steps for partition backup using DiskGenius:
Step 1. Click the Backup Partition button in the toolbar, or click Tools - > Clone Partition To Image File to open the backup window.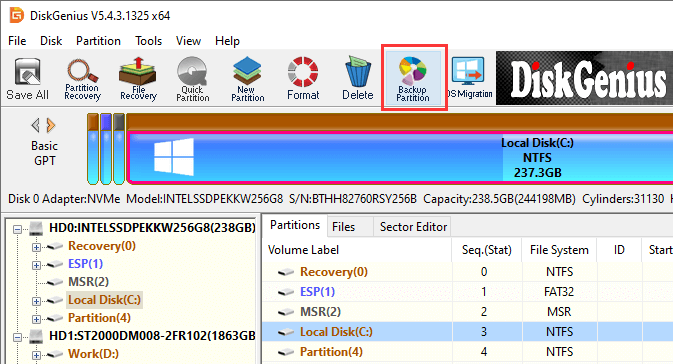 Step 2. Click the "Source Partition" button to select the partition to be backed up, and then click the "Select Image File" button to name the image file and set the save location.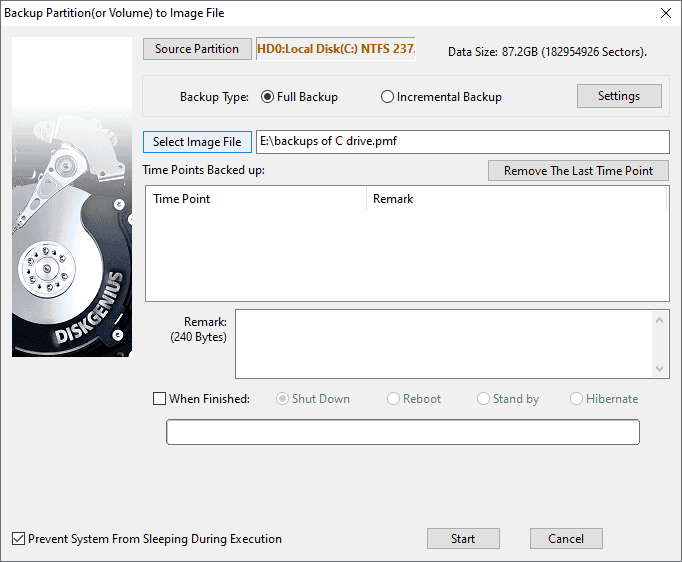 You can click the Settings button to select advanced settings for backup.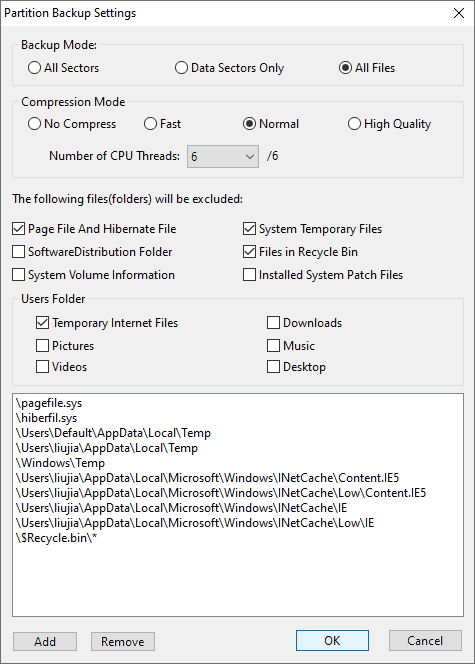 Step 3. Click the Start button, and you can see the following message box.
If you select the Hot Backup button, DiskGenius will directly back up the system partition without restarting the system; If you click the Reboot to WinPE button, the current system will automatically restart to DiskGenius WinPE and continue the backup.

Step 4. After successfully backing up the partition, click Complete.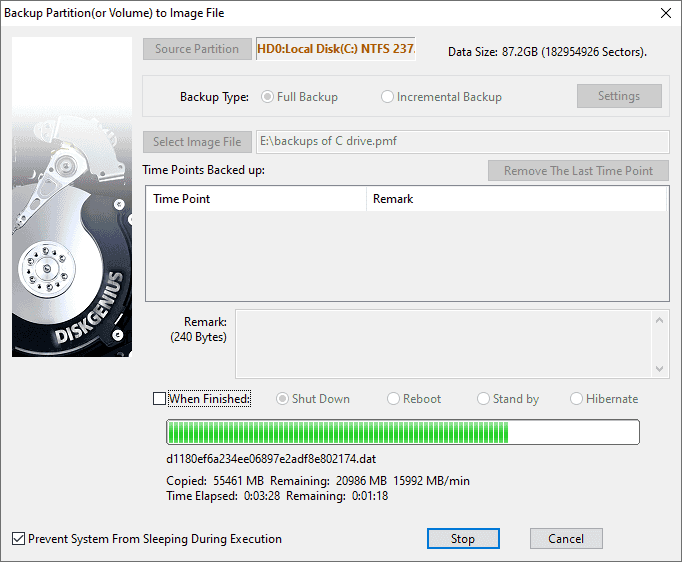 Situations that may cause data loss:
Natural disasters: earthquakes, building collapses, fires and floods may cause significant damage to the data, and these conditions are unpredictable, so it is almost impossible to give early warning of such disasters. Backing up data in advance may be the only way to help with data recovery.
Storage device failure: there may be many reasons for storage device failure, such as power surge or power fluctuation, overheating, frequent shaking of the device on rough roads, etc.
Power failure: if the computer is processing important events, frequent power surges or fluctuations may lead to data loss.
Liquid damage: This is a very common problem. Many people work with laptops while drinking coffee at Starbucks. Accidental spillage of coffee or other drinks may cause short circuit or hardware failure. If the data is not backed up and exists only on the hard drive of the device, it may be lost.
Software or system file corruption: working in a computer system, many people must know the pain of software or operating system file crash.
Malware attack: ransomware is the latest threat to valuable data. There are other threats, such as Trojan horse or other malware, phishing, etc.
Theft: devices such as laptops and mobile phones may be stolen in cafes, airports, restaurants, cars and taxis.
Internal theft: some malicious staff can steal or destroy valuable data containing key information and cause serious damage.
Conclusion
Data backup is the most effective way to prevent data loss. Because any data loss cannot be guaranteed to be completely recoverable. If you have a backup, you don't have to worry about data loss. But in case you forget to back up, or the backup data is lost. You can also use the data recovery function of DiskGenius. As long as the data is not overwritten or damaged, DiskGenius can recover the data lost in most cases. In addition, DiskGenius also has the function of partition management. As long as you usually use the computer, we suggest you download DiskGenius on your computer to meet your daily needs.
Similar topics