SD cards are larger and faster than before, which means more photos and videos can be stored on an SD card. This is a good thing and also a bad thing. The bright side is that you can take more photos before the SD card runs out of space, and yet the down side is that you may lose more photos once the SD card gets corrupted or formatted.
It is definitely a heart-breaking situation to lose precious photos or videos that record important moments for your family members. And it's usually not possible to take those photos or videos again after the moment has passed. The fact is that there are numerous causes that can lead to SD card photo loss, for instance, accidental deletion, formatting SD card, unreadable SD card, virus, bad sectors and so forth. What can we do when photos get lost from SD cards?
Can I recover deleted photos on SD cards?
Can SD card data be recovered? The good news is that you have a good chance to perform photo recovery on SD cards. Here is a simple outline why you can recover deleted photos. When you delete a photo from your SD card or other storage device, the photo is not wiped immediately. The disk space taken by the deleted photo is marked as free and available for storing other data. Till now, you cannot see the deleted photo, but it remains on the SD card until it gets overwritten. This means that you have chance to get back lost photos as long as you haven't overwritten them.
Accordingly, the first thing you should do is stop using the SD card once you are aware that important photos are lost. Do not take photos or videos, do not store any data on the SD card, do not format the SD card, do not edit existing files, etc.
How do I carry out SD card photo recovery? First, turn off the product where the SD card is inserted, and then take off the SD card. Next, connect the SD card to a Windows computer. After this, you can start the recovery by following either guide listed below:
SD card Photo Recovery Guides: How do I Recover Pictures from My SD Card?
Notes: If the SD card that contains deleted photos is already physically broken and lost photos are of incredible importance to you, ask help from data recovery services which can deal with data loss issues that recovery software can't. The cost of data recovery services might be hundreds of dollars, so you do the decide whether lost photos are worth that amount of money.
Next, we'll go through two SD card data recovery programs and offer two step-by-step guides of recovering deleted or lost photos from memory cards.
Guide #1: Recover Deleted/Lost SD Card Photos Using Eassos Recovery Free
Eassos Recovery Free is free data recovery software, and it supports to recover various files from memory cards, USB flash drives, hard disks, external hard disks and more.
All recovery modes shown on the home interface can run a deep scan for free, preview lost files for free and recover up to 1GB of data before you upgrade to the Full Edition. It is a quite good deal to start with the free edition, for you can fully check if lost photos and other files are still recoverable.
Step 1. Install and launch Eassos Recovery Free on your computer. Then choose "Recover Files From Disk" mode.
Install the software on your computer hard drive instead of the SD card that needs data recovery.
The "Recover Files From Disk" applies to corrupted, formatted or damaged SD card recovery, and you can choose other modes according to the accurate data loss situation.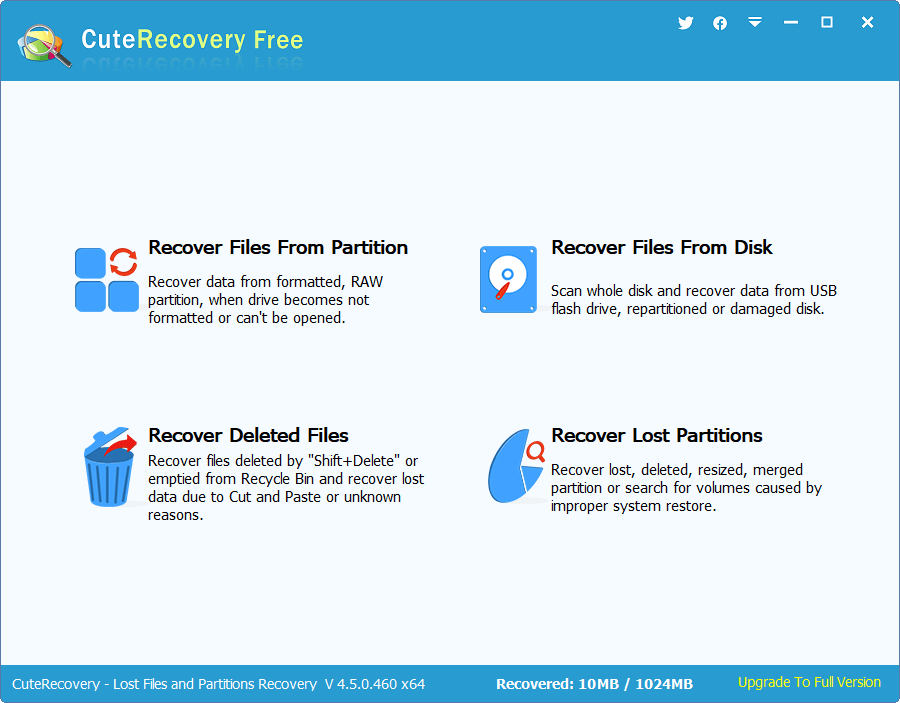 Step 2. Select memory card where lost photos were located and click "Next" button.
Then the software starts quick scan and deep scan on the selected drive, and displays lost files during the scanning process.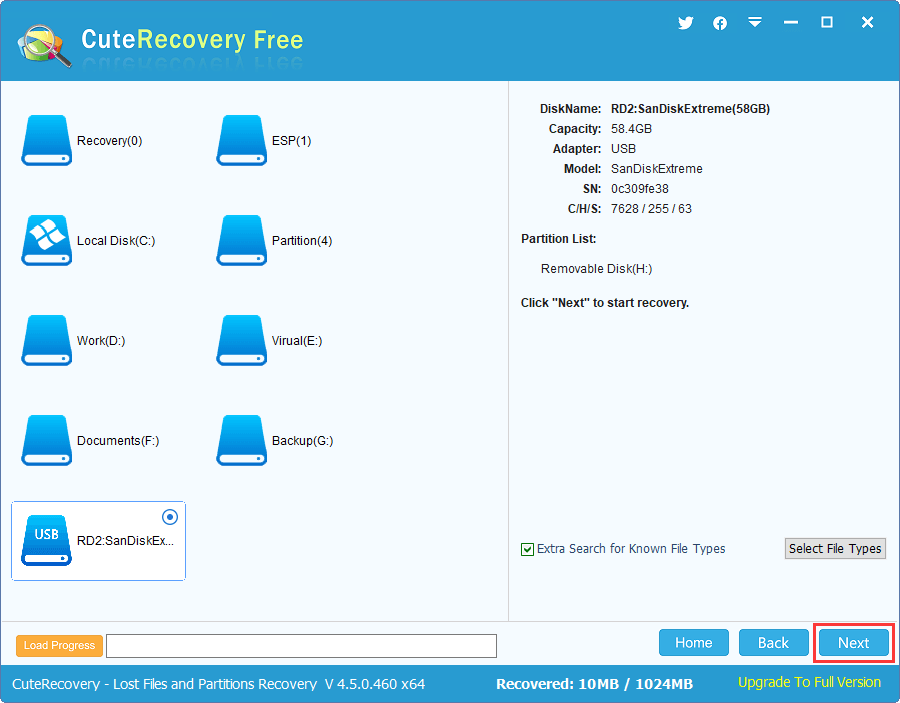 Step 3. Preview photos you want to restore and check if they are correct.
Lost photos and other files are listed on the software, the left pane shows paths, and the right pane shows files inside the selected folder.
There are two tabs on the left pane: Directory and File Types. Browse all files listed under both tabs and find files you want to restore.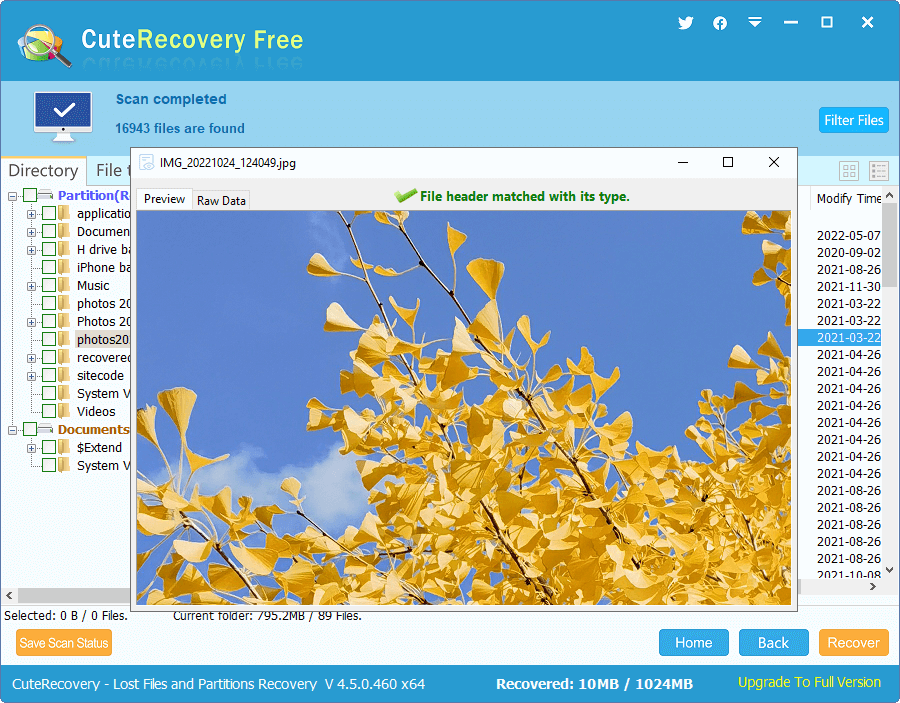 Step 4. Select files to be restored and click "Recover" button. Then set a place on computer hard disk to store recovered data.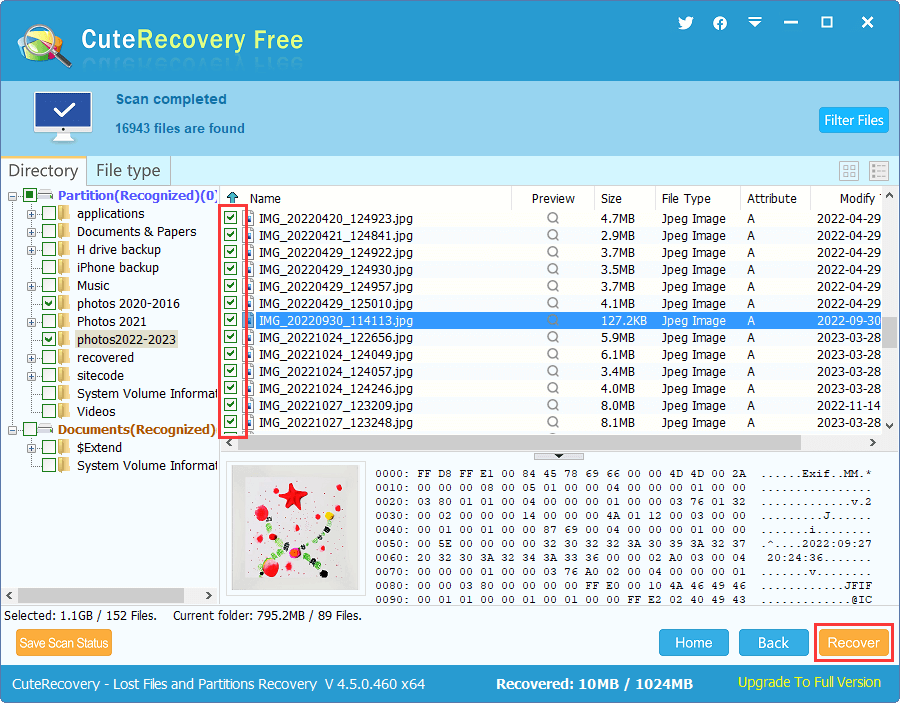 Guide #2: Recover Photos and Videos from SD Cards With DiskGenius
DiskGenius is professional data recovery, disk partition and data backup software for Windows computers and servers. It is designed with more heftier features and algorithms than free recovery software.
Although the SD recovery feature is available for the Standard Edition and Professional Edition, you can use the unregistered edition to run a deep scan for the memory card free of charge. Thus, you can easily check if lost photos are still recoverable before have to buy a license key. Let's get started to recover SD card photos:
Step 1. Install and start DiskGenius on your computer and you can see the connected SD card listed on the left pane of the software.
Step 2. Select the SD card > click "File Recovery" > Click "Start" button.
This starts the file searching process.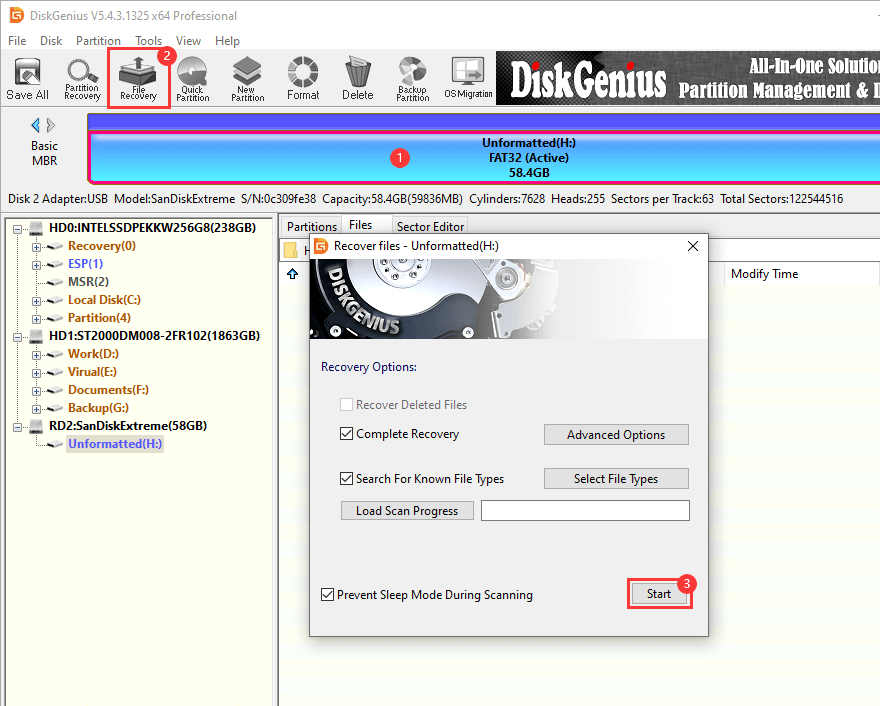 Wait for the scanning to finish. You can see lost files even though the software is not done scanning. Files are displayed in the manner of File Explorer, browse the left sidebar to browse file list and view files and thumbnails on the right pane.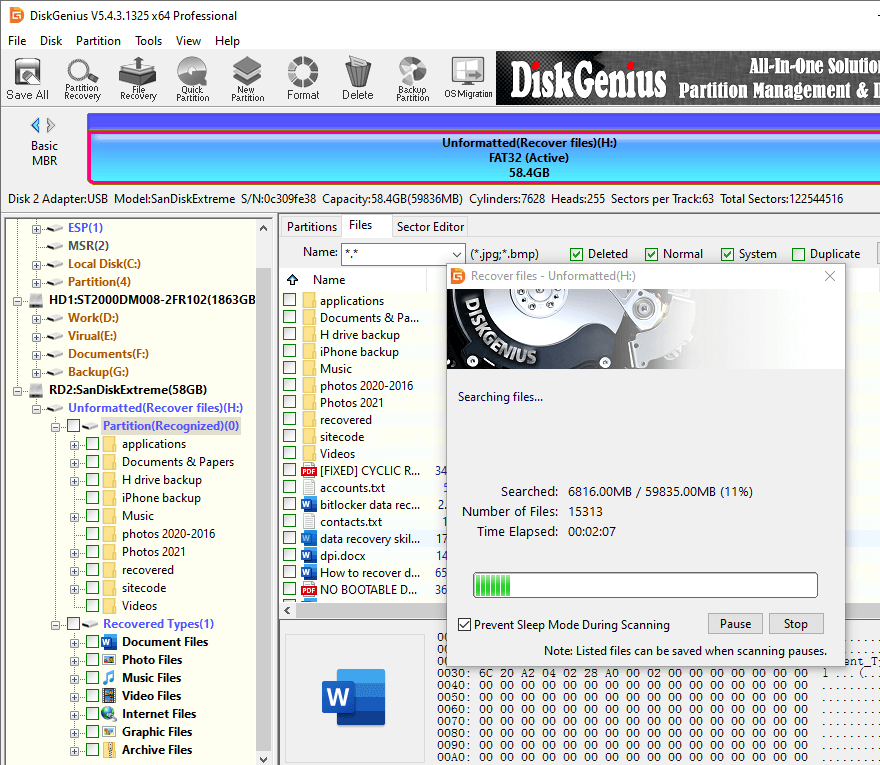 Step 3. Preview lost files to judge if they are damaged.
It is common to see that lost files get overwritten, in that case, the recovered files cannot open. Hence, it is necessary to pre-check whether your files are still recoverable. Double-click a file listed on the right pane, and you can view file content on a pop-up window, see the image below. If the preview shows the file content without errors, then the file is not damaged.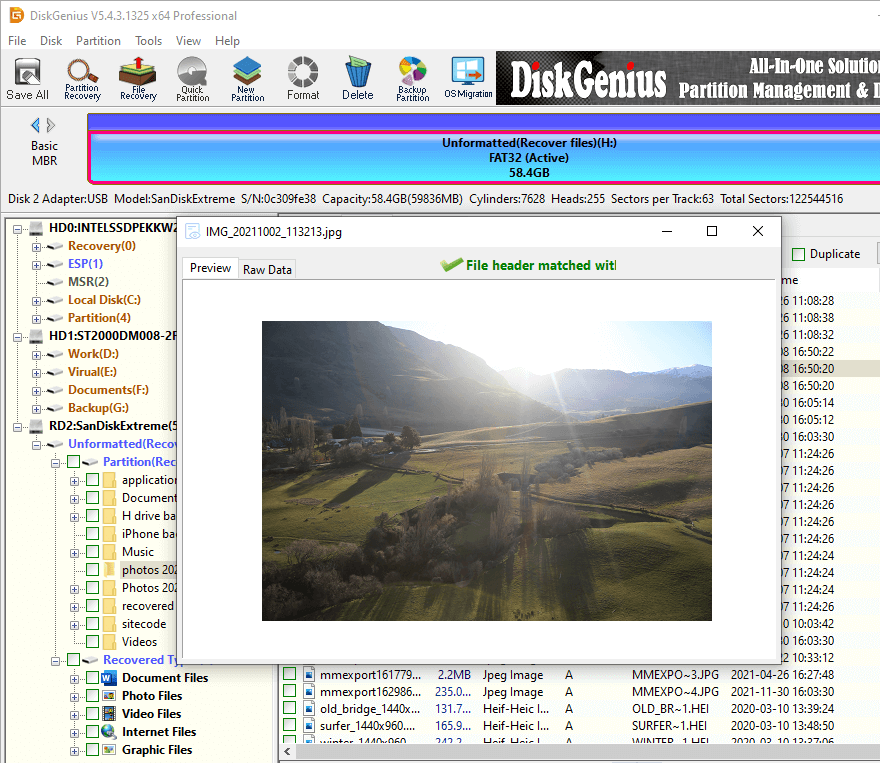 Step 4. Select whatever you want to recover, right-click selected data and choose "Copy To". Then you will be asked to choose a location to save recovered data.
Do not store recovered data on the SD card to avoid overwriting those that have not been recovered.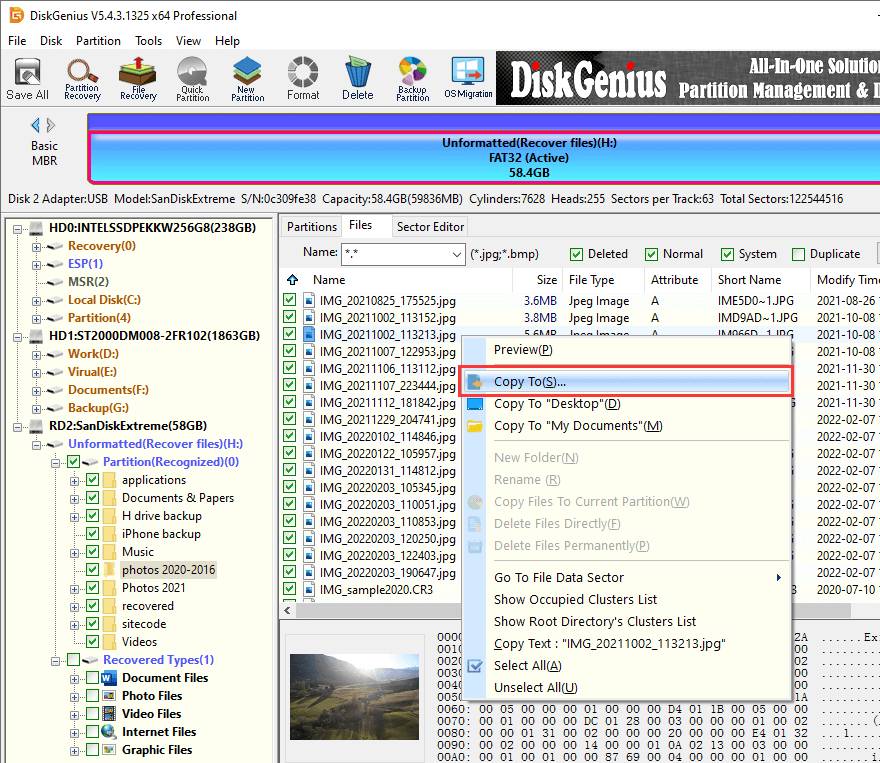 Step 5. Once the software finishes outputting data, you can open the target folder to view recovered photos, files, videos, music and more.
Conclusion
Although SD card recovery or photo recovery can be easily achieved by way of guides presented above, it should not be regarded the ultimate way of protecting your data. Apart from learning how to recovering data, you should also do everything you can to prevent photo loss in the future. Make a good backup plan, for example copy photos to computer hard disk regularly, eject SD card safely, scan SD card using antivirus-software, use reliable memory cards, etc. Should you have any suggestions, questions, or comments about SD card photo recovery, feel free to share your insights with us, and we can be reached by submitting a ticket on the Contact Us page.
FAQs About SD Card Recovery and Photo Recovery
1. Can you recover permanently deleted photos from SD card?
Yes, you have chance to recover permanently deleted photo from SD card if deleted photos have not been overwritten and the SD card is not physically damaged. The recovery needs the help of data recovery software or data recovery services (experts). Most of us prefer to recovery software, because we can complete the recovery by ourselves at home. Here is a guide you might be interested in: SD Card Recovery: How to Recover Deleted Photos from SD Cards?
2. Is it possible to recover permanently deleted photos from years ago?
Yes, it is possible to recover permanently deleted photos from years ago, but there is not guarantee that all deleted photos can be recovered all the time. Although deleted files are recoverable, the chances that photos deleted years have been overwritten are high, for you might have continued using the device after the deletion.
3. How can I recover pictures from my SD card for free?
To come straight to the point, there are two methods of recovering pictures from SD card without paying, i.e., restore deleted photos from previous backups, and use free photo recovery software to retrieve data.
4. How much does it cost to recover photos from SD card?
The cost of recovering SD card photos mainly rests on the recovery method. If the SD card does not have physical damages, then you can perform the recovery on your own. At this point, the cost ranges from 0~100 USD generally: if you use SD card recovery freeware, the cost is 0 USD, and the price of paid recovery software is usually within 100 USD. In short, the cost is affordable to most of us.
5. How do I recover files from my SD card on my phone?
SD card data loss occurs if you accidentally delete important files, format the SD card, or the SD card gets corrupted. Whenever your SD card on your phone faces data loss issue, you can follow steps below to perform SD card data recovery:
Step 1. Connect your Android phone to computer.
Step 2. Launch Eassos Android Data Recovery Software.
Step 3. Scan the SD card to look for lost data.
Step 4. Preview files and restore them to hard disk.
6. How can I recover files from my SD card that won't read?
When an SD card won't read or open on computer, you cannot access files stored on it. The direct outcome is data loss. To rescue photos from unreadable SD cards without formatting, try following steps:
Step 1. Connect the unreadable SD card to computer.
Step 2. Launch Eassos Recovery Free Edition.
Step 3. Use the feature "Recover Files From Disk" to scan the SD card.
Step 4. View and copy lost files to computer hard disk.
7. How can I recover permanently deleted photos from gallery without backups?
Backup is the best and easiest way of restoring permanently deleted photos, and when backups are not available, the suggested way to undelete photos is using data recovery software that supports either memory card recovery or Android data recovery. On top of that, you can send the phone to a data recovery center whose experts can do the job for you as well.
Related Guides