Can data be recovered after formatting HDD?
Computer is one of the most used tools in daily life, and many people use hard drive on computer to store important information. There is no doubt that storing data in hard drive is a very convenient way to keep important information. However, people often face with risks of losing important data. For example, when using hard drive to store files, many people usually release space by formatting when there is not enough space to store new data. Before formatting hard drive, some people may forget to back up data that they still need. When suffering this condition, the first thing that people want to do is recovering lost data from formatted hard drive.
Can data be recovered after formatting hard drive? Generally, after formatting hard drive, it is possible to recover lost data. The degree of recovery mainly depends on individual situations. When there is no new data written in sectors where formatted files were existed, the original data will not be overwritten. Therefore, there will be 99% possibility to recover lost data. However, if there is too much data stored in the partition after formatting, it will be impossible to recover the data that you need. But if very few data is written to the formatted drive, there is possibility to recover those files that are not overwritten. To recover the lost data, you only need HDD data recovery software.
Note: if the formatted hard drive is SMR disk, lost files cannot be recovered.
Free download hard drive data recovery software - DiskGenius
When talking about the most popular recovery software, the first one which come to our mind is DiskGenius. DiskGenius is professional data recovery software, and it is developed with exquisite algorithms and powerful functions. This software is well known for its professional approaches and great effects, and it is referred by users because of its comprehensive, safe and reliable features.
It supports many advanced data recovery functions to handle file recovery and partition recovery. Users can use DiskGenius to deal with many problems which are related to lost data, such as recover formatted partition, unformat hard disk, get files off an old hard drive that won't boot, recover deleted photos from SD card, recover RAW partition, etc. As long as lost files are totally overwritten, they can be recovered correctly. Moreover, the data recovery supports various devices like hard drive, external hard drive, USB drive, SD card, RAID, Windows Storage Spaces and so on.
How do I recover data from a formatted hard drive? – The step-by-step guide
The following content is about the method to recover data after formatting hard drive.
Step 1: Download DiskGenius and install it. And then open it.
Note: Please do not install the software to the partition which loses data. Otherwise, lost data will be overwritten and damaged.
Step 2: Chose the partition where data needs to be recovered in DiskGenius and click File Recovery button.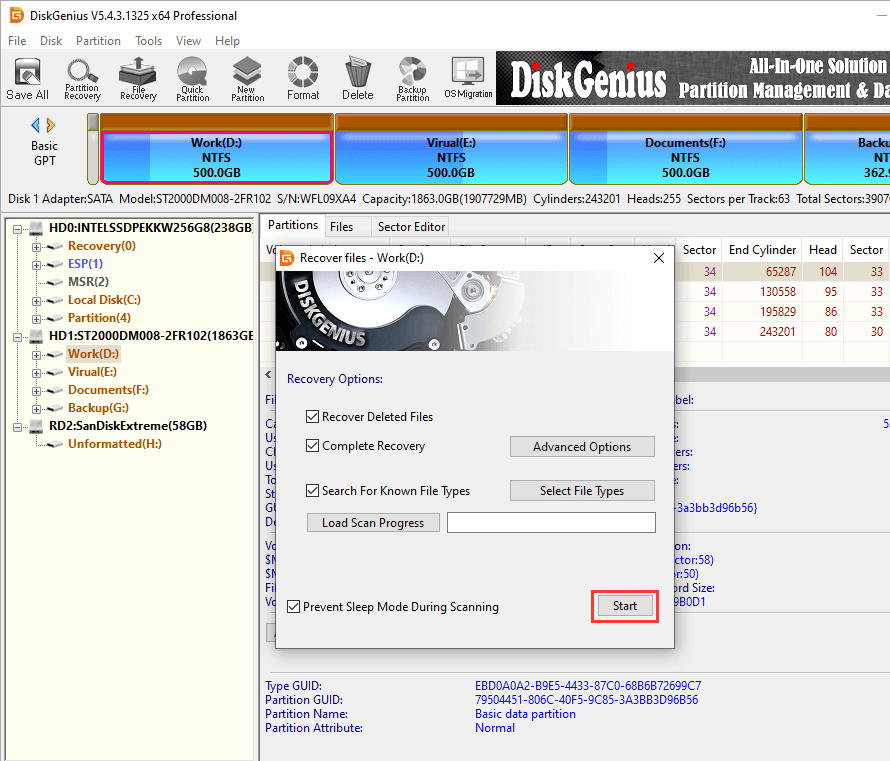 Step 3: Chose recovery mode and then click Start button.
Choose recovery mode according to the reason of data losing. If you only want to recover lost data which is caused by formatting, please select Complete Recovery and Search For Known File Types. Before formatting, you may have deleted some data. If you also want to recover those deleted data, you can select Recover Deleted Files. Then, click Start button. After that, the software will have a complete and deep scanning for the partition.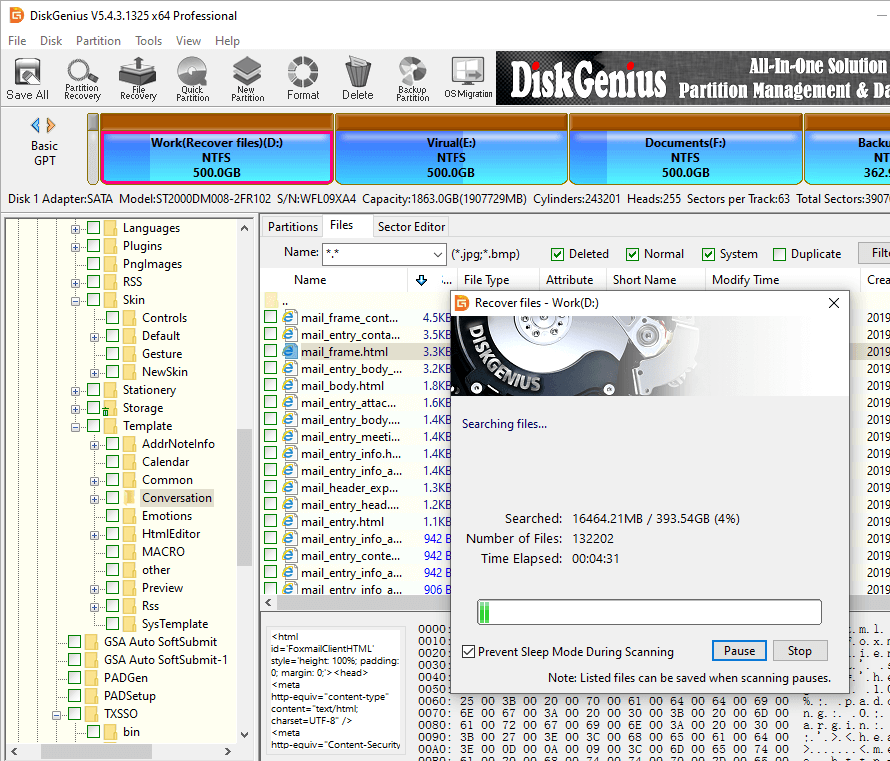 Step 4: Preview the data.
After scanning, the result will be listed in DiskGenius. You can preview data by using the preview function. Click a folder in the left of the DiskGenius, the right part will show the data in the folder. If you double-click the data that you want to view, there will be a window showing the content of the file. The following picture shows the content when previewing a picture file.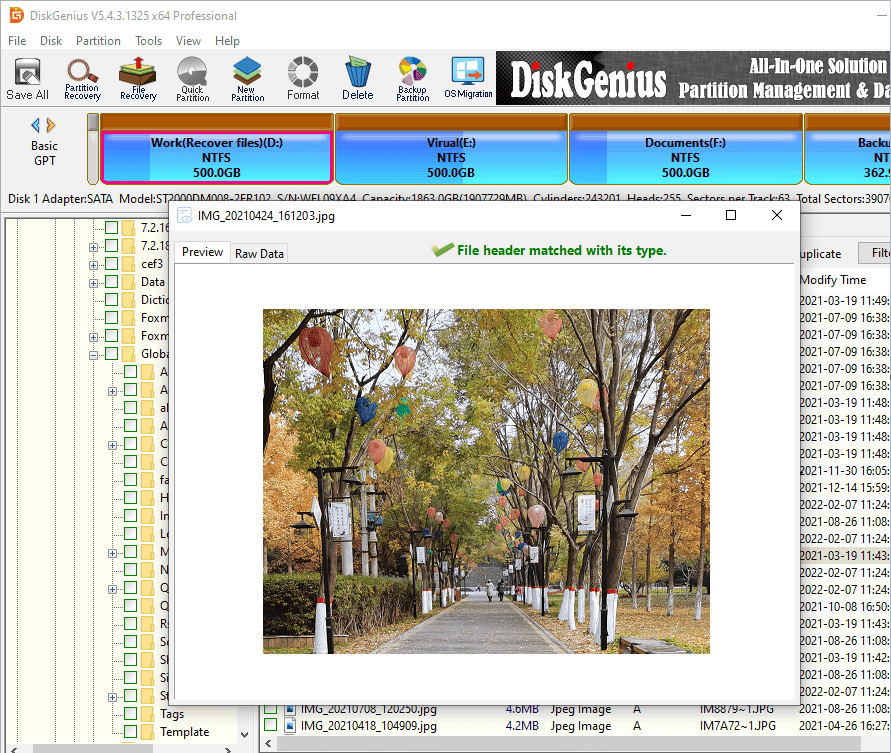 Step 5: Copy data and finish the recovery.
Select the data that you need to recover in the scanning result, and right click the mouse. There is a Copy To option showing in the menu list. Choose this item and copy the data to a new position in another partition of the computer.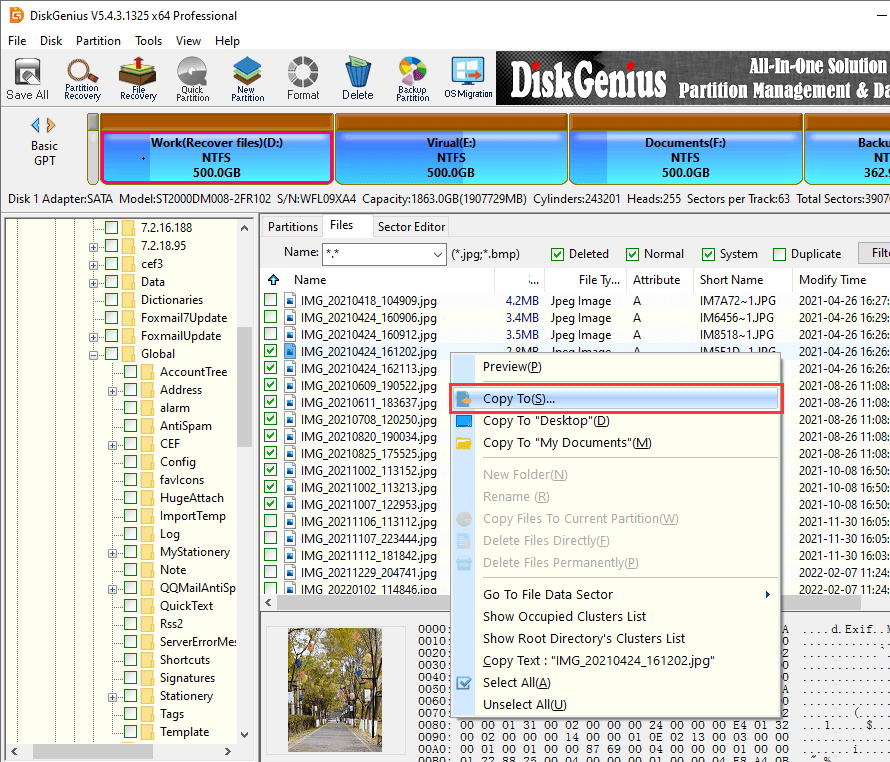 Things to look out when recovering formatted drive
Do not store any data or have any writing operations in the formatted hard drive which has lost data. It is necessary to pay special attention to this aspect.
When turning on or off the computer, reading and writing data will frequently happen in disk C. Therefore, data in disk C is the most difficult to recover. So, what should we do if we lost data in disk C? Need to move the hard disk to another computer and use recovery software to deal with it.
After losing data in hard drive, please do not edit or view data on the hard drive. The reason why we need to be aware of this is that the procedure of editing or viewing data generates crash file, overwriting lost files. If sectors of lost data get occupied again by other data, there is no way to recover lost data because they have been overwritten.
Conclusion
This article introduces hard disk data recovery software and the method to recover data after formatting hard drive. However, data recovery is not an almighty technology, it cannot ensure that all of the lost data can always be recovered faultlessly. Many reasons can cause the failure when recovering data from formatted hard drive. Therefore, in order to guarantee a good recovery effect, be sure not to do any operations which is related to overwriting. Otherwise, lost data will be overwritten and damaged, and no software can help you get back the data.
Related Posts