USB drive a type of removable storage tool which can help us store many important files. For users who often use USB drive, deleting important files in the USB drive by mistake is a very common problem. After files are deleted from USB drive, they will be deleted directly rather than be placed in the Recycle Bin. Therefore, when files have been deleted by mistake, they cannot be recovered through the Recycle Bin. So what should we do if files in USB drive were deleted by mistake? What method can we use to recover files which have been deleted? The following is a very simple method to recover deleted files form USB drive.
Is it possible to recover deleted files from USB drive?
Storage space in USB drive is composed of many sectors. When we store files in these sectors, files will occupy the space. After we delete files which we stored in these sectors, files are not completely disappeared in fact, but they are still kept in the original sectors being invisible. Only when we store new files which occupy and overwrite those sectors, will lost files get erased completely. Therefore, as long as sectors where deleted files existed haven't been overwritten by new files, we can recover them.
Recovery software for recovering deleted data from USB drive
When talking about recovering deleted files from USB drive, the most commonly used method is to use recovery software. This type of software not only have many functions, but also it is very easy to operate for common users. Among so many types of software, DiskGenius has been widely praised. DiskGenius can easily recover lost data which caused by accidental deletion, formatting, partition damage and so on. It also can recover lost photos, documents, videos, audios, and other data from devices of various brands. This software provides the function of file preview, which can help users judge whether lost files are complete before buying a license code.
How to recover deleted files from USB drive?
Step 1: Open DiskGenius official website, and then download the latest version of DiskGenius software.
Note: Do not save the software to the USB drive from which you need to recover deleted files, so as to avoid overwriting sectors where your deleted files exist.
Step 2: Select the USB drive from which you need to recover deleted files in DiskGenius, and then click the "File Recovery" button at the top of the software.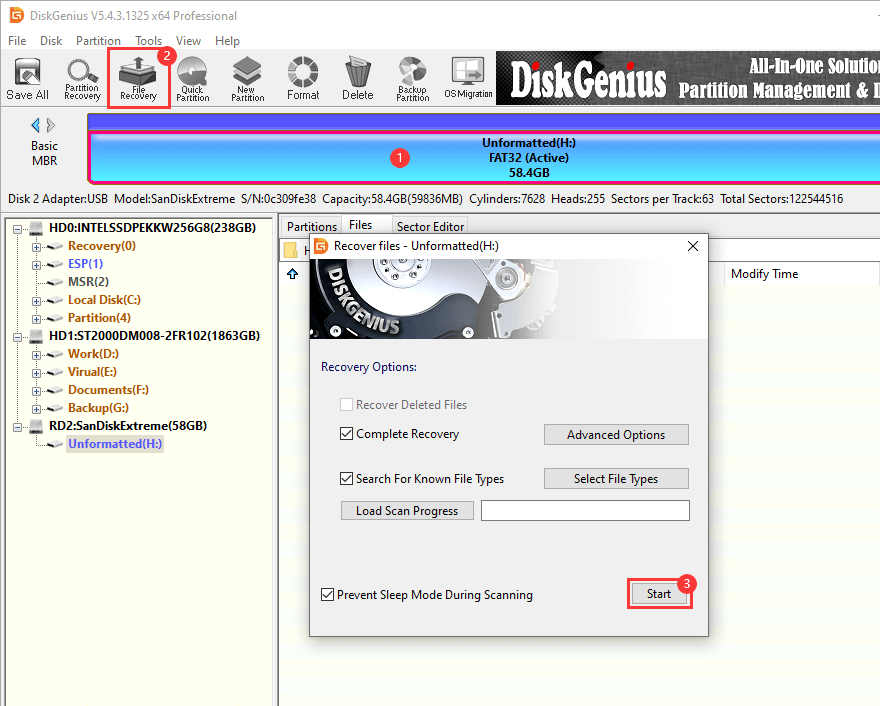 This function integrates a variety of data search algorithms which are applicable to many data loss situations, such as recovery of deleted files, recovery of formatting, recovery of RAW partition, recovery of partition damaged data, etc.
Step 3: Click the "Start" button to enter the scanning state.
"Recover Deleted Files" option is checked by default, so you can click the "Start" button directly. In addition, it is recommended to also check "Complete Recovery" and "Search For Known File Types", so that the software can perform a comprehensive scan of the USB drive.
If you want to customize the file type during the scanning, you can click the "Select File Types" button, and then check the file types that need to be scanned separately.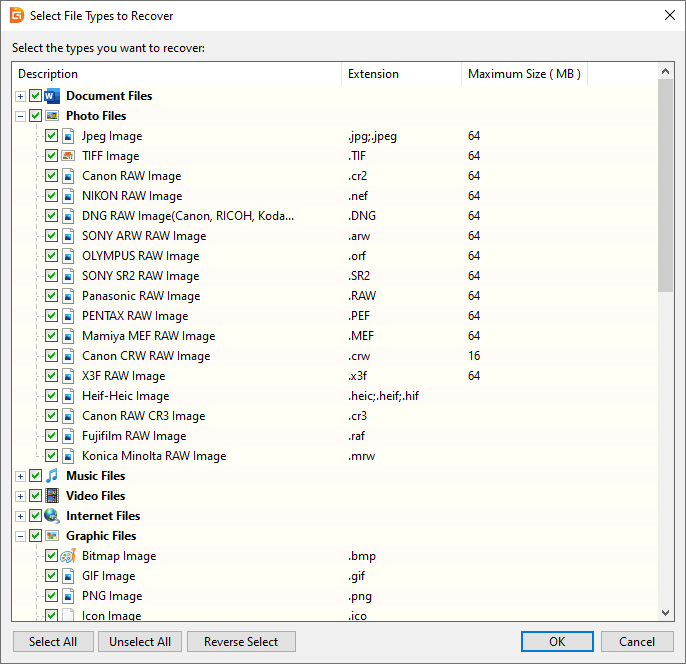 Step 4: Preview and find files in the scan result.
How to judge whether the lost data can be recovered correctly? Just need to preview the data. Double-click a file to open the preview window and view the content of the original file. As shown in the picture below, the file preview is normal, which indicates that the file can be recovered normally. DiskGenius can preview various data such as pictures, videos, audios, text files, Office documents, PDF files, etc. The preview function can effectively determine whether files can be recovered normally in advance.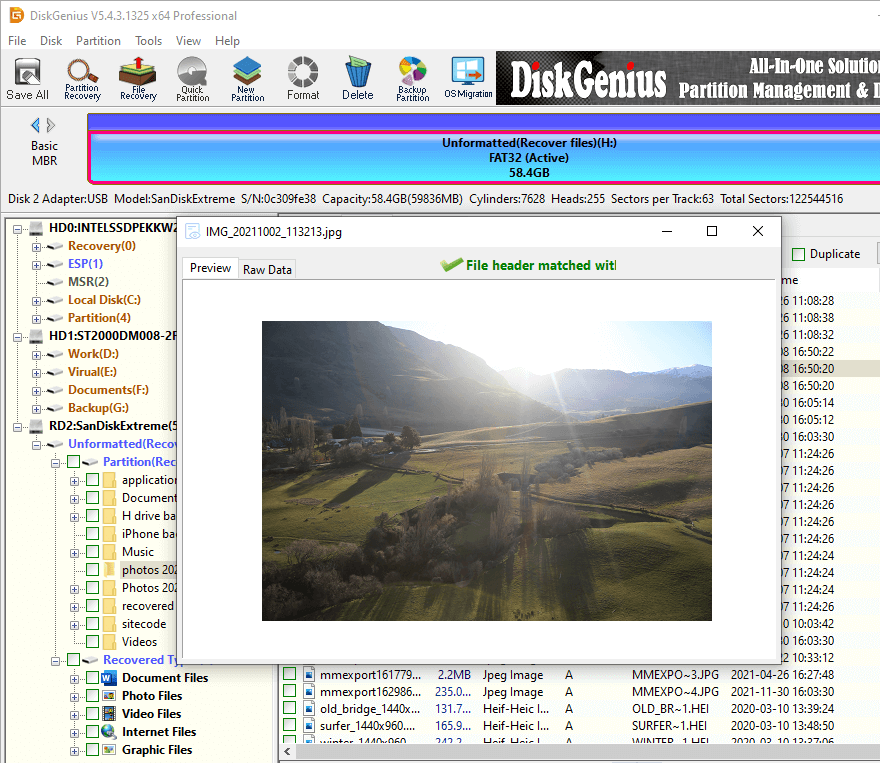 Step 5: Save the files.
Select files that you need in the scan result. Then right-click the mouse and select the "Copy To" option. After that, you can specify a location in your computer to save recovered files.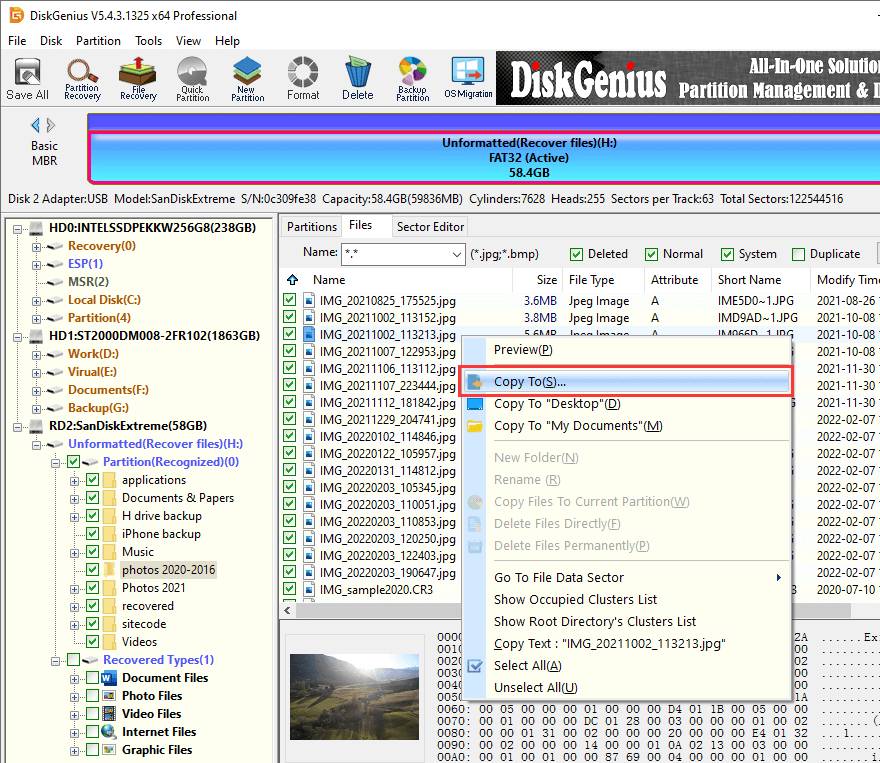 Frequently asked questions
1. How to do if there is no required file in the scan result?
After DiskGenius completes the scan, the required data cannot be found in the file list. There are two possible reasons:
One of the reasons is that the lost data has been overwritten. So the required files cannot be searched. The other reason is that the recovery method is incorrect. In this case, it is recommended to consult our support team to help you analyze causes and way of improving the recovery.
2. Can the overwritten data be restored?
No. Data recovery technology can only recover the data which has not been overwritten. If new files were stored in the USB drive after files were deleted, lost files are likely to be overwritten.
3. What is the problem that the recovered files are garbled and cannot be opened?
After files are recovered, there are garbled characters and files cannot be opened, which may be caused by data overwriting. For example, after files are lost, new files are written to the partition where files are lost, which may make the lost files destroyed. And in some cases, it is because the recovery method is incorrect. Therefore, it is suggested to contact support team to help you analyze causes and find out solutions.
Conclusion
In conclusion, recovering deleted files from a USB drive is a very simple task. Therefore, even if you are not a computer expert, you don't need to worry about it. It is safe to use DiskGenius software to recover deleted files on the USB drive, and it will not have bad effect on the original device and lost data. Finally, as a kind reminder, be cautious when deleting data and back up important data in time.
Also read