"What is the best free laptop data recovery software that can recover permanently deleted files? Lost files are 10 photos. And will the deleted file recovery process affect the hard disk? I've tried the Recycle Bin, command line and file history, but neither worked. Is there any method that does not cost money to restore data?"
Is it possible to recover deleted files from laptop?
It is often possible to recover deleted files from laptop hard drive, especially if you act quickly and follow appropriate steps. However, the success rate of file recovery depends on several factors, such as the type of the storage device, how long ago files got deleted, and whether new data has overwritten deleted files. It is important to note that not all deleted files can be recovered, for example, files cannot be recovered if they are deleted from SSDs or have been overwritten.
Where do permanently deleted files to in computer? When files are deleted from a computer, they are usually moved to a special folder called the Recycle Bin (Windows) or Trash (macOS). Recycle Bin contains deleted files and gives you the option to restore them if you change your mind or accidentally deleted them.
However, when you empty the Recycle Bin or Trash folder, the files are not actually removed from your computer's hard drive. Instead, the operating system marks the space occupied by the deleted files as available for use by other data. The deleted files remain on the hard drive until they are overwritten by new data. If you have permanently deleted a file by bypassing the Recycle Bin or Trash folder, such as using the "Shift + Delete" key combination in Windows, the file is not moved to the Recycle Bin or Trash folder, and the space it occupied on the hard drive is immediately marked as available for use by other data. However, the file may still be recoverable using data recovery software or a professional data recovery service.
How Do I Recover Permanently Deleted Files from My Laptop?
If you've accidentally deleted important files from laptop hard drive and want to recover them free of charge, here are methods you can refer to.
Method #1: Use Recycle Bin to Restore Files
Recycle Bin should be the first place to check when you want to restore deleted files. Recycle Bin is a container of deleted files which are deleted from local hard drives or SSDs instead of USB drives. Deleted files are supposed to be there as long as they are not deleted by Shift + Delete.
Step 1. Double-click the Recycle Bin icon to open it.
Step 2. Look for files you want to restore.
Step 3. When you find the deleted file, right-click it and choose "Restore".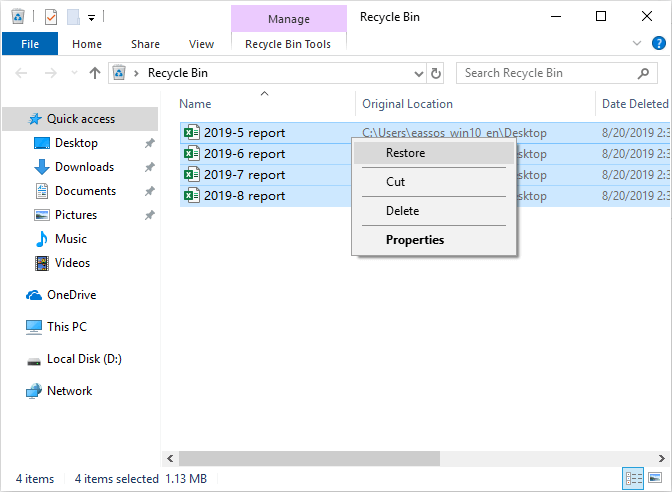 Method #2: Use Previous Backups
There are various ways of backing up files in Windows 11 and Windows 10, for example, you can create backups using Windows built-in tools such as File History (Previous Versions) and System Restore. Also, your backups can be created with the help of third-party utilities, or uploaded to cloud drives. Whatever the backup method, as long as the backup is available, you can easily restore deleted or lost files effortlessly.
Method #3: Use Free Data Recovery Software – Eassos Recovery Free
Quite a few data recovery programs, both paid and free, can be found on the Internet. If you don't want to spend money on recovery software, then try free recovery software. Eassos Recovery comes will two editions, the Full Edition and the Free Edition. Both editions use the same algorithms to search for lost files or partitions. It supports to recover deleted files from empty Recycle Bin, internal hard disks, USB flash drives, memory cards, external hard drives, etc. In addition to deleted file recovery, Eassos Recovery also supports to search for files lost due to formatting, RAW drive, partition loss, virus, cut & paste failure, and other unknown reasons.
Tips:
If this is the first time you use the software, you can start with the free edition. If you feel the free edition works well on your case, you can upgrade to the full edition any time.
Important: Try best to avoid data overwrite. As soon as you realize that important files are deleted from laptop by mistake, stop using the drive. If you continue using the drive, for example, store new files, you are likely to overwrite deleted files and make it impossible to recover.
Here are steps to recover permanently deleted files from laptop hard drive using Eassos Recovery Free.
Step 1. Install and run Eassos Recovery Free Edition.
Note: Do not install the software on the partition which needs recovering files.
Step 2. Select a proper scanning mode.
The software is designed with a neat wizard, and the home interface consists of 4 data recovery modes. If you know the specific cause of data loss, click the recovery mode that fits your situation best.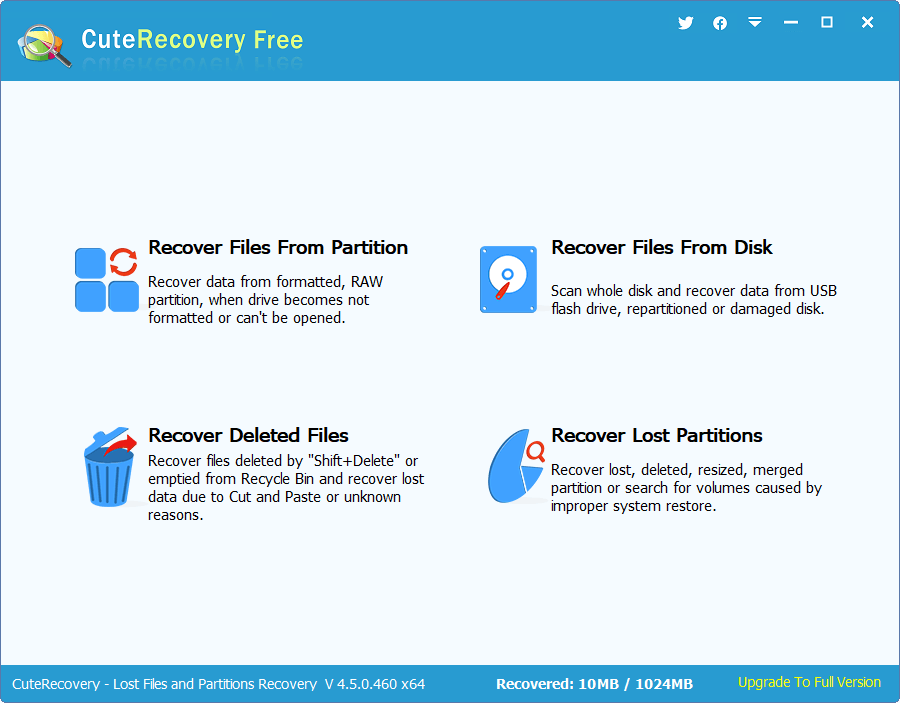 Step 3. Select a location to scan. Choose the drive which contains deleted files and click "Next" button to start the scanning.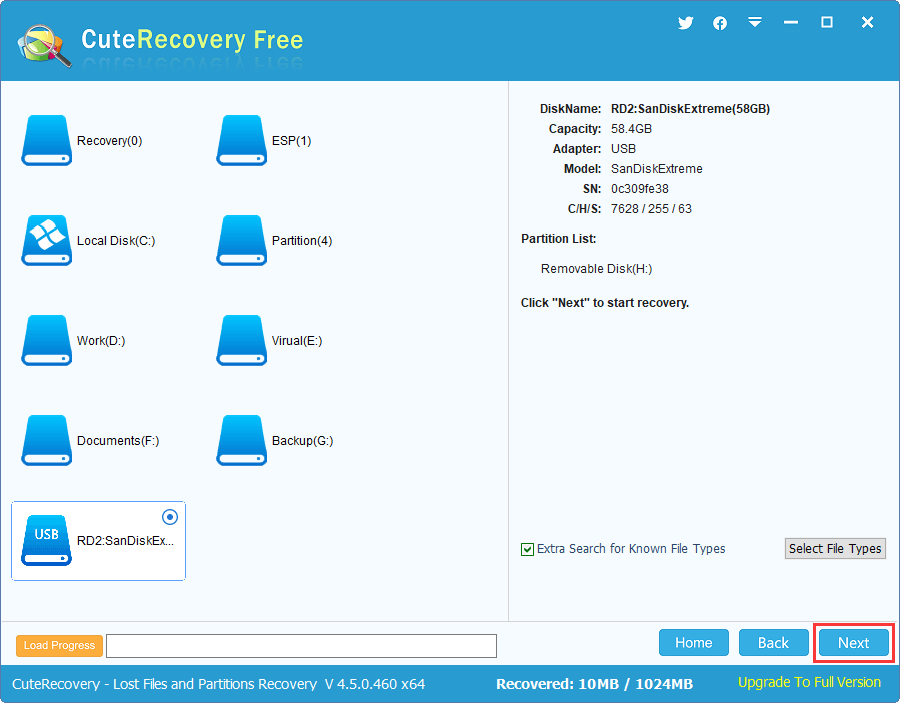 Step 4. Let the scanning finish on its own. The scanning process includes a quick scan and a deep scan, which won't take too long if the drive does not have a large capacity.
Step 5. Preview lost files. You can view and preview all files listed in the software, so that you can quickly find out files and check if they are correct.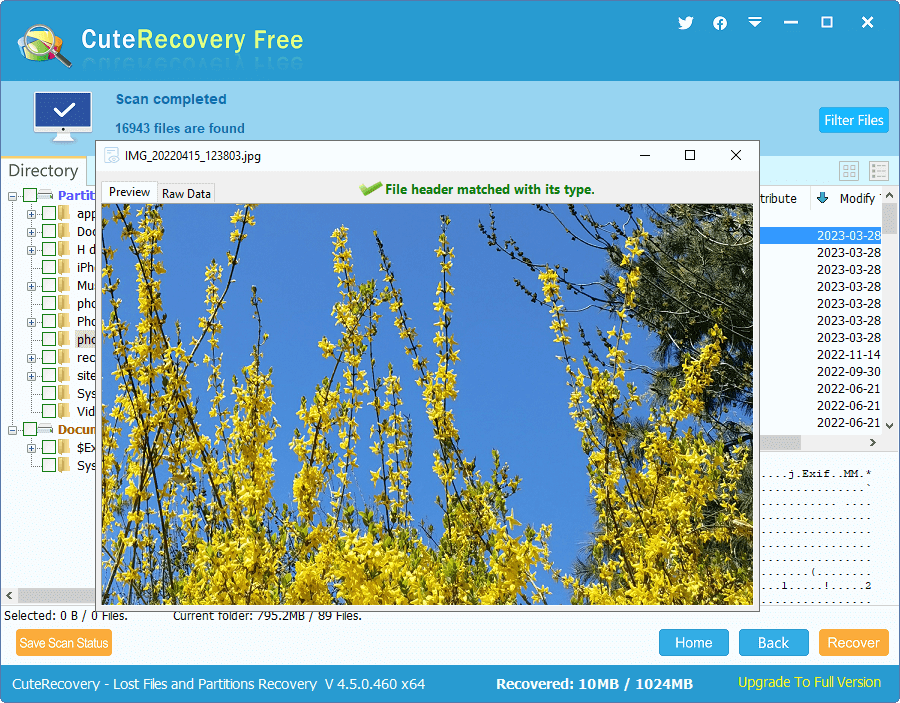 Step 6. Recover files (export files to another partition or disk).
The free edition allows to export as much as 1GB data for free, and the full edition ($39.95) does not have such limitation.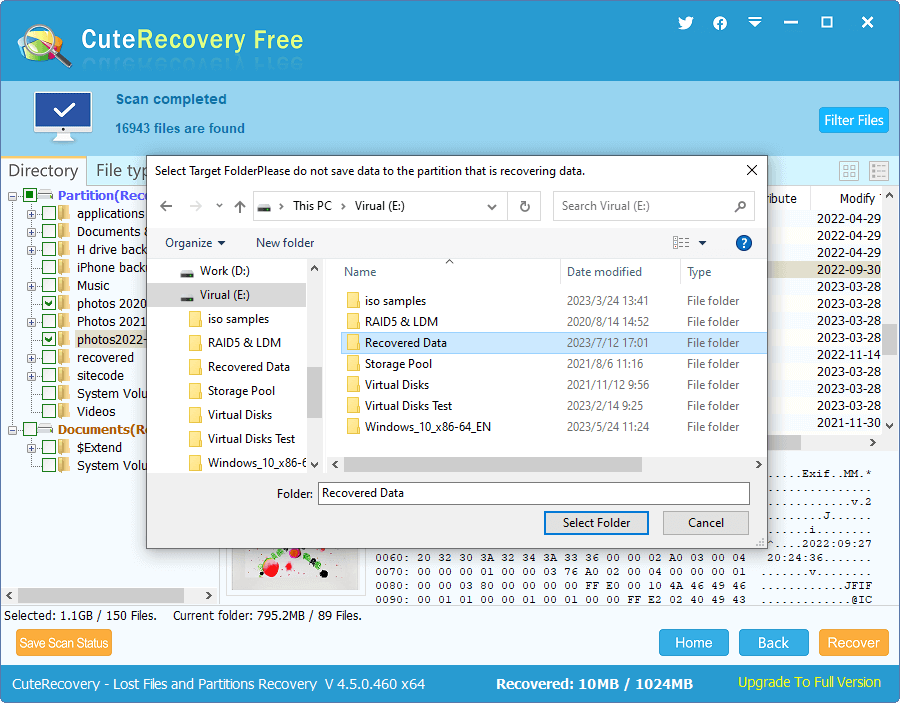 Conclusion
As you can see, three methods are available to get back deleted files from laptop hard drive on Windows 11/10/8/7. Don't be frustrated when important files get deleted by mistake, start the recovery as soon as possible. Moreover, laptop data backup is equally important to safeguard data in place, so make a backup plan and stick with the plan. Should you need help regarding recovering deleted files or backing up laptop data, feel free to contact us.
Laptop Data Recovery Questions
1. How can I recover deleted files from my laptop without software?
A couple of ways are available to undelete files from laptop hard drive without using recovery software, for example, restore files from a previous restore points, restore files from Recycle Bin, retrieve files from backups, recover deleted files using cmd, etc.
2. How do you recover permanently deleted files?
From the point of view of Windows, permanently deleted files are those that cannot be found in the Recycle Bin, for example, files get deleted from Recycle Bin, the Recycle Bin gets emptied, files are deleted by Shift + Delete, etc. These permanently deleted files cannot be restored from Recycle Bin, and yet you can use data recovery software to get them back:
Step 1. Install and launch DiskGenius Professional Edition.
Step 2. Scan the drive that needs recovering data using "File Recovery" feature.
Step 3. Preview and recover lost files.
3. Can you recover deleted files after emptying the Recycle Bin?
Yes. In many cases, deleted files are still recoverable even after the Recycle Bin gets emptied. Files that are deleted or emptied from Recycle Bin are regarded as permanently by Windows OS, and yet they are not completely erased from hard drive sectors. Before deleted files are gone forever, you can use data recovery software such as Eassos Recovery Free to perform file recovery.
4. How can I recover permanently deleted files without backup?
Backups are the best solution to fix data loss problems. However, backups are not available for all of us, so data recovery software is created and released. With data recovery software, you will become able to recover either deleted or formatted files without relying on backups.
5. How to recover files deleted from Recycle Bin in Windows 10?
First, once files get deleted from Recycle Bin, you cannot find them in the Recycle Bin or any other places on the computer. That means they cannot be restored directly like those files in the Recycle Bin. The suggested way to recovering deleted files that are not in Recycle Bin is to use data recovery software which can scan free disk space and recognize lost files.
6. Are deleted computer files gone forever?
When you delete a file from your computer, it is not necessarily gone forever. Instead, the file is usually moved to the Recycle Bin or Trash folder, which is essentially a holding area for deleted files.
If you haven't emptied the Recycle Bin or Trash folder yet, you can usually still recover the file by restoring it from there. Once you empty the Recycle Bin or Trash folder, however, the file is typically removed from your file system's index, and the space it was occupying on your hard drive is marked as available for use.
Even though the file is no longer visible in your file system, it may still exist on your hard drive until it is overwritten by new data. So, if you act quickly, you may be able to use specialized data recovery software to recover the deleted file. However, the longer you wait and the more you use your computer, the greater the chance that the file will be overwritten and permanently lost.
In summary, deleted files are not necessarily gone forever, but their recoverability depends on whether they have been overwritten by new data, and how much time has elapsed since they were deleted.
7. How to recover deleted videos from laptop?
Are you wondering how to recover accidentally deleted video files? Deleted videos can be recovered before they are overwritten. So one of the crucial steps of recovering deleted videos is to prevent deleted data from being overwritten. Then follow steps in this guide to get back lost videos free of charge: How to Recover Permanently Deleted Videos from PC FREE?
Related Articles: