Table of contents:
"How can I recover my external hard drive for free? It is an old external hard disk bought 5 years ago. It was working fine last night on my laptop. I didn't eject it while shutting down the laptop. This morning when I turned on the laptop, the external hard drive appears in File Explorer but cannot be opened and asks me to format it. Could you please tell me how to open the drive without formatting? My budget is limited and hope the problem can be solved for free. Thanks!"
Recovery of Data from External Hard Drive Overview
The recovery of lost data or partitions from an external hard disk is one of the basic skills we should master, for it is helpful and frequently used. External hard drives play an important part in our life, and they store large amount of precious data for us. External hard drive data loss issues seem to be inevitable, and thus the demand of external hard drive recovery increases.
Is it possible to recover data from external hard disk? Yes, the recovery of data from external hard disk is possible in many situations. Why? When you delete a file from the external hard drive, the file disappears from the drive, but it is not completely erased. It works like you remove an item from a book's contents without removing the corresponding chapter. As to Windows system, the deletion a file only removes its recorder from file system without erasing the sectors the file once occupied. So, the deletes file still stays on the drive even though it cannot be accessed. However, the disk space is tagged as Free by Windows, which means the space can be used to store other data at any time. Once the disk space is taken by other data, the deleted file will be overwritten, after which it cannot be recovered anymore.
Thus, the key to success data recovery is avoiding data overwrite. Stopping using the external hard disk is one of the most effective ways to prevent lost data from being overwritten.
What Causes External Hard Drive Data Loss?
Awareness of the data loss causes is necessary and helpful to get a successful recovery result. There are too many reasons behind the external hard drive data loss issue, and some the common aspects are:
Accidental deletion or formatting: Deletion of important files or formatting a wrong partition is the most common data loss scenario we may encounter.
Partition loss: The partition is a logical portion of disk space, and it can be deleted and recreated. A partition can get lost due to deletion, partition corruption, improper operation, etc.
Disk repartitioning: Disk partitioning or repartitioning removes all partitions on the disk and creates new partitions. The creating new partitions formats partitions at the same time. Files together with original partitions are lost after repartitioning.
RAW drive: An external hard drive partition can become RAW format, preventing you from accessing files inside the drive.
Bad sectors: Bad sectors can lead to the loss of files or partitions, slow read & write speed, BSOD, etc.
External hard drive aging: According to related surveys, the average lifespan of an external hard drive is around 5 years, and the longest life expectancy might be 10 years. Old hard drives are inclined to develop problems both logically and physically, leading to data loss.
Malware/viruses: Don't underestimate malware or viruses when talking about data security. Although virus or malware does not have the ability to physically damage your external hard drive, files storing inside the drive can be damaged, deleted, or corrupted by malware or virus.
Methods of Recovering Data from External Hard Disks
Method #1: Use Previous Backups
Data backup is always the best solution to all data loss issues. If you have backed up data, then restore them with ease. Data backup can be made in variety of ways, for example, Windows File History, OneDrive or other cloud drives, an exact copy of original data (e.g., disk clone), etc.
Method #2: Use External HDD Data Recovery Software
Professional and reliable data recovery software can help you handle all sorts of data loss issues on external hard disks which is not physically broken. DiskGenius is experienced in data recovery, and some of the features are as follows:
Supports to recover lost data from many data loss scenarios such as, accidental deletion, formatting, RAW drive, partition loss, unallocated drive, repartitioned disk, RAID failure, virus, BSOD, failed partition resizing, etc.
Supports to recover data from hard drives, external hard drives, USB flash drives, memory cards, RAID disks, Windows Storage Spaces, virtual disks, dynamic disks, BitLocker drives, and more.
Support to make a sector-level image of hard drive which has bad sectors, and then retrieve data from the disk image without touching the damaged disk.
A hex-editor is built in the software to help advanced users analyze RAW data and recover lost files or partitions precisely.
Compatible with all versions of Windows OS, including Windows PE, and supports NTFS, exFAT, FAT32, FAT12, FAT16, EXT2, EXT3, EXT4 and Refs file system.
Method #3: Use Data Recovery Services
Professional data recovery services can make up the shortcomings of data recovery software, for example, experts can handle complicated data loss problems such as RAID data recovery, or BitLocker data recovery as well as retrieve lost data from physically failed hard drives.
To logical issues, lost files can be recovered by way of building a remote connection with our experts. You can see all the steps and operations done by our experts in front of your computer screen, so that you can know what can be exactly recovered.
Need to recover data? Contact our experts to get a free consultation and diagnosis now.
Guide #1: How Do I Recover Permanently Deleted Files from an External Hard Drive FREE?
When and why can deleted files be recovered from external hard drives? Operating system keeps track of files using file system. Each file has an entry recorded in file system, telling operating system where the file is located (which sector is exactly occupied by the file). When a file is deleted from the external hard drive, the entry will be removed, and the disk space taken by the file will be marked as empty. It seems that the file disappears, and yet it still remains on the external hard drive before the disk space is used by other data. Thus, deleted files are recoverable and keep recoverable before they get overwritten.
How can I recover files from external hard drive for free after deletion? Use free recovery software when backups are not available. Here are steps to undelete files from external hard drive for free.
Step 1. Connect the external hard drive to a Windows computer and ensure it can be detected by the computer.
Step 2. Install and launch Eassos Recovery Free on your computer.
Note: Install the software on the internal hard drive or a USB drive instead of the external hard drive that needs recovering data.
Step 3. On the home interface, choose a proper recovery mode according to the data loss situation.
Four recovery mode are displayed on the home page, and each can handle a group of data loss situations. To recover files after deletion or formatting, "Recover Deleted Files" and "Recover Files From Partition" can be tried.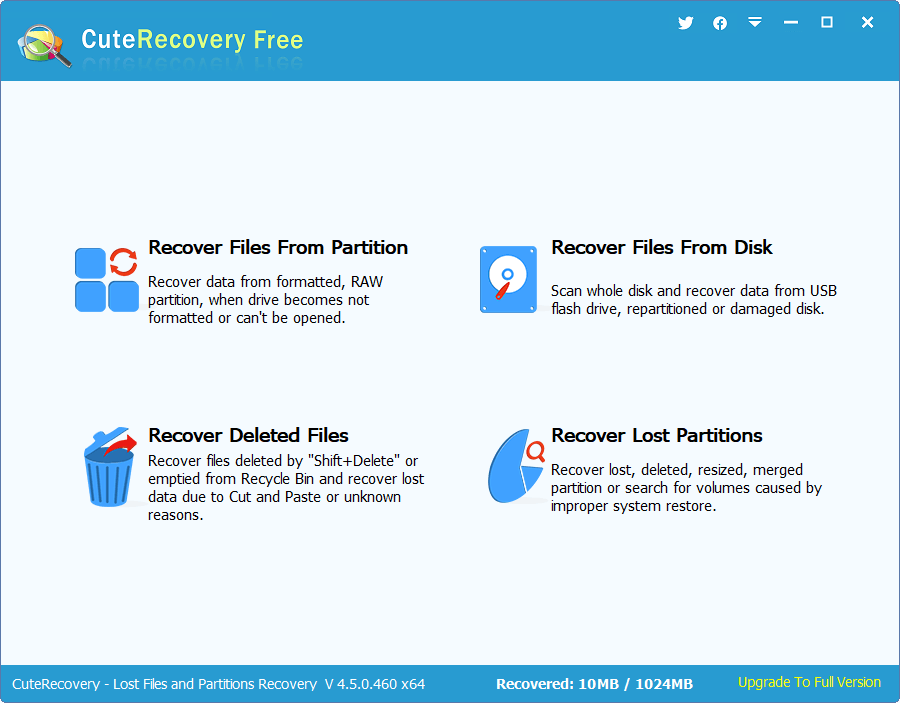 Step 4. Select the drive to scan and click "Next" button to start searching for files.
Drives either internal or external are listed here, and you need to choose the drive where deleted files were located. After clicking "Next" button, Eassos Recovery Free starts to scan the drive and looks for lost files.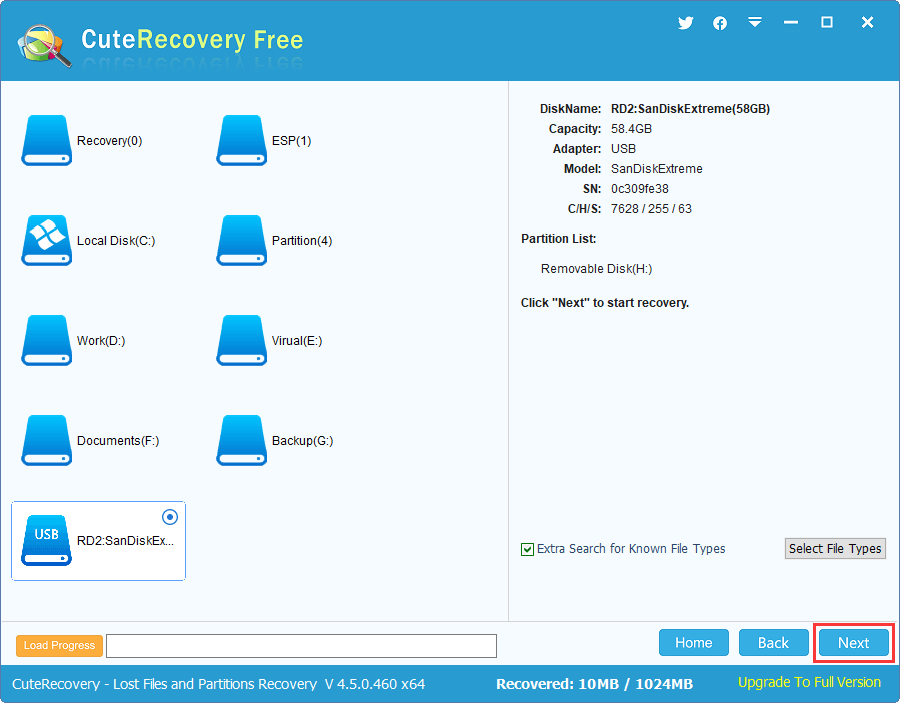 Step 5. Preview lost files to check which file is corrupted.
Lost files found by the scanning process will be organized nicely under two tabs: "Directory" and "File Types". Double click every file listed under both tabs to check if these files are correct and whether files are recoverable.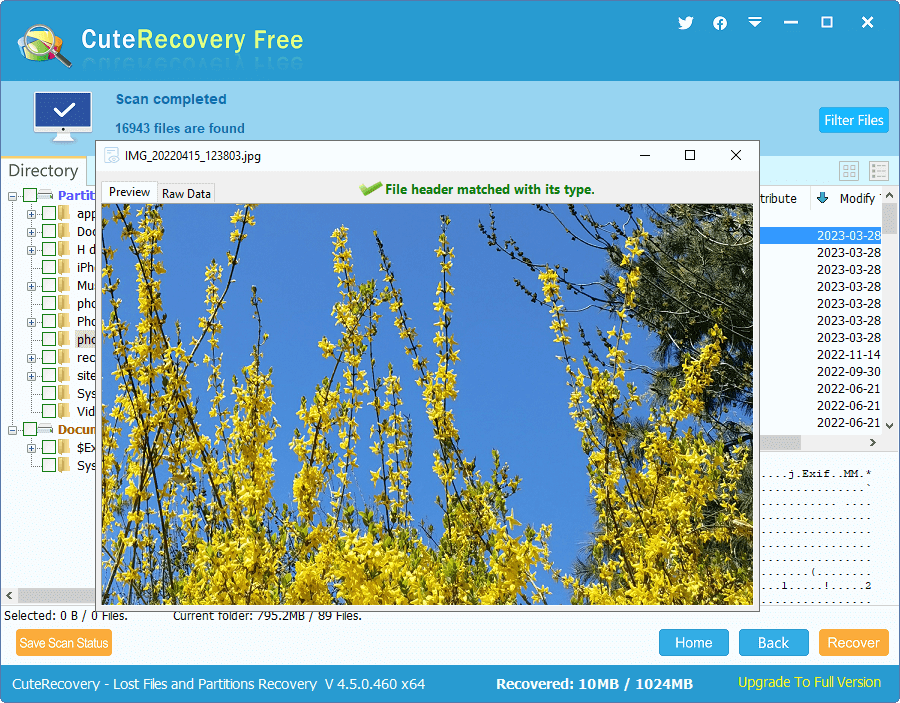 Step 6. Select files and folders you want to restore and click "Recover" button. Then you can specify a location on your computer to store recovered data.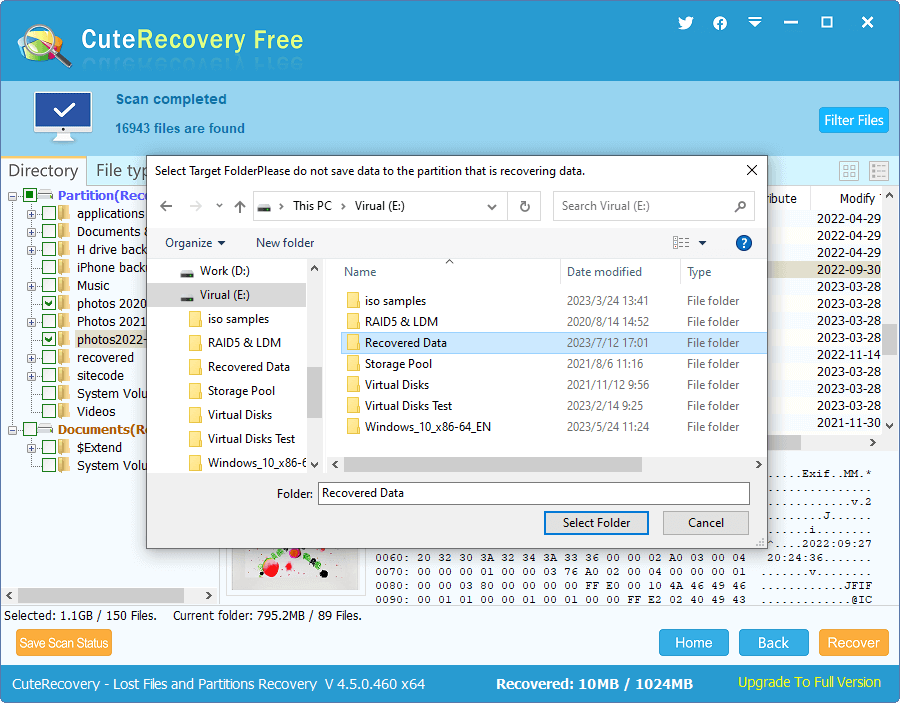 Guide #2: How to Recover Data from Accidentally Formatted External Hard Drive?
Accidentally formatted your external hard drive? How can I unformat hard drive? Take it easy. The recovery of data from formatted external hard drive is not that sophisticated, and the recovery can be done at home provided that the drive is not broken. Here is the guide to undo a formatted external hard disk.
Step 1. Install and launch DiskGenius on your computer. Select the formatted drive and click "File Recovery" button.
The "File Recovery" feature supports to recover files lost due to deletion, formatting, RAW drive and unallocated space, and the scanning is performed via a read-only mode.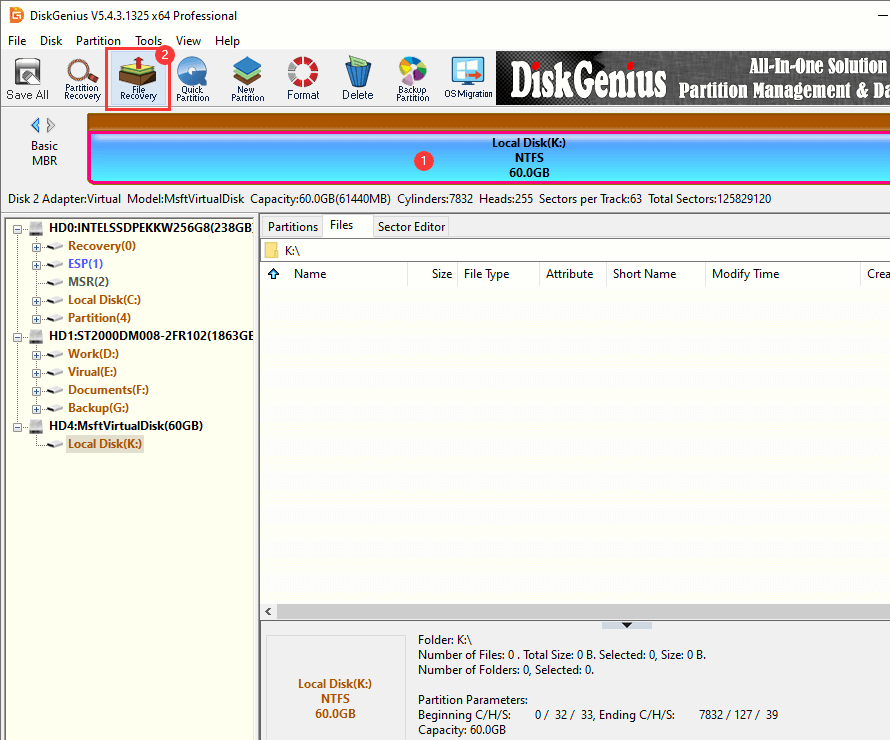 Step 2. Click "Start" button, and the scanning process starts to work.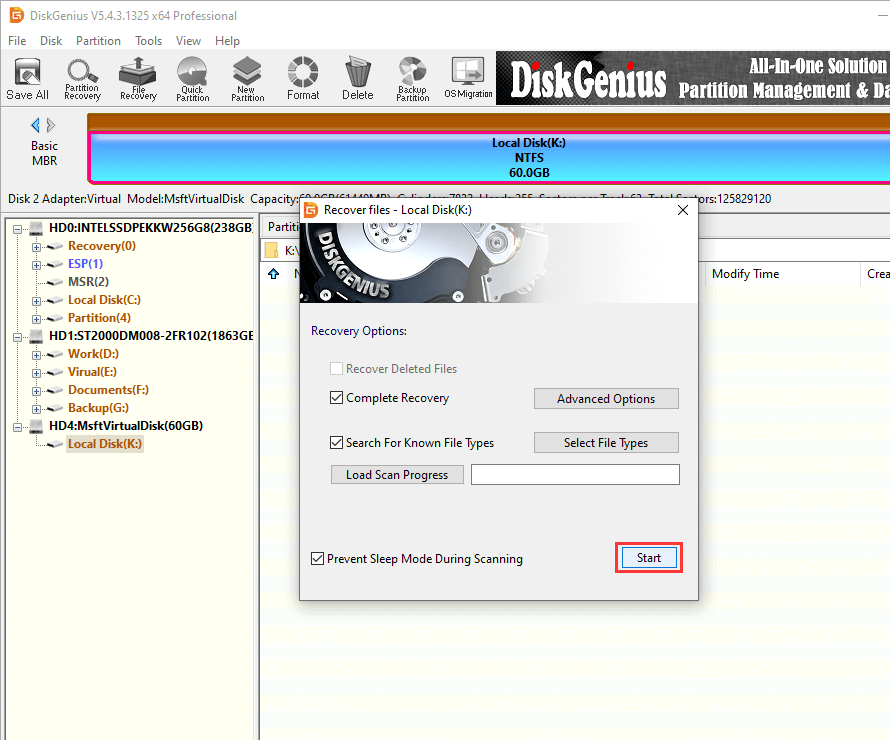 The dialogue box shows the scanning speed and progress, and two buttons "Pause" and "Stop". When you find that lost files have been found by the software, you can pause or stop the scanning.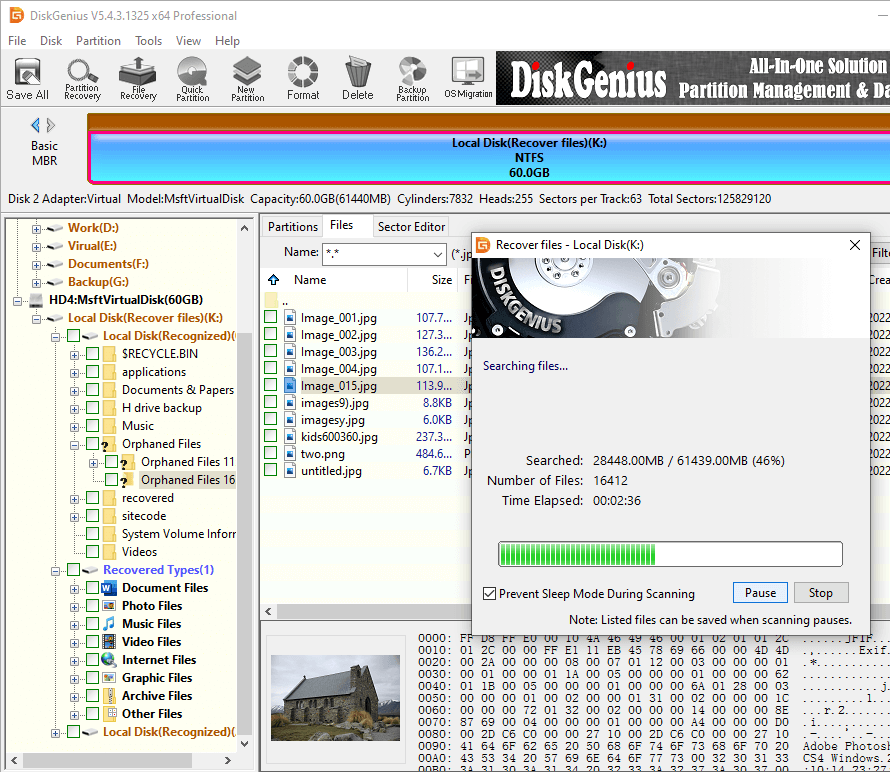 Step 3. Preview lost files and check recovery quality.
File preview is the very way that tells you what can be recovered before registering the software. Double-click a file listed in the software, and you can view file content directly.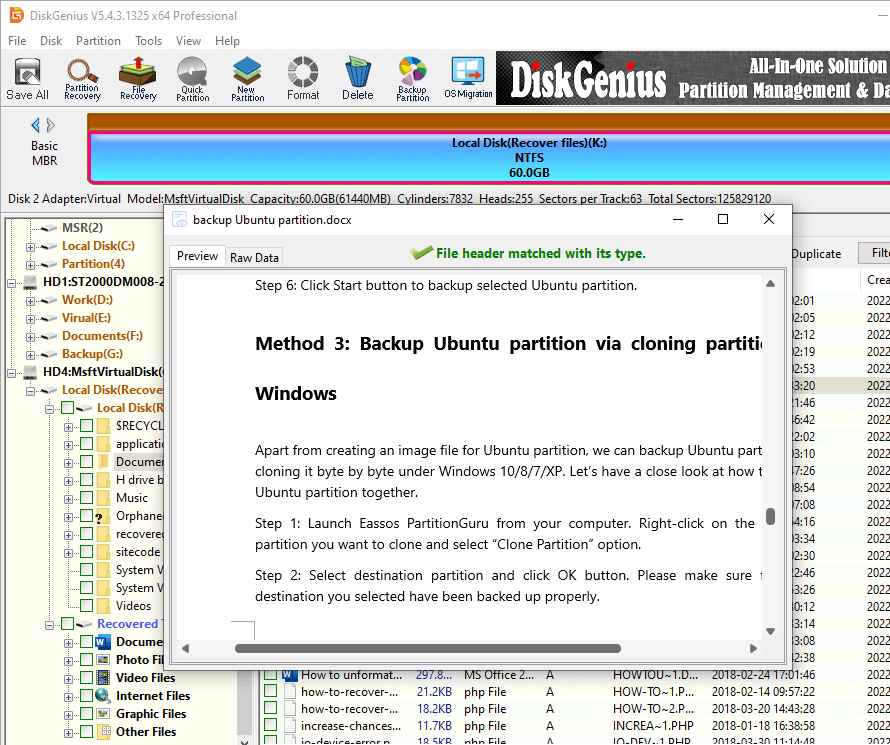 Step 4. Recover data.
Choose files you want to recover, right-click selected data and click "Copy To". Then you can specify a path to store recovered data.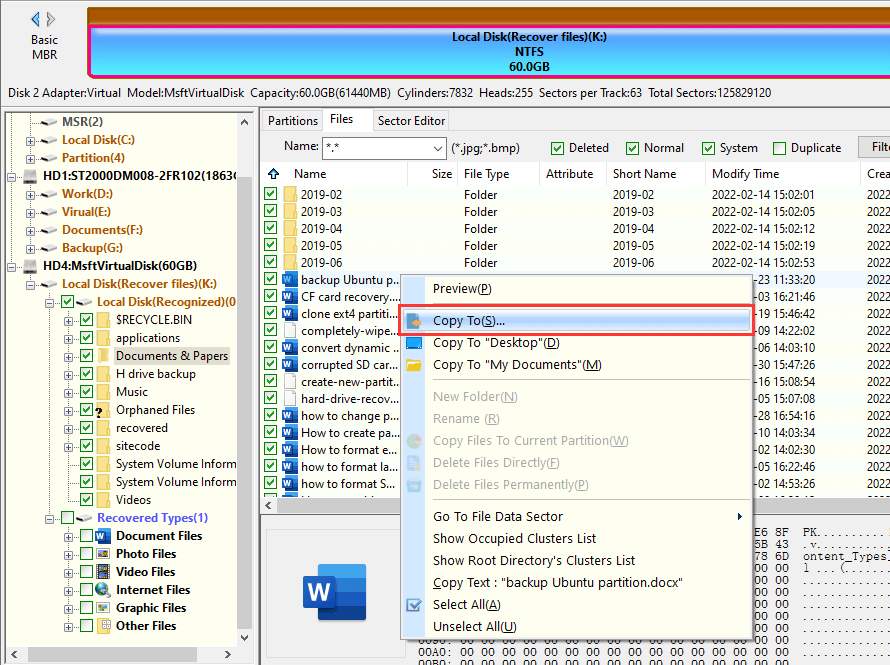 Guide #3: How to Recover Files From RAW/Corrupted External Hard Drive Without Formatting?
The RAW external hard drive is the result of logically corrupted / damaged file system, which is usually caused by improper removal of drive, sudden power failure, virus, etc. The recovery of unreadable external hard drive is easy to implement, and a satisfying recovery result can also be gained easily. The prerequisite is that do not modify, format or repair the RAW drive before the recovery.
Here is how to recover data from RAW/corrupted external hard disk without formatting:
Step 1. Connect the inaccessible external hard drive to computer and launch DiskGenius.
Step 2. Select the corrupted drive and click "Files" tab in the software. Then check if your files can be listed in the software.
For some RAW / unformatted drive, files can be recognized and displayed directly after the software is launched. If you are not that lucky, move to next step.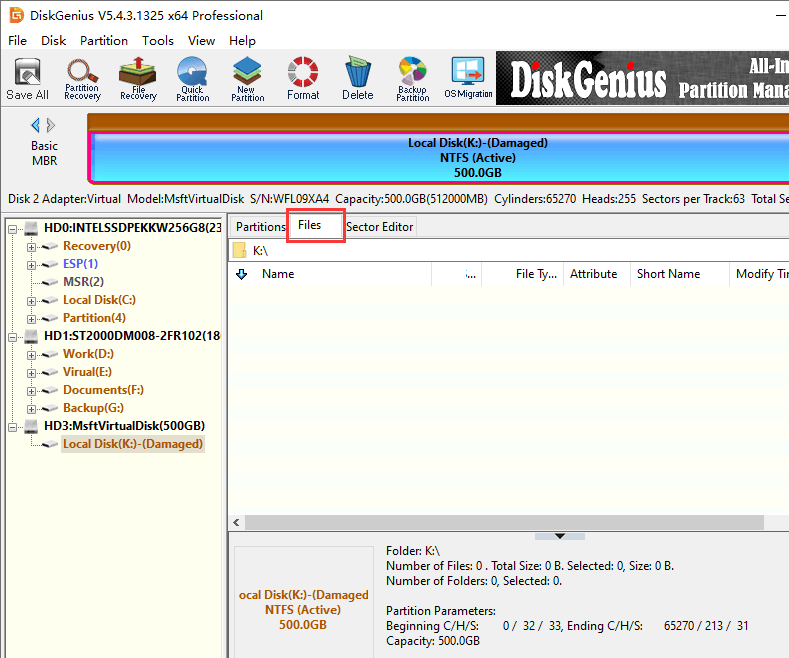 Step 3. Right-click the corrupted drive and choose "Load Current Partition Intelligently" from the context menu.
It is possible that this feature still does not work on your external hard drive if its file system is badly damaged. Don't panic, you still have a chance to recover data by running a full scan for the corrupted drive.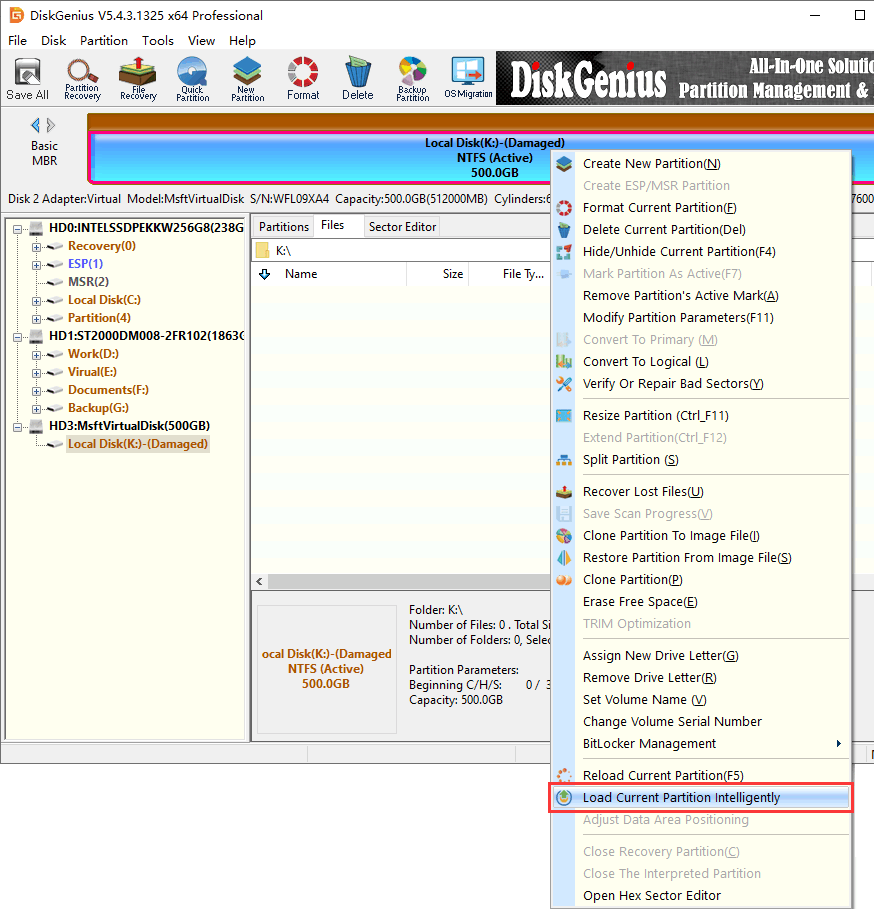 Step 4. Preview files.
File preview is still the recommended step here, for it can help you judge whether lost files are recoverable.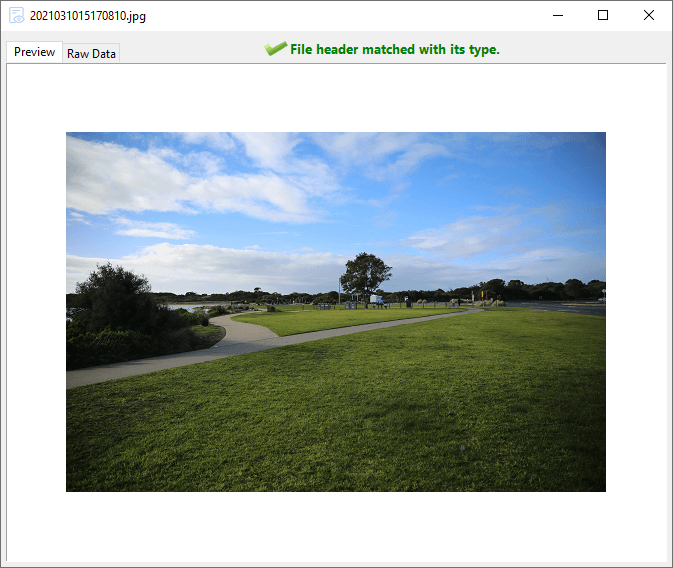 Step 5. Choose files you want to recover and copy them to another accessible drive.
Tip: The Professional Edition is needed here in order to save files found by the "Load Current Partition Intelligently" feature.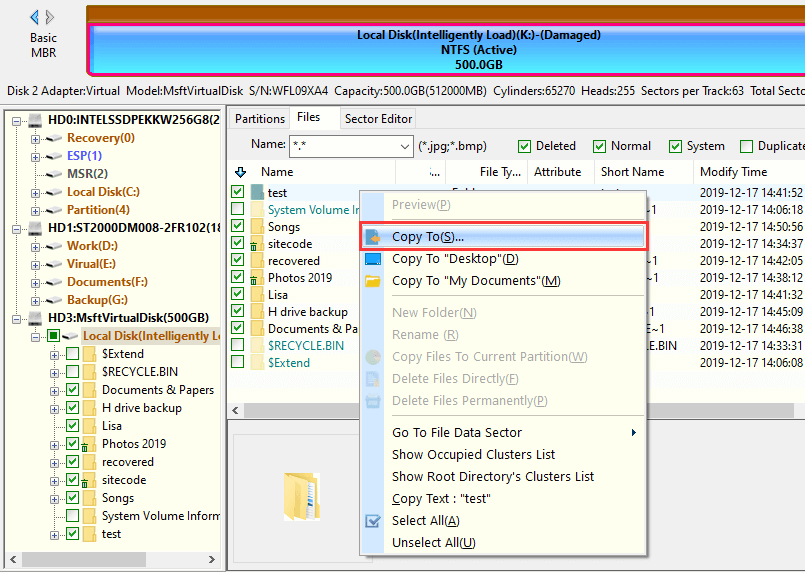 Steps to run a full scan for the corrupted external hard drive:
The "File Recovery" feature can run a full and deep scan for the inaccessible drive, and then find out lost files with original directory structures. Follow steps below to retrieve files from corrupted / unformatted partition without formatting:
1. Select the inaccessible partition > click "File Recovery" > click "Start" button.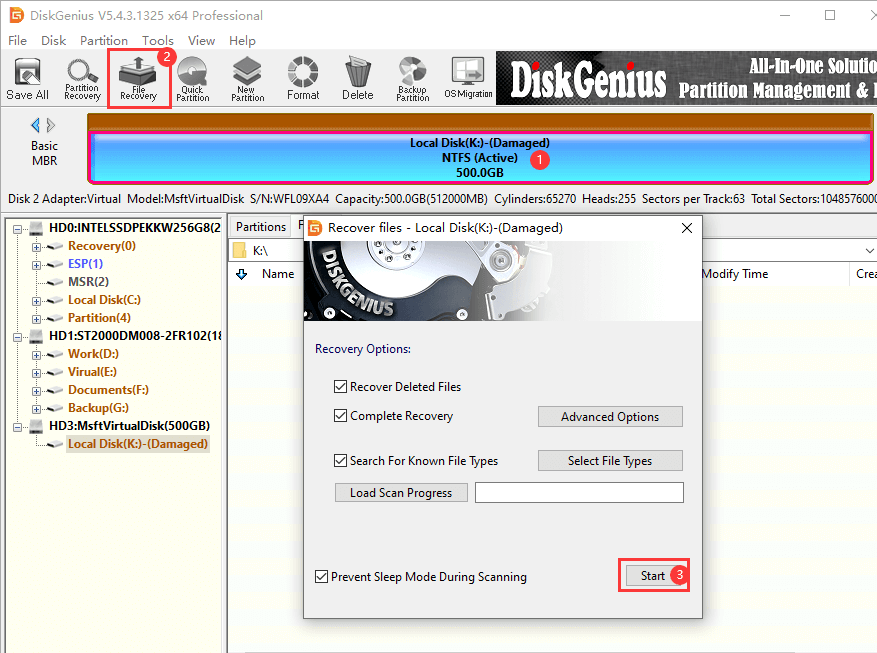 Before starting scanning, you can specify file types for the deep scanning by clicking "Search For Known File Types" button. The pop-up window shows file types that the deep scanning can find out, and you can specify file types by selecting or unselecting the checkboxes.
Note: the "Complete Recovery" means full scan, and it does not set limitation on file types while searching for lost files.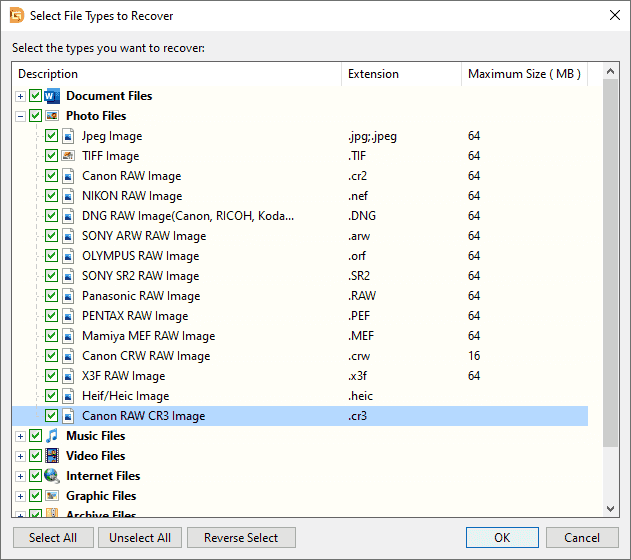 2. Let the scanning finish.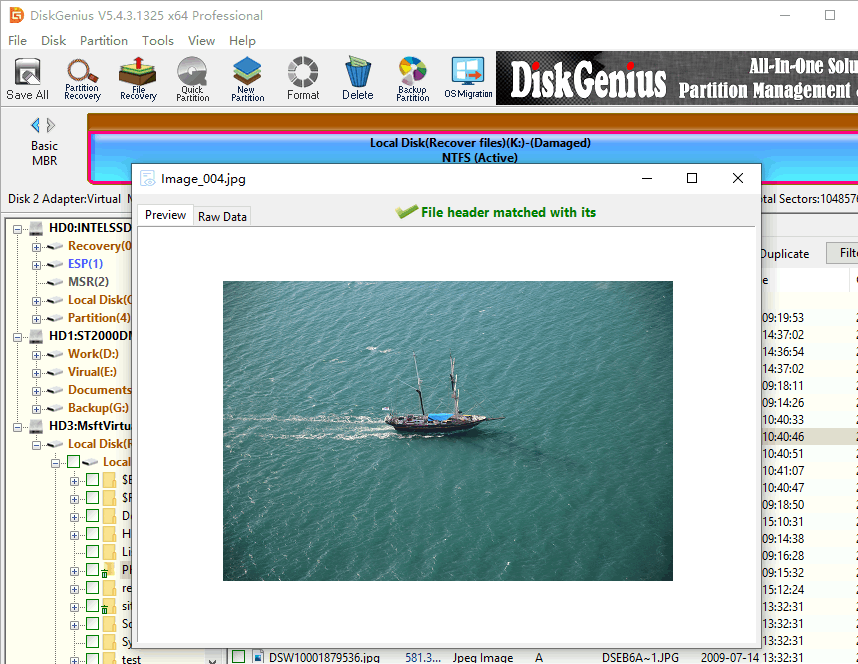 3. Copy files you wish to recover to another partition or hard disk.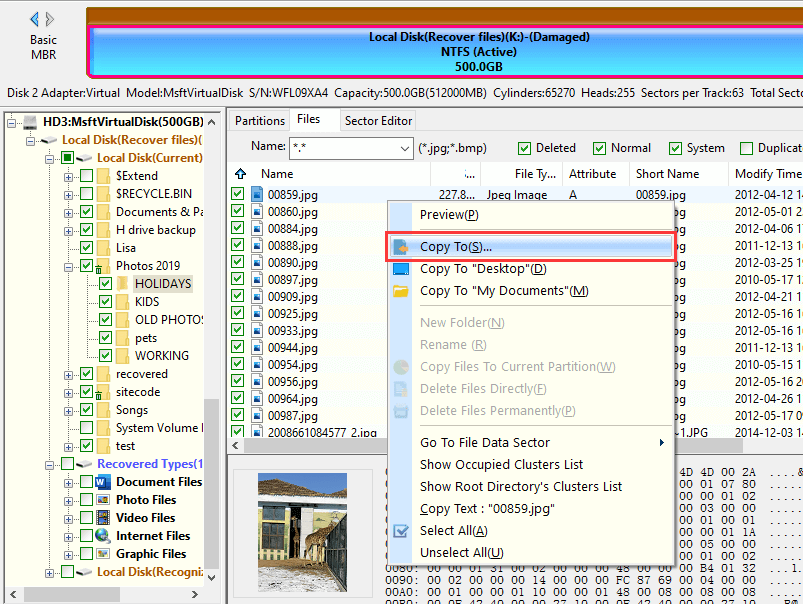 Guide #4: How to Recover Deleted/Lost Partitions from External Hard Drive?
It happens that you may mistakenly delete important partitions or repartition the disk. Lost partition recovery can help you restore partition back to previous status - mount deleted/lost partitions back to Windows again. Then you can access these partitions again.
How to recover deleted and lost partitions on external hard drive? Go through steps below:
Step 1. Launch DiskGenius on your computer. Select the disk which needs recovering lost partitions and click "Search Lost Partitions (Partition Recovery)".
There is only unallocated disk space when all partitions are deleted from the disk, and you can easily locate the disk in the software.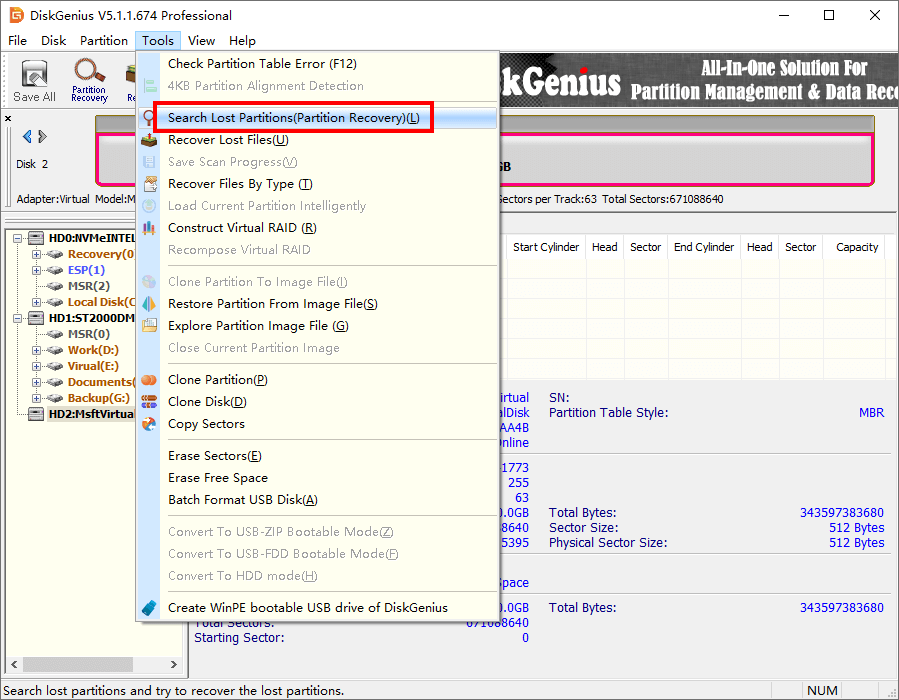 Step 2. Click "Start" button on the pop-up window, and the software starts to search for lost partitions.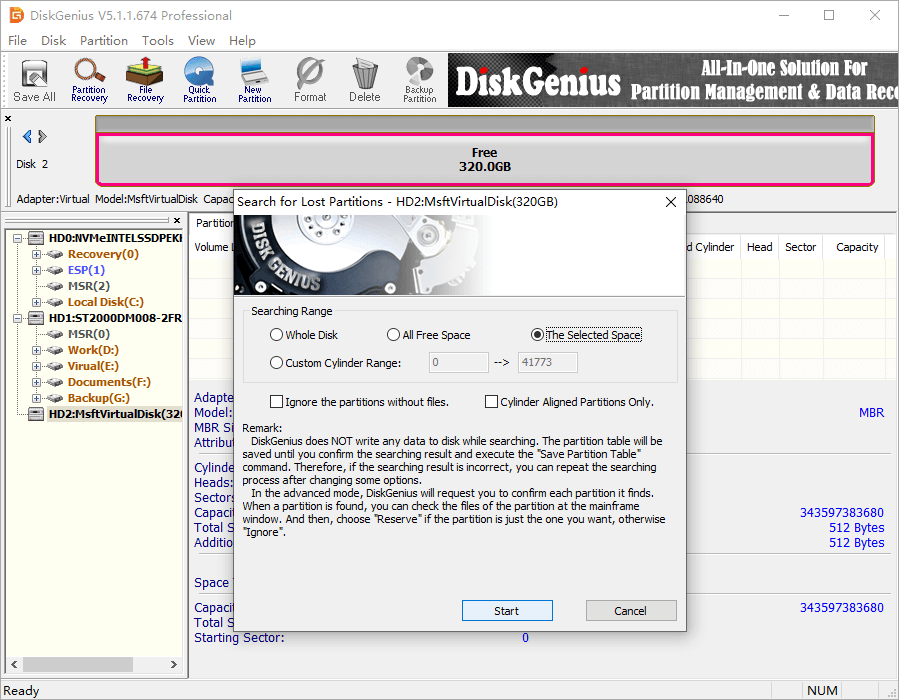 Step 3. Click "Reserve" to partitions you want to restore and click "Ignore" to incorrect partitions.
The aim of the scanning is to look for lost partitions instead of lost files. Once a correct partition is found, you can view files inside it. Thus you can easily determine whether the found partition is correct by previewing files inside the partition.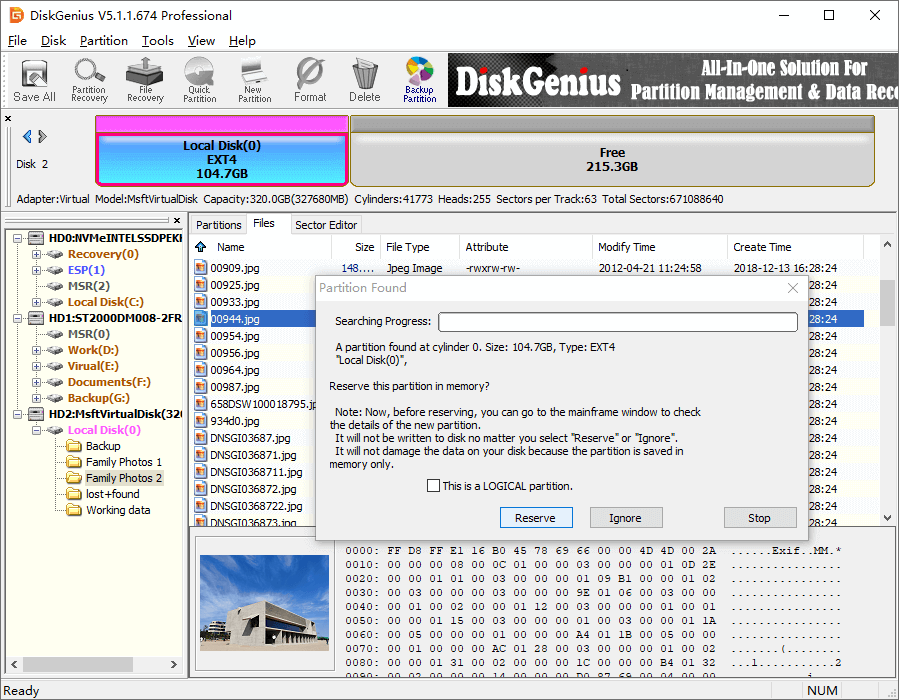 Step 4. Click "OK" once the partition scanning is done.

Step 5. Click "Save All" button to save lost partitions to partition table and get them mounted to OS.
Guide #5: How to Recover Data from External Hard Disk Which Is Not Detecting?
What can we do when the external hard drive isn't detected by computer? It's really a tricky problem for us average users to deal with when the external hard drive not showing up in Disk Management. Here are some operations we can do to narrow down the problem and get closer to solutions.
Step 1. Check connections.
Use new cables: the USB cables might be faulty or damaged.
Check the enclosure: Change a new encloser for the disk.
Try connecting the drive to another USB port or computer.
Update drivers: make sure drivers of the disk is up to date.
Step 2. Check if the external hard drive has other symptoms.
Some not detecting external hard drive may make clicking sounds once it is powered on; while some drive may slow down or freeze computer.
Step 3. Ask for help from professional data recovery service:
If the external hard drive stores essential data, then contact professional data recovery company to seek data recovery solution; if data recovery is not your goal, then contact the drive's manufacturer to get it repaired.
Tips to Increase the Success Rate of External Hard Drive Recovery
100% success rate is the final goal for the one who is recovering data, and yet sometimes it's difficult to achieve the aim. What we can do is to improve the likelihood of recovering data from external hard drives. Here are several points that should be noted:
Stop all "write" actions: Once you are aware of the data loss issue, stop using the external hard drive as soon as possible. Any operation related to write has the possibility to overwrite lost data. Thus, you should stop all "write" actions to the drive right away. "Write" operations include but not limited to store data, open programs, edit or view existing files, format the drive, run disk checking, resize partition, and more.
Don't delay the recovery of data from external hard drive: Although we emphasize the importance of avoiding data overwrite, sometimes it is hard to prevent overwriting perfectly. Under the circumstances, starting the data recovery process as soon as possible is suggested by many experts and tech sites.
Use professional data recovery tools: Typically, scanning result of the recovery software will be the final data recovery result, thus the recovery software you choose determines the final result to a large extent. Thus, always choose the software which is professional and powerful. Test the software before paying the license key.
Contact tech support team in time: Whenever you are unsure the operation to be done, contact the tech support team who will give you instant and effective guidance. Do not execute any operations that you have no idea what will happen in the future.
How to Avoid External HDD Data Loss Issues?
It is important to defend external hard drive data against data loss, and there are some considerations that you should take into account in order to protect valuable data.
Backup external hard drive data: Create full backups for important data and schedule backups regularly. With backups, you can easily restore data when your external hard drive fails to work. Be sure to keep the latest backups for all crucial files.
Keep more than one copy of backups: It is not enough to have one copy of backups, for it is possible that the backup copy may get lost some day. Thus, you need to keep two or multiple copies of backups. You can store backups on different drives or use cloud drive services.
Use high-quality external hard drives: Whenever you buy a hard drive or external hard drive, choose the one with high-quality. Because those drives with low-quality are more likely to develop issues or get broken. So, it is suggested to choose reputable brands like Seagate, Western Digital, Toshiba, etc.
Run full virus scan regularly: An external hard drive can be used on different computers, which makes it easier to infect virus. Hence, it is necessary to scan the device regularly using anti-virus software.
Place the drive at a safe location: External hard drives are digital products which should be well protected against damages like shock, bumped, drop on a hard surface, direct sunlight, excessive moisture, etc.
Use external hard drive properly: Do not remove the external hard drive from computer before clicking the "Safely Remove Hardware and Eject Media" icon. This can avoid corrupting file system (turning external hard drive into RAW) in many cases.
The Final Words
Lots of reasons can lead to external hard drive data loss, and yet the recovery of data from external hard drive can be solved by methods presented above. As long as the drive is not physically damaged, you can use DiskGenius to rescue data. The software has more than 25 years of experience in recovering lost data from internal and external hard drives for individuals and business users. Moreover, it is compatible with all versions of Windows operating system and Windows PE, and supports exFAT, FAT32, FAT12, FAT16, NTFS, EXT2, EXT3 and EXT4 file system.
FAQs on External Hard Drive Recovery
1. How much does data recovery cost external hard drive?
The cost of recovering data from external hard drive can vary from 0 USD to 2000USD. The cost is mainly determined by data loss causes and the health condition of the external hard drive. The common logical failures, for example accidental deletion or formatting, can be fixed by free recovery software. Thus, the cost will be 0 USD. However, the recovery of data from a physically damaged external hard drive will cost around 700 USD or even 2000 USD.
2. How much does Seagate charge for data recovery?
Seagate offers Rescue Data Recovery Service, and you can use the service free of charge if your drive's warranty includes the service. For other cases, you need to contact the support team to inquire the quotation.
3. Why is data recovery expensive?
Data recovery can be free of charge if the issue can be fixed by free data recovery software; when you feel the hard drive recovery cost too much, the hard drive must be physically damaged, which needs the help of professional data recovery services.
4. How much does it cost to recover data from USB?
The average cost of recovering data from USB drives ranges from $0 to $700. In many cases, you can recover lost data from USB for free, for example, retrieve data from previous backup, or recover data by using free recovery software; when it comes to recovering data from USB drives which are physically broken, the cost will be tens of dollars or even hundreds of dollars.
5. How to recover data from external hard drive which is not working?
It's common to see an external hard disk not working, for example, computer does not read external hard drive data (the drive is no longer accessible). The recovery of unreadable external hard drive can also be done with the help of professional recovery software, and the recovery does not format the drive nor damage data. For detailed steps, read the post: External Hard Drive Corrupted and Unreadable Fixed without Data Loss.
6. How to recover data from an external hard drive that won't boot?
It is much easier to recover data from an external hard drive that won't boot than to recover a crashed internal hard drive. Because, you don't have to deal with the unbootable computer even though the external hard drive won't boot, for you can just connect it to another working computer or laptop. If you mean recovering data from unbootable computer, refer to the guide: How to Get Files Off an Old Hard Drive That Won't Boot?
7. Can data be recovered from a dead external hard drive?
Yes, it is possible to recover data from a dead external hard drive. Generally, a dead hard drive cannot be detected by computer, which means we cannot perform the recovery on our computer with recovery software, however, recovery can be done by a professional data recovery company which is equipped with dust-free labs, PC3000 and skilled experts.
8. Can permanently deleted files be accessed?
No, permanently deleted files cannot be accessed directly in Windows File Explorer. For Windows operating system, those files that are deleted by Shift + Delete, or emptied from Recycle Bin are regarded as permanently deleted. Thus, such files cannot be accessed in File Explorer anymore. To regain deleted files, you need to perform deleted file recovery, after which deleted files can be restored and then accessed as before.
9. How do I access a faulty external hard drive?
A fault external hard drive can be caused by various factors, for example, improper use, corrupted file system, faulty drivers, bad sectors, virus, etc. There are a few methods you can try to regain access of the external hard drive: fix connection, update drivers, format the drive, run a full virus scan, check and repair bad sectors, and more.
10. Can a damaged external hard drive be fixed?
Whether the damaged external hard drive can be fixed mainly depends on the extent of the damage. If the damage is physical-related, the external hard drive repair will need the help of its manufacturer. In some cases, the damage may beyond repair. While if the external hard drive is logically damaged, you can try repairing it at home and you are likely to repair the drive successfully.
11. Is there any free software for data recovery?
Yes, there are free programs for data recovery, and you can easily download one on the Internet, for example, Eassos Recovery Free can be downloaded and used free of the charge, and the tech support is also provided free of charge. It is worth paying for data recovery software if lost files are of great importance and cannot be recreated or regained within a short period of time. Moreover, most recovery software is cost-effective and affordable, compared with data recovery services nearby.
You May Also Like: