USB drive gets formatted accidentally
USB drive is a kind of very common data storage tool. It is small in size and easy to carry, so it is liked by many users. No matter in life, study or work, USB drive is usually used. It can be used to store data and transfer data. However, in the process of using USB drive, it will also encounter many problems, such as formatting.
We often format USB drive when there is need, for example, clear virus, change file system type, quickly remove all data, etc. As matter of fact, the capacity of USB drive is not too large. After using it for a period of time, it might be running out of space. In this case, we can format the USD drive to remove everything at a time. However, sometimes, we may format USB drive by mistaking, causing data loss issues. What should we do to get these files back from unformatted USB? This article will tell you how to recover formatted USB drive.
Can data be recovered from formatted USB drives?
The file is divided into two parts when it is stored on the USB drive, the file data and entry. Entry is stored in file system, recording where and how the file is stored on the disk. When the USB drive gets formatted, only the file system part gets removed in order to create new file system. So, the file data part is not actually affected, being recoverable before it is overwritten by other files.
When it comes to recovering formatted USB drive, we recommend you use recovery software like DiskGenius to do the job. DiskGenius is professional data recovery software with superb algorithms, powerful functions, and a wide range of user groups. It supports file recovery and partition recovery in various situations with good recovery effects. Different types of advanced functions are available.
How to recover files from formatted USB drive using DiskGenius?
The following is the process of recovering files from formatted USB drive using DiskGenius:
Step 1: Please download and install DiskGenius software on your computer. And connect the formatted USB to this computer as well.
Step 2: After opening the software, select formatted USB drive that needs to recover data, and click the "File Recovery" button.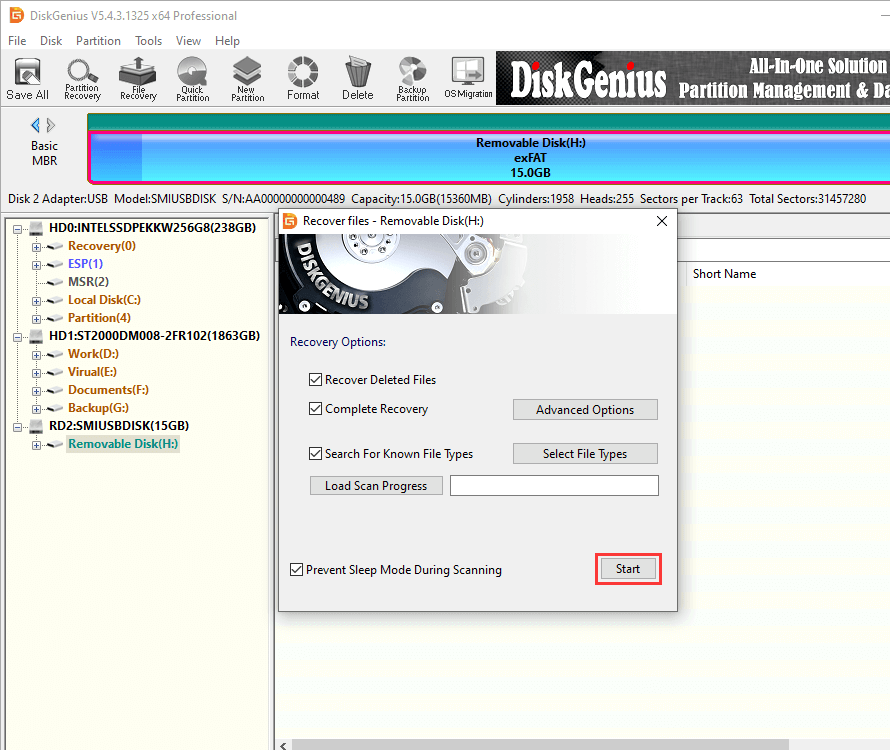 Step 3: Choose recovery modes and click Start button. Then, the software will scan the full partition here the data is missing in USB disk.
You need to choose recovery modes according to the specific data loss situation. If you want to recover lost formatted data, select "Complete Recovery" and "Search For Known File Types". If there are files which had been deleted before formatting, and you also want to recover these files, you can also tick the "Recover Deleted Files" item.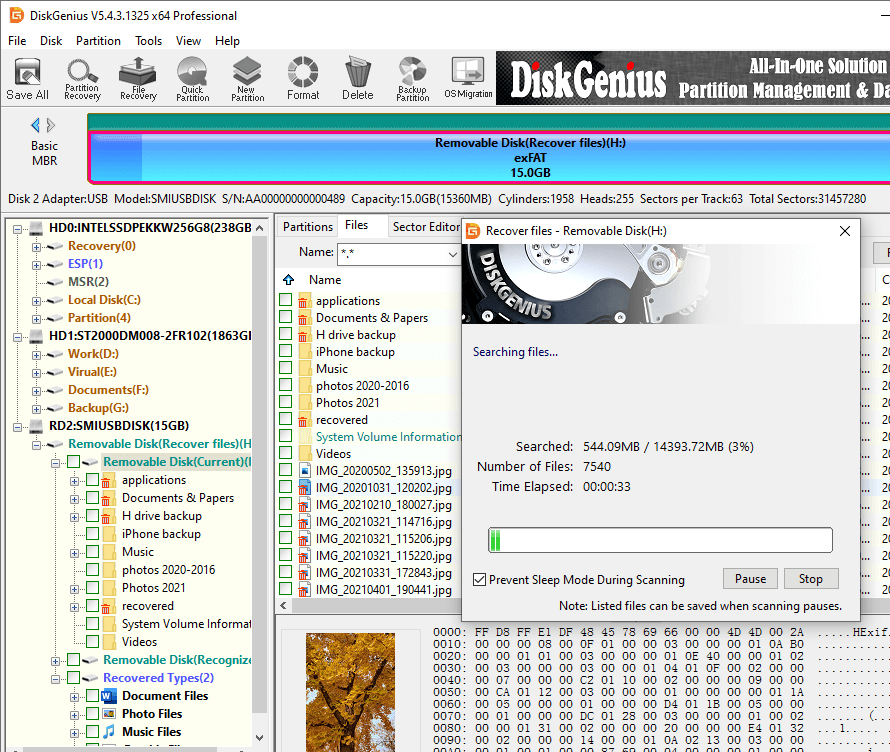 Step 4: Preview recoverable files.
If you find files which need to be recovered are listed in the scan result, you can stop scanning. Do you know how to estimate whether files can be recovered successfully? This requires the use of the file preview function. Files that can be successfully previewed can be recovered successfully in the end. By using preview function, you can determine whether it is the file which needs to be recovered, and whether it can be recovered correctly. The function of previewing files in DiskGenius is very powerful, and many common file formats can be previewed.
The result of the file will be displayed in the preview window. The following shows the preview of a photo.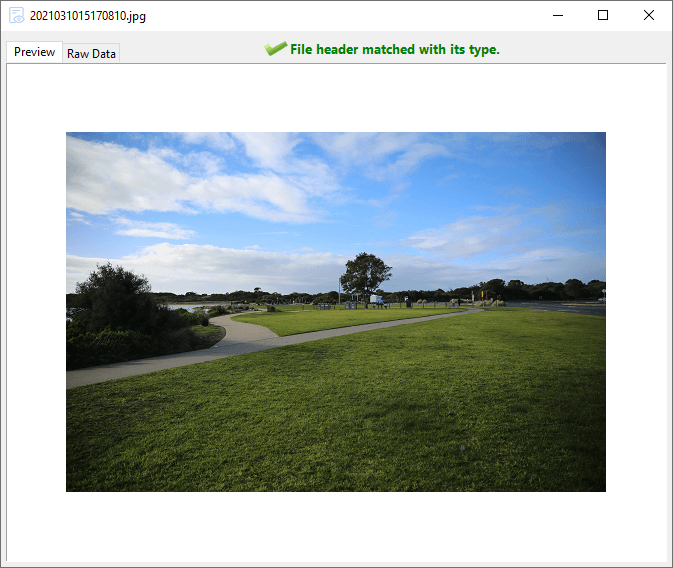 Step 5: Copy files to a safe location.
After DiskGenius completes the scanning process, you can select files you wish to recover in the scanning results. You can select multiple files and folders at the same time. And then right-click them to specify a folder on a different partition, as shown below: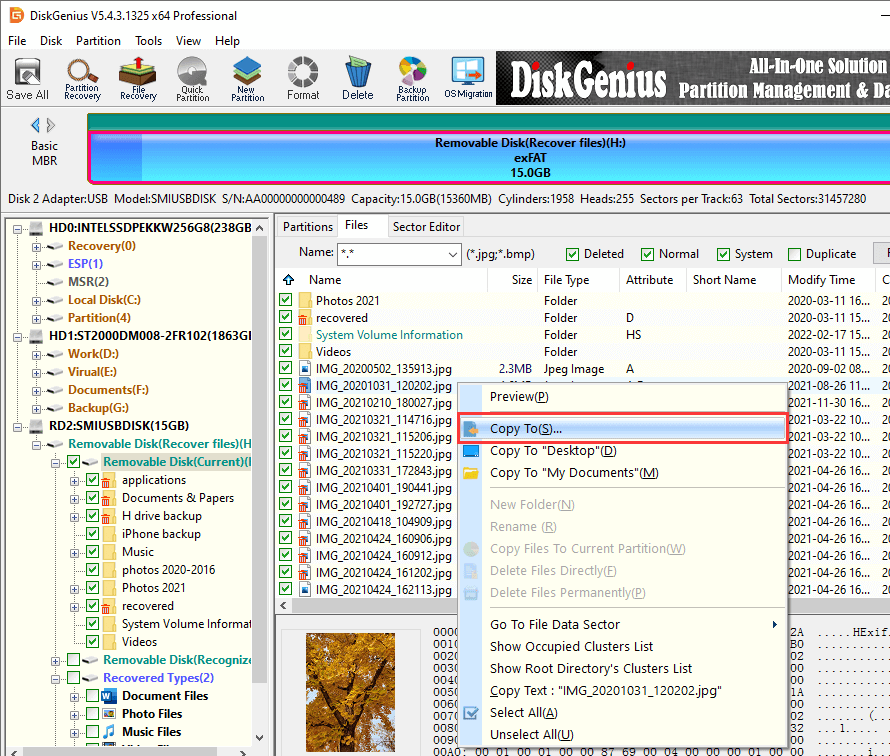 Tips to well protect USB drive data
You can successfully restore lost data from formatted USB drive by following steps above. However, in daily life, there are some other matters which you need to pay attention to when you use USB drive to store important files.
Firstly, you should develop a good habit of backing up important data files when using USB drive in order to avoid accidents such as accidently formatting the USB drive, delete importance data by mistake. Only in this way, can lost data be recovered in the most convenient, fast and non-destructive way.
Secondly, when using USB drive to transfer files, do not pull out the USB before the transfer process is over and the computer safely removes the hardware. Otherwise, there will be damage to the file system on the USB drive. Besides, you also need to use anti-virus software to remove viruses and malicious programs in USB drive, which will help a lot about data security.
Finally, if you lost the data in USB drive by accident and cannot recover it from the backup, try DiskGenius to recover lost data as it is very safe and efficient.
Related guides