Table of Contents
How To Check If Hard Drive Is Corrupted?
Hard drive is one of the storage devices we use every day, and it stores all kinds of files for us. Corrupted hard drive is an annoying problem to many users who do not back up data, as it gives rise to data loss. How can I check if a hard drive is corrupted? It's easy to tell whether your hard drive is corrupted or not. The exact symptoms of corrupted drive vary from one to another, but you are possible to get one of the following error messages when you try to open a corrupted hard drive.
Drive is not accessible. The file or directory is corrupted and unreadable.
Drive is not accessible. Access is denied.
Drive is not accessible. The parameter is incorrect.
You need to format the disk in drive before you can use it. Do you want to format it?
The volume does not contain a recognized file system. Please make sure that all required file system drivers are loaded and that the volume is not corrupted.
What do I do when hard drive is corrupted? How can I uncorrupt hard drive without losing data? Please pay attention to following points to prevent further damage to data on the drive.
Do not format or reformat the corrupted drive.
Do not use Windows built-in repair utility such as chkdsk to fix the corrupted drive. These repairing actions often damage data, making lost data unrecoverable.
Do not repair bad sectors even though you are sure the problem is caused by bad sectors. Repairing bad sector also destroys data.
If your hard drive is suffering from severe physical damages, contact professional data recovery service provider.
Frist Thing: Recover Lost Data from the Corrupted Hard Drive
The bright side of corrupted hard drive is that there is good chance to recover lost files as long as the hard drive is not physically damaged. To achieve a successful hard drive recovery, you should neither format the hard drive nor try any other fixes. To recover data from corrupted, RAW or crashed hard drive, you need to use hard drive recovery software.
DiskGenius is the most recommended software to deal with corrupted drive recovery. It works effectively when retrieving files from corrupted, inaccessible and RAW drives, and it supports recovering data from FAT32, NTFS, exFAT, EXT4, EXT3 and EXT2 drive in Windows 10/8/7, Windows PE and Windows Server.
Step 1. Launch DiskGenius from your computer where the corrupted hard drive is connected. Select and right-click the corrupted drive and choose Load Current Partition Intelligently.
This function will rapidly scan the drive and load files that existed on the drive when it was accessible. After that, you can view files and copy them to another drive. It's okay if this function cannot load your files, move to Step 2.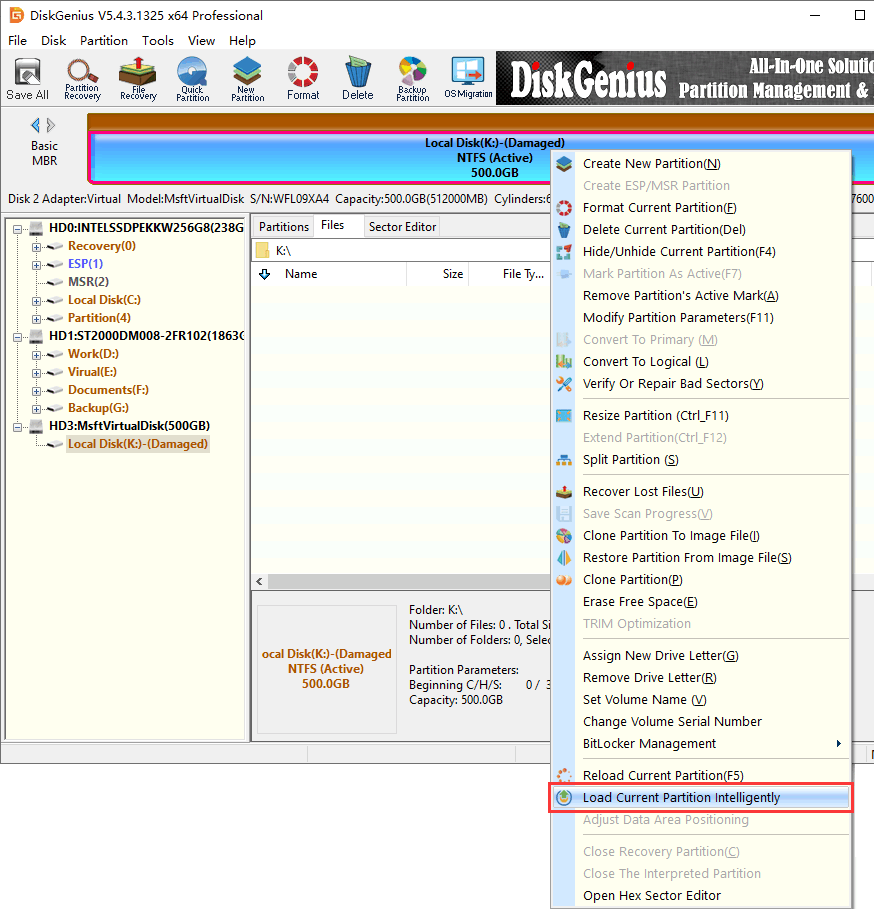 Step 2. Select the corrupted drive > File Recovery > Start. Here we're going to fully scan the corrupted drive to find out recoverable files.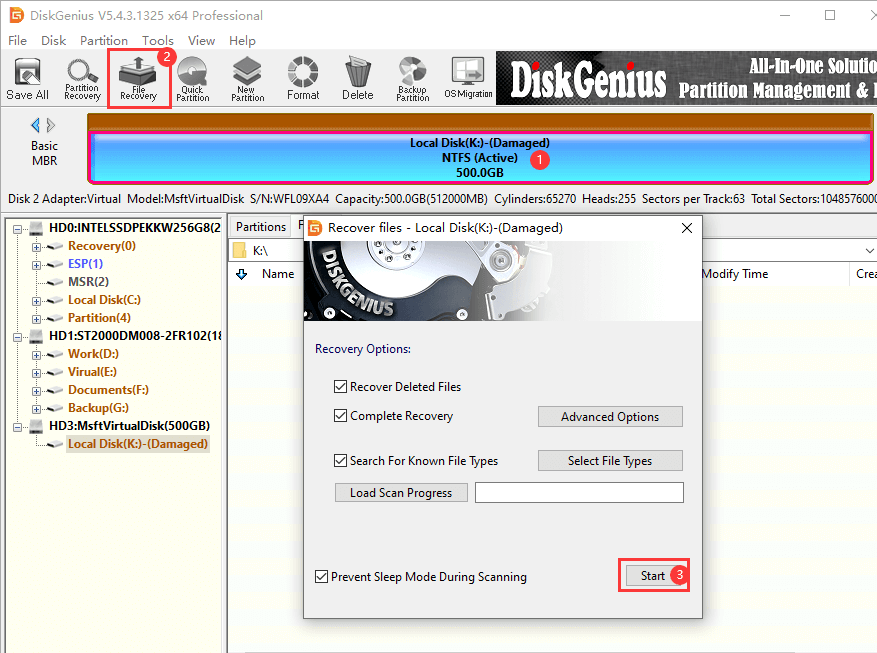 DiskGenius is searching for lost files, and the scanning process will take a while. You can click Pause or Stop if all files you want have been listed in the software.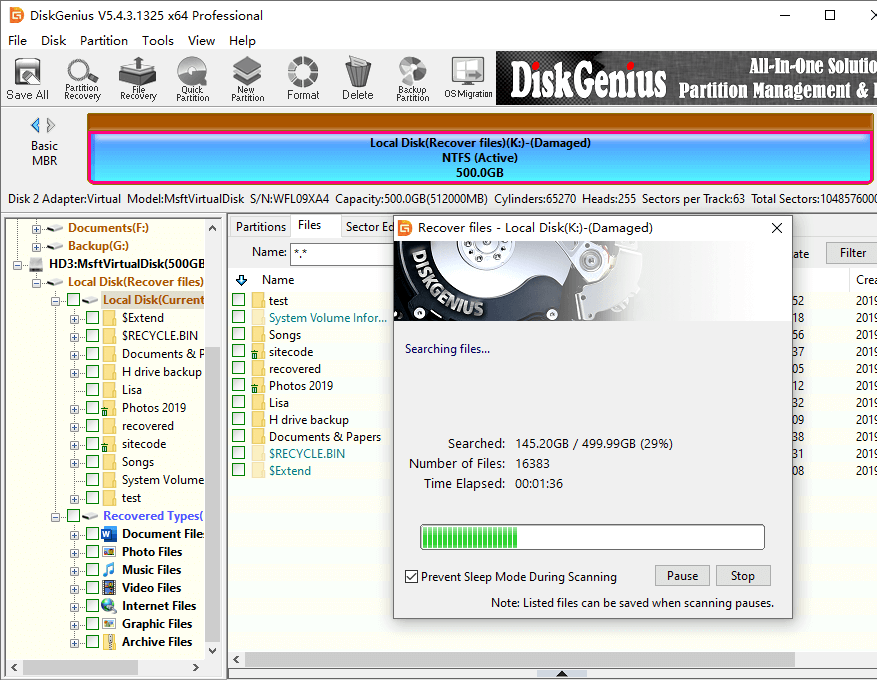 Step 3. Preview recoverable files and verify if they are correct.
File preview is available for the free edition, and you can preview photos, Microsoft Office Documents, PDF files, videos and audio files. Thus you can easily ensure accurate recovery result before registration.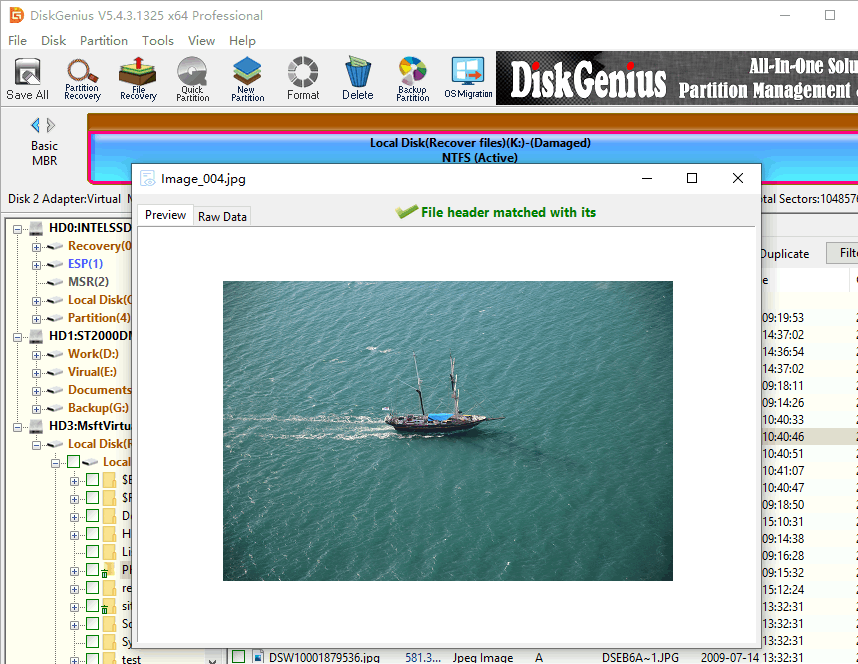 Step 4. Copy found files to another healthy drive and get them recovered.
Note: Registration is required before copying files, and you can register the software with a license code easily.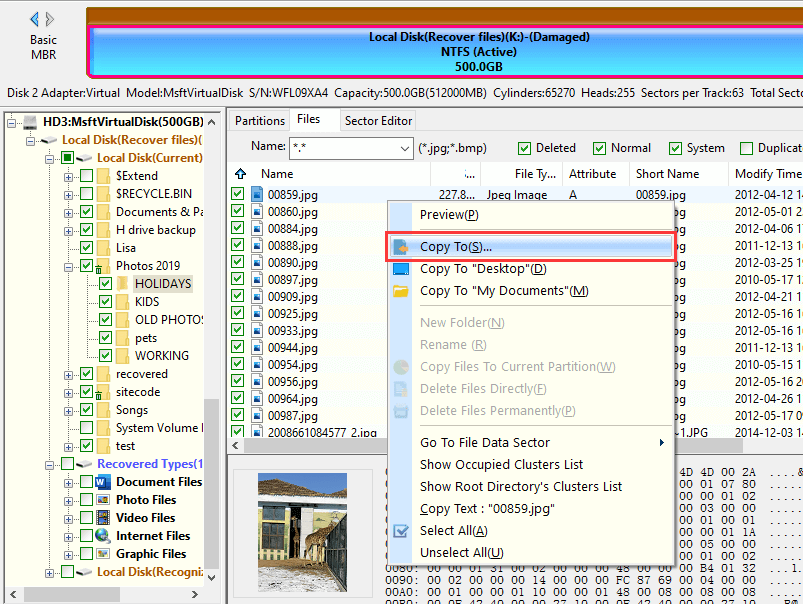 How To Fix Corrupted Hard Drive? - 6 Workable Solutions
Note: If the corrupted hard drive to be repaired contains important data, you should perform hard drive recovery with data recovery software. Because solutions given below may permanently destroy data. Moreover, these solutions won't work if your hard drive is badly damaged with mechanical failure.
Solution #1: Check hard drive connection
Step 1. Check if the power supply goes wrong. An internal hard drive that connected to motherboard requires SATA power and data connections, so you need to check if bother cables are well connected. It's also necessary to try other cables.
Step 2. Connect the hard drive on another computer. It does happen that a hard drive can be accessed after being connected to another computer.
Solution #2: Scan hard drive for viruses
It's easy to scan and remove virus from your computer, and there is no need to install third-party anti-virus software. Windows Defender is good enough to protect against virus and malware. And here is how to scan hard drive to viruses using Windows Defender.
Step 1. Click Start menu and choose Settings. Then click Update & Security > Windows Security > Open Windows Security.
Step 2. When the Windows Security shows up, click Virus & threat protection form the left pane.
Step 3. Click Scan options > Full scan > Scan Now. This will check all files and running programs on your hard disk, and the scan will take longer than one hour.
Solution #3: Run disk error checking in Windows File Explorer
Although the function of disk error checking is a Windows built-in tool, it is also able to over repair corrupted drive, causing further damage to lost data. Thus, data recovery should be done before trying following steps. Moreover, this tool is not available for RAW drive.
Step 1. Open Windows File Explorer by double-click This PC on desktop. Then you can easily locate the corrupted drive.
Step 2. Right-click the corrupted hard drive you want to repair and choose Properties.
Step 3. Select Tools tab and click Check button under the error checking section. Then Widows starts to scan the drive and fix errors.
Solution #4: Format the corrupted hard drive to NTFS file system
Formatting is the easiest way of repairing logically corrupted drives, as the formatting process creates new file system, which makes the drive accessible again. Here we provide two methods to format a corrupted hard drive.
Method 1: Format corrupted hard drive to NTFS in Disk Management
Step 1. Open Disk Management. Right-click This PC icon and choose Manage. Then click Disk Management.
Step 2. Right-click the corrupted drive you want to fix and choose Format from the ensuing context menu.
Step 3. Select a file system type and click OK button.
Step 4. Click OK button again to confirm the formatting.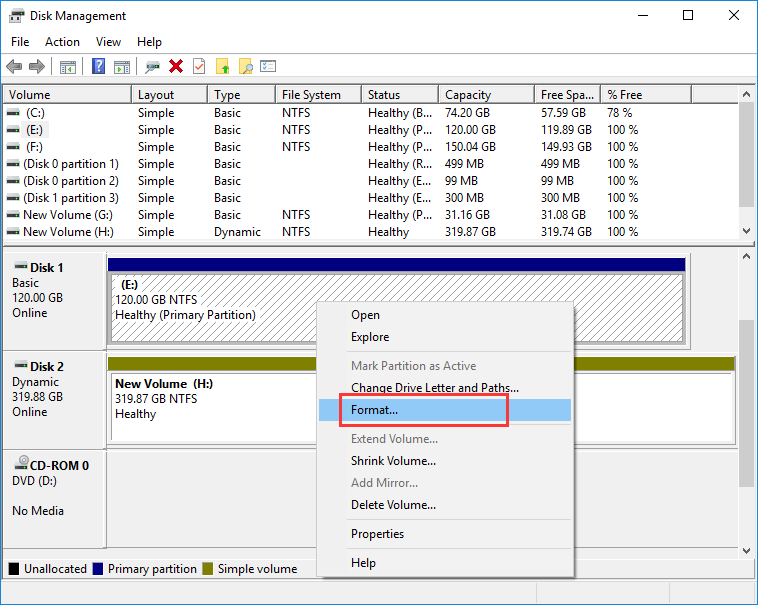 Method 2: Format corrupted hard drive to NTFS/FAT32/EXT4 using DiskGenius Free Edition
Step 1. Right-click the corrupted drive in DiskGenius and choose Format Current Partition option.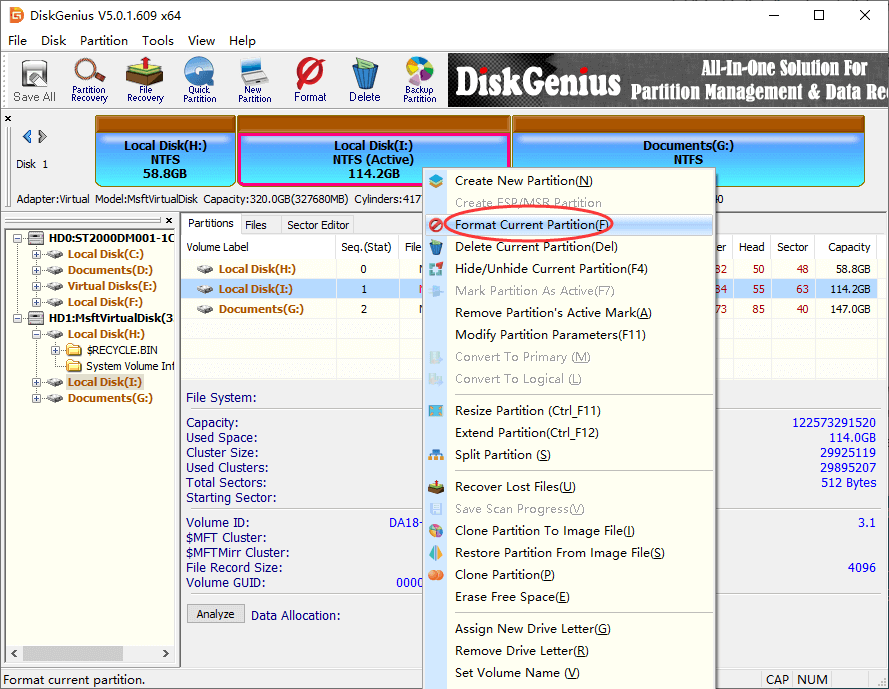 Step 2. Select file system type from the drop-down list and click Format button.
With DiskGenius Free edition, you can format hard drive, SD card, USB flash drive or RAW partition to NTFS, FAT32, exFAT, EXT4, EXT3 and EXT2 without considering its capacity.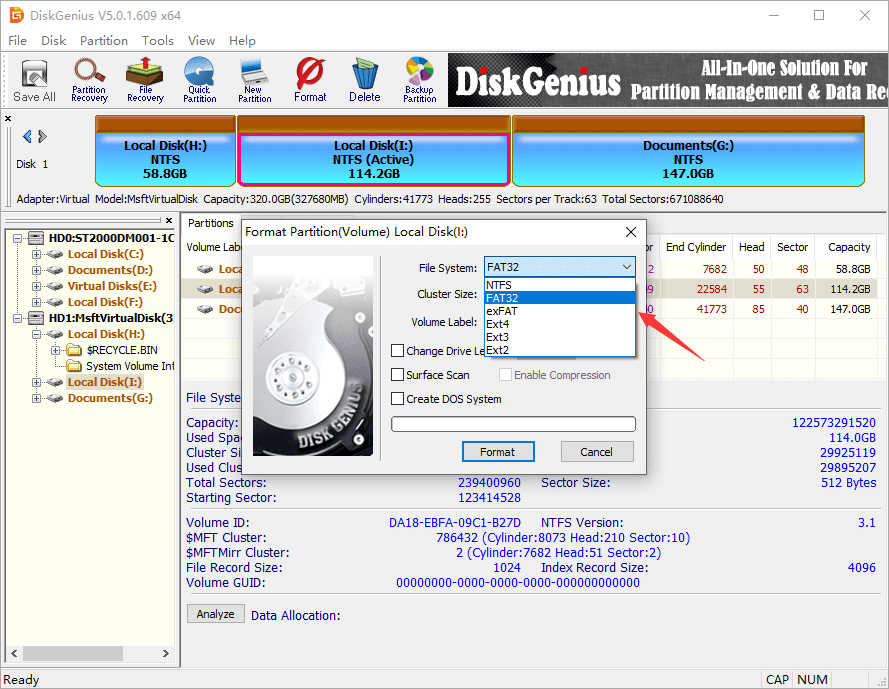 Step 3. Click Yes and the software starts to format the hard drive.
Solution #5: Check and repair bad sectors on the corrupted hard drive
When formatting cannot complete on the corrupted hard drive, you will have to on high alert to hardware problems. Under the circumstances, you need to check the health status of the hard drive.
Step 1. View S.M.A.R.T. information with DiskGenius. Click the corrupted drive and choose Disk > View S.M.A.R.T. Information.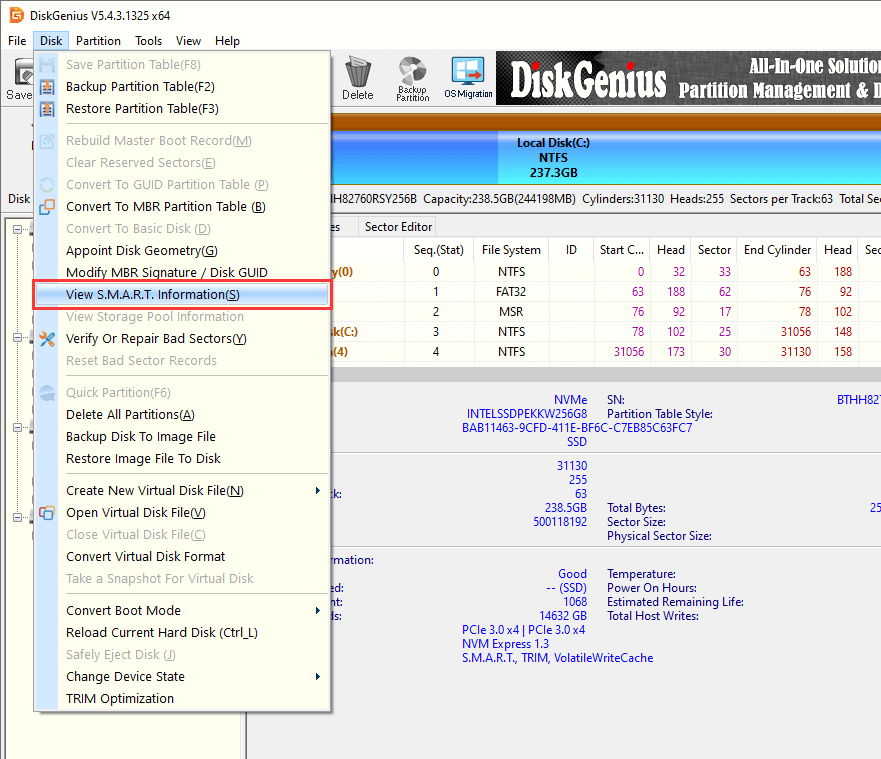 If the S.M.A.R.T. information shows the status is OK, then everything is not that bad. However, if you are still worried about the drive, you can check if there are bad sectors.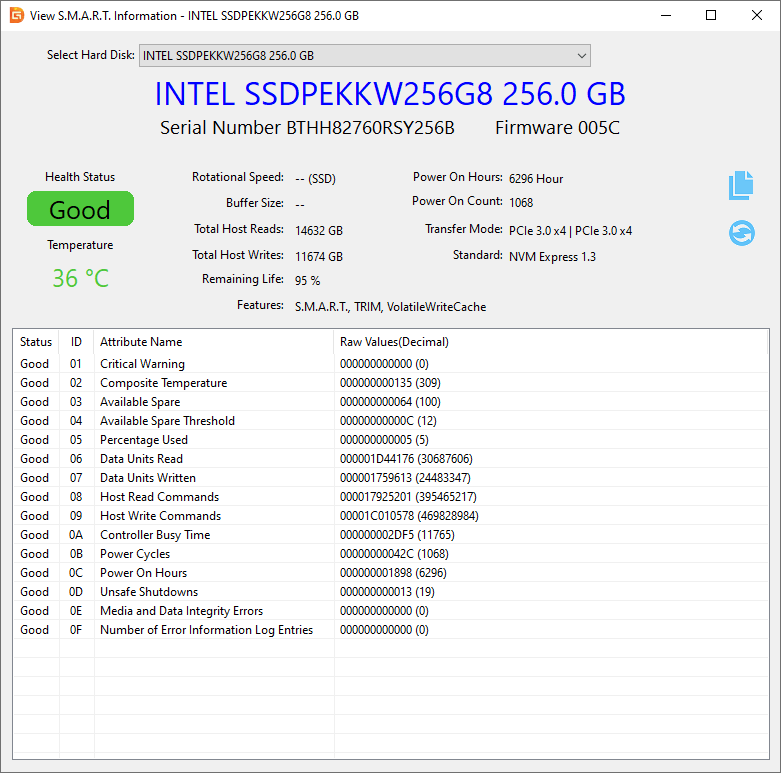 Step 2. Check bad sectors for the hard drive using DiskGenius.
Select the corrupted drive > Disk > Verify Or Repair Bad Sectors.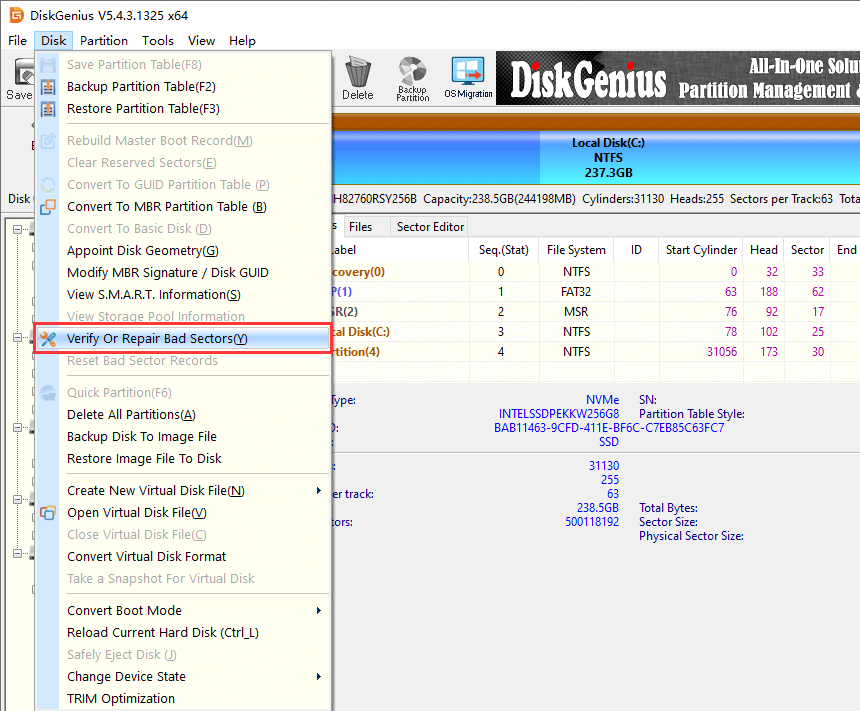 Click Start Verify button and DiskGenius starts to scan the hard drive and verify if there are bad sectors.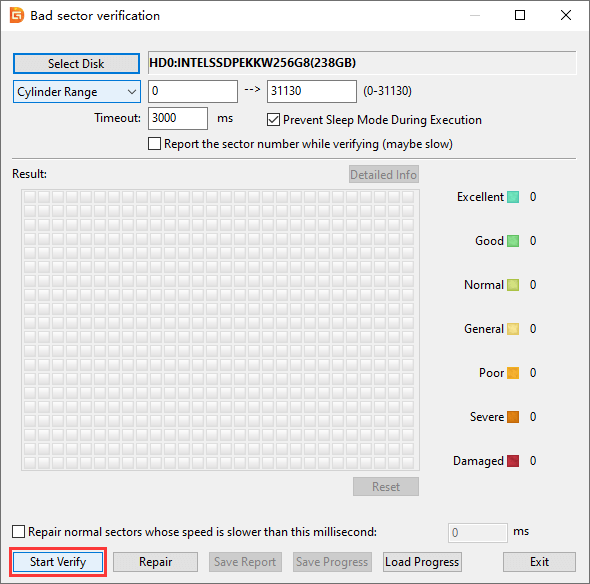 Solution #6: Wipe the corrupted hard drive
Disk wiping process will overwrite all data on the hard drive and make them unrecoverable. Meanwhile, it is also able to fix errors on the drive. The following steps will show you how to wipe a hard drive. If the erasing process finishes without errors, then your hard drive is free of errors and bad sectors.
Step 1. Select the hard drive you want to fix and click Tools > Erase Sectors.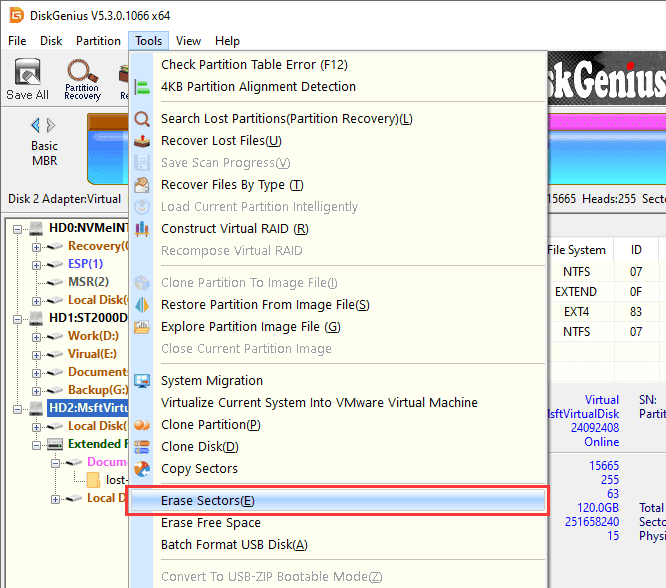 Step 2. Select characters that you want to use to overwrite the drive and click Erase button.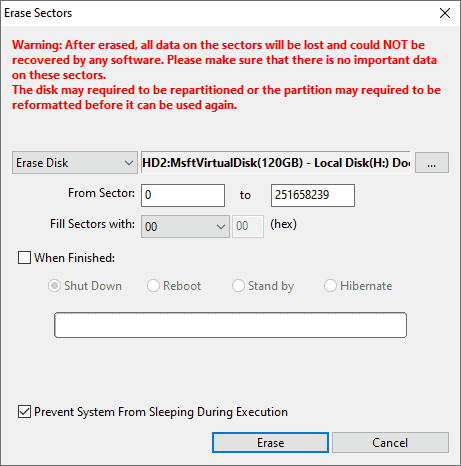 Step 3. Operations to be done will erase the drive to the point that no data can be recovered in the future. Click Erase to continue.

What Causes Hard Drive Corruption?
It's common to see hard drive gets corrupted, becoming not accessible in Windows. There are many causes of such issue. Here are the most common reasons behind a corrupted hard drive.
Damaged file system: The file system of a drive tends to get corrupted when there is a sudden shut down or power failure. When the file system gets damaged, the drive becomes inaccessible.
The hard drive lifetime is ending: Hard drives and any other storage devices have a lifetime, and they prone to various problems when they are too old.
Virus or malware: You never know what viruses can do to computer and data. Problems like hard drive corruption, data encryption, PC BSOD, data loss, etc. have something to do with virus and malware.
Bad sectors: When hard drive has bad sectors, you will find it is not possible to read/write certain data, certain partition gets lost, computer often stops responding, etc.
How Do I Stop My Hard Drive from Corrupting?
Speaking of preventing hard drive from getting corrupted, it is wise to follow these tips:
Shut down computer properly: Whenever turning off computer, you should click Start menu to click Shut Down.
Place the hard drive at a safe place: Hard drive dropping, hitting or bumping tends to cause mechanical failure.
View hard drive S.M.A.R.T. regularly: Checking S.M.A.R.T. information for hard drive can get a quick look at the health status. Thus, you can view the information using DiskGenius Free Edition from time to time.
Backup data on the hard drive: you can simply copy files to another hard drive or use third-party data backup software such as DiskGenius to fulfill backup tasks.
Questions and Answers on Corrupted Drive
1. How to format a corrupted hard drive?
There are several ways of formatting a corrupted hard drive, for example, you can format a corrupted / RAW drive to NTFS in Windows File Explorer or Disk Management. If you want to format the corrupted hard disk to other file systems such as FAT32, EXT4, use DiskGenius to do the formatting.
2. How to fix corrupted hard drive using CMD?
When fixing corrupted drive with CMD commands, the mostly frequently used command is formatting the corrupted and inaccessible drive. A corrupted drive is likely to be in RAW drive which cannot be repaired by chkdsk. Thus, you may need to format the drive via CMD. Here is how to format corrupted hard drive using CMD.
Step 1. Run Command Prompt as administrator. Type diskpart and hit Enter key.
Step 2. Type following commands and hit Enter key after each command.
List volume
Select volume # (replace # with the number of the drive you want to fix)
Format fs=ntfs quick
3. How to fix 0 used space and 0 free space corrupted hard drive?
To fix a corrupted hard drive that shows 0 used space and 0 free space, try following methods:
Recover lost data from hard drive using DiskGenius.
Run Chkdsk in the drive to fix errors in file system.
Format the corrupted drive to NTFS.
Check and repair bad sectors.
4. How do you uncorrupt a hard drive?
In general, the recommended process of uncorrupting a hard drive is recovering important files in the first place. After all files are recovered to a safe location, you can try formatting the hard drive to make it accessible again.
5. How do I fix a corrupted hard drive that won't boot?
When you are trying to fix a corrupted disk on a computer that won't boot, you can try these two methods:
Method 1: Create a bootable USB drive using DiskGenius free edition. After that, you can boot computer with this USB drive and then try either recovering or repairing the hard drive.
Method 2: Connect the corrupted hard disk to another computer that can boot normally to Windows. Then follow methods provided above to get the hard drive fixed.
The End
In this article, we provide 6 step-by-step solutions to corrupted hard drive and show you how to perform corrupted hard drive recovery. Hopefully, you've managed to safely recover lost data and fix your corrupted hard drive after reading this article. What's more, solutions given above also applies to corrupted external hard drive regardless of the brands.
Hard drive can get corrupted due to many reasons, and it is not easy to foresee the problem. Thus, the suggested way of preventing data loss issue caused by corrupted drive is to create backups regularly. Free feel to share your insights, suggestions, and questions.
Maybe You Are Interested