The main reasons for computer file loss are as follows
1. Computer poisoning causes file damage
Poisoning mainly refers to the fact that our computer is infected by an external virus, and the virus maliciously deletes the internal data and files of the computer, resulting in the loss of the relevant files we have stored. At the same time, the method of poisoning and the situation of data loss are also complicated. It may be that we inadvertently browse a certain website or download a certain file, which may cause data loss.
2. Data loss caused by wrong formatting
For mis-formatting, it is mainly caused by our human error. Why do we format it? Many times when we install the system on the computer or clean up files, we accidentally click the format and cause data loss. After such formatting, in order to ensure that the data is not overwritten, it is necessary to minimize the writing of the disk data.
3. Data loss caused by abnormal power failure
Power failure mainly refers to the sudden power failure when the computer is in use. This situation is likely to cause the loss of the software or program files we have opened, and for the computer itself, it will also affect the life of the computer hardware. If we save before the power is off or the software has an automatic save function, then there will be no data loss, but if these functions are not turned on, there will also be loss.
How to recover lost data from computer hard drive?
Data recovery methods are mainly divided into two types: with backup and without backup.
1. No data backup
For those files that have not done data backup, if you want to recover the lost data, you often need to recover it with the help of professional data recovery software instead of data recovery services. At present, there are many data recovery programs in the market. It is recommended to consider the characteristics and functions of the software when selecting. It is strongly recommended that you download and use DiskGenius, which has powerful data recovery function and supports the recovery of data of multiple file types from multiple devices.
It is important to remember that after data loss, you must stop using the system or hard drive. This step is very important to reduce the risk of file overwriting. Then, the file recovery operation needs to be performed immediately.
Step 1: Select the partition with lost data in DiskGenius, click File Recovery, and then click Start in the pop-up window.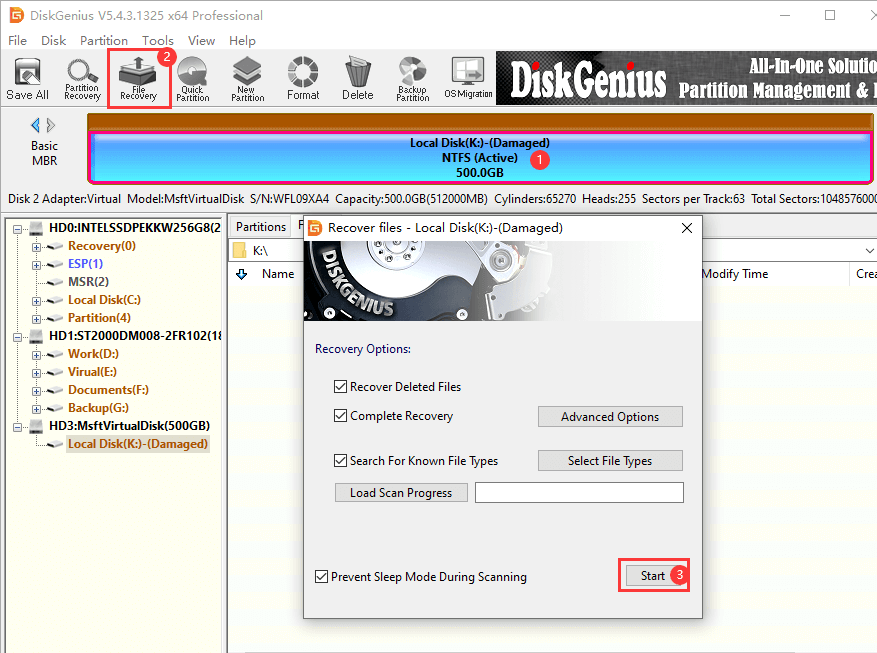 DiskGenius will start scanning this partition: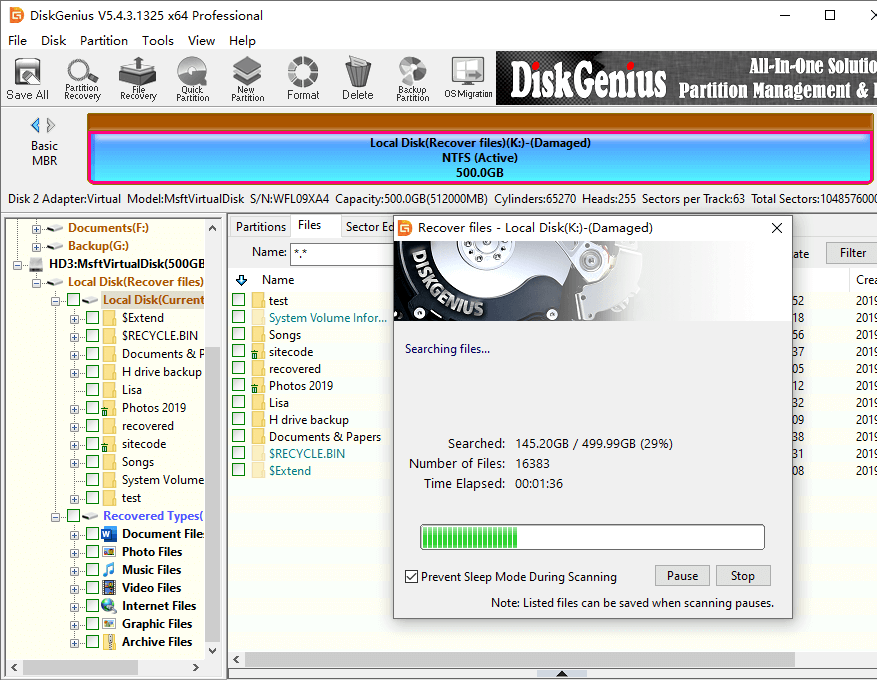 Step 2: After scanning, DiskGenius will list all the searched files and click the file to preview.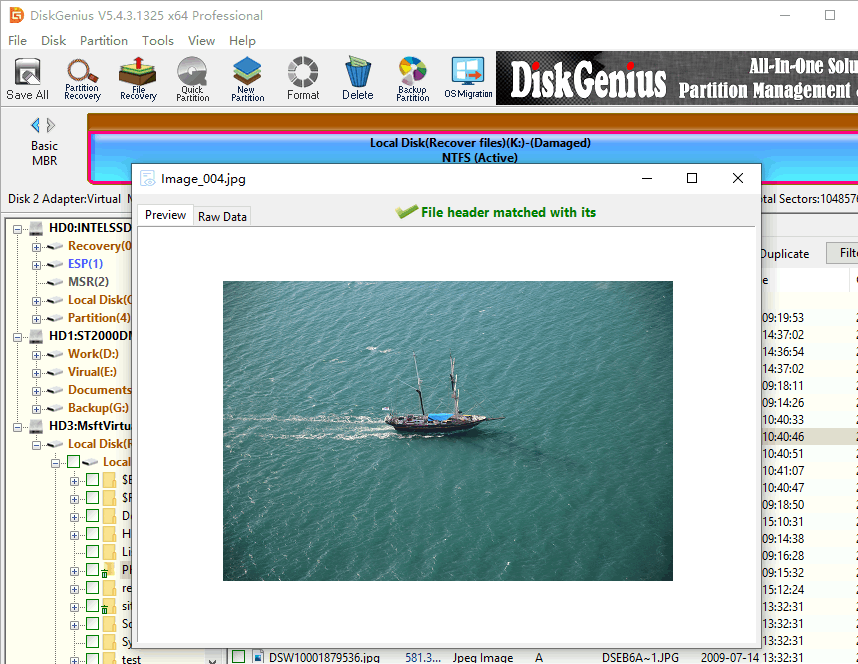 Step 3: If the file can be previewed correctly as shown in the figure above, it can be restored successfully. Right click the filea to be restored and select Copy To option to restore them.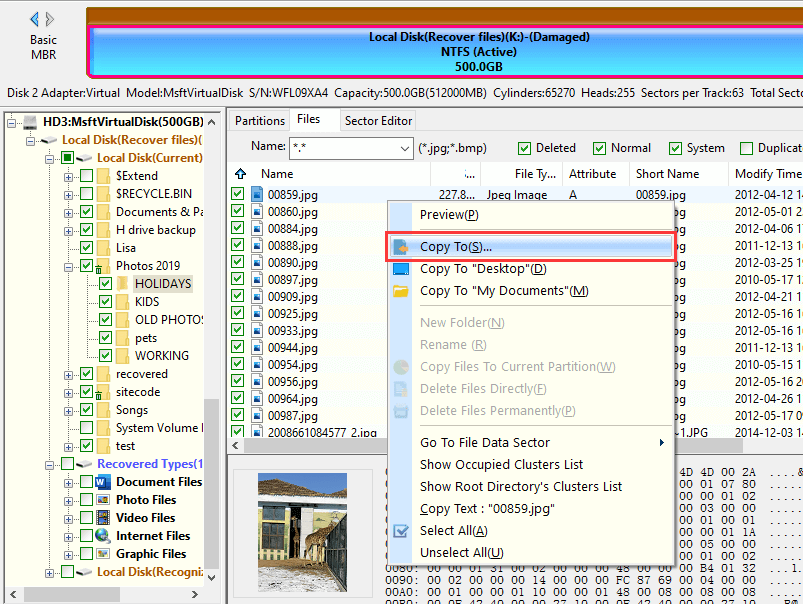 2. Have data backup
If there is a data backup after the data is lost, then no data recovery services are needed and the recovery method is relatively simple, you can directly find the backup USB disk or hard disk, and copy the backup file.
FAQs on hard drive data recovery services
1. Is it possible to recover permanently deleted files?
You can try to recover permanently deleted files through the methods provided in this article. After you delete files, your computer will not delete them completely immediately. These files are still stored on the hard disk, but are marked as inaccessible data. If you continue to use your hard disk or system, you may never be able to recover permanently deleted files. Consider closing all running applications and preventing new data from being written to the hard disk to win more time.
2. I don't want to lose data in Windows 10 due to accidental deletion of files. How to avoid data loss?
In Windows 10 / 8 / 7, you may encounter unforeseen failures, such as computer failure, blue screen or black screen. And it will damage your computer and lose data, including images, movies and files. Backing up data is the best way to protect documents. You can choose to create a file image to an external hard drive or system image to help you recover data when needed. It is recommended to use professional backup and recovery software DiskGenius to save your time and energy. You can back up, restore and clone your Windows system, critical data and necessary applications in the simplest way.
3. Can I restore files that were permanently deleted on Windows 10 a few months ago?
If you have backed up data, such as data created using file history, you can use it to recover any file, no matter how long it has been deleted. Alternatively, if the deleted file is still stored on your computer and is not overwritten by the new data, you can try a third-party data recovery software to recover the deleted file.
Conclusion
Through the method of recovering lost data in Windows proposed in this paper, you can recover your files effortlessly without professional computer knowledge. Most importantly, you need to act as soon as possible to achieve satisfactory results, because this is a time sensitive process.
Backing up important files is the best way to prevent data loss. File history is a good Windows backup tool, which can automatically store copies of files and folders to external USB drives or network drives. Reliable computer hard drive data recovery services are hard to find, alternatively, you can choose DiskGenius to help you backup and restore important data.
Read more