Part 1. What does "Recently Deleted" mean?
When you accidentally or intentionally delete a picture or file on your smartphone or computer by clicking, right-clicking, or pressing the "Delete" option, it refers to the most recently deleted content. These files typically stay in the Recycle Bin, Trash, or Recently Deleted Folder for 30 days, after which they are permanently deleted.
Also, when something is sent to the Trash, Recycle Bin, or Recently Deleted Folder, you can quickly restore them from there. If these files are permanently deleted, your smartphone or computer will not be able to read them. However, these files will remain on the hard drive until other files overwrite them. Therefore, you can easily recover these files, even if you think you have permanently deleted them
Part 2. How to Recover Recently Deleted Photos?
Method 1: Retrieve Recently Deleted Photos from Recycle Bin
Usually, when you delete photos from a Windows computer, they are moved to a temporary storage called "Recycle Bin." These photos are kept in the Recycle Bin for 30 days before being permanently deleted.
So, if your computer has the Recycle Bin enabled, there's a good chance your recently deleted photos will be stored there. Follow the steps below to recover photos from Windows Recycle Bin.
Step 1: Click the "Recycle Bin" icon to open it.
Step 2: Find recently deleted photos to recover and select them.
Step 3: After selecting the photo, right-click and select "Restore". This will save the photo file in its original location.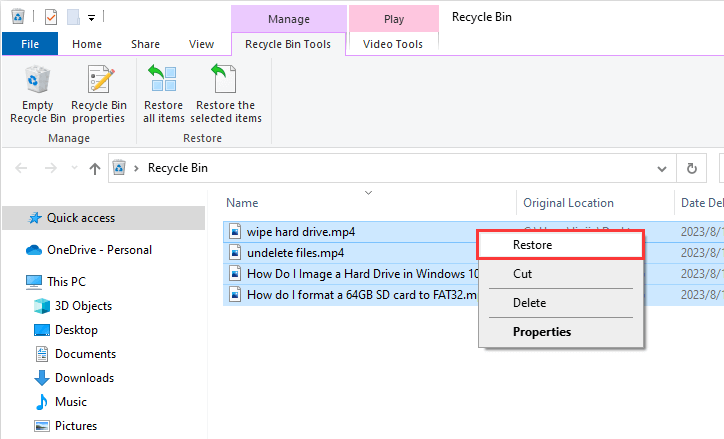 Method 2: Use the File History feature to Retrieve Recently Deleted Photos
Another way to get back recently deleted photos from a Windows computer is to use the File History Backup feature. It's important to remember that you can only retrieve photos with File History enabled when they were deleted. Here's how to recover recently deleted photos from the File History backup feature:
Step 1: Enter the folder or location where your photos were stored before deletion.
Step 2: Now, right click on the folder and select the option "Restore previous versions".
Step 3: After this, browse the versions of the photos you want to retrieve and click the "Restore" button to restore them.
Method 3: Retrieve Recently Deleted Photos Using Data Recovery Software
If you accidentally emptied the Recycle Bin or "Shift + Delete" and the photos are permanently deleted, they cannot be recovered through the computer system, and you must ask for professional data recovery software. It is strongly recommended that the majority of computer users download and use DiskGenius, developed with powerful data recovery functions, which can easily restore recently deleted photos. The specific operation steps are as follows:
Step 1: Run DiskGenius, select the partition where the photos were before you deleted them, and then click the "File Recovery" icon in the toolbar above. DiskGenius will automatically pop up a small window, click "Start".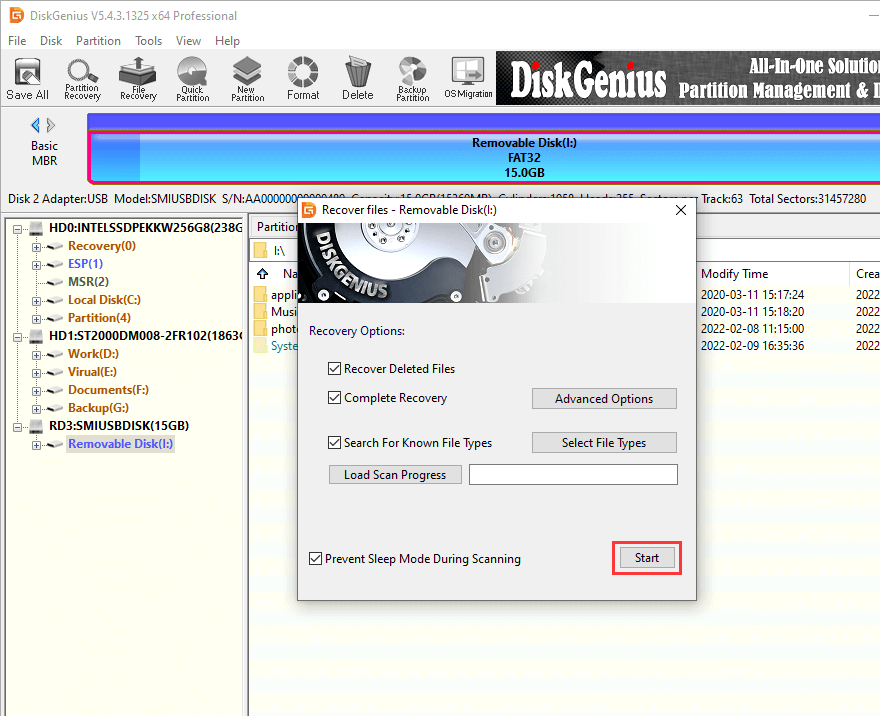 Step 2: DiskGenius starts to retrieve data immediately.
Step 3: After the scanning process, the window will close automatically. The scanned photos will be listed. You need to click to see if the photos can be previewed normally.
Step 4: Right click the photos to be restored and click "Copy To" to restore them.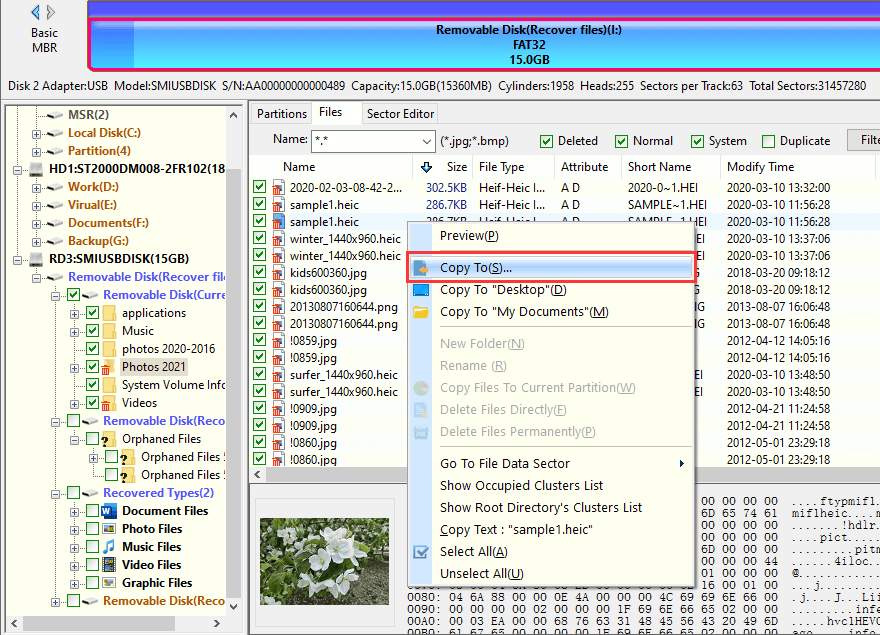 Part 3. Tips to Avoid Loss of Photos/Images/Pictures
While there are many ways to get your deleted photos back, consider the benefits of not losing them first. No recovery method is perfect, and despite your best efforts, deleted photos may still not be fully recovered. Taking some simple and common-sense precautions can help you avoid losing your photos.
1. Backup
The importance of regularly backing up your photos cannot be overstated. Whether you use native tools built into your operating system, third-party backup tools, or the Cloud, protecting your pictures by creating backup copies is an accepted best practice you should adopt. You might decide to backup weekly or monthly, and when you come back from an important event, you should consider duplicating your photos immediately. A backup should also be taken before upgrading the system or installing new software.
2. Create multiple partitions
Keeping your photos separate from other files is another way to protect them. You may already keep them in their own folders, but you can take this protection to another level by creating multiple partitions on your storage media. This reduces the chance of accidentally formatting a partition containing images. You can also use an extra partition to keep duplicate photos to prevent inadvertent deletion of files.
3. Don't write new photos where you lost your pictures
When encountering a photo loss situation, it is crucial to stop using the device containing the lost files. This is because when files are deleted or the disk is formatted, the data remains physically on the device until overwritten. If you write to the device, you risk overwriting or corrupting lost files before you have a chance to use data recovery software to get the deleted pictures back.
4. Automatically upload photos to the Cloud
Many mobile devices have the ability to instantly send your digital photos to the Cloud. This provides a backup of deleted photos that extends beyond your device, eliminating the need to manually copy data. Using this strategy eliminates the need to provide additional storage for backups, as you can easily add capacity through your Cloud provider. Services like Google Photos and iCloud make it easy to store your photos securely in the Cloud.
5. Think twice before deleting files
Human error is one of the most common reasons for lost photos. It's easy to press the wrong button or format an important partition. As mentioned earlier, creating multiple partitions may help reduce risk, but protecting your own data is really up to the individual. Think twice before pressing the delete key and make sure you really want to do it. Taking a few seconds to validate your work can save a lot of time recovering from mistakes.
To Sum Up
In short, don't worry if you accidentally delete photos, the chances of getting them back with the right method are still very high. But there is one thing that must be noted, it is best to stop reading and writing on the computer immediately after losing the photos, which can effectively prevent the lost data from being completely overwritten and never be retrieved, and improve the success rate of recovery. Finally, we hope everyone can get back their important photos.
Recommended content