Can photos be recovered after deleted?
Nowadays, more and more people store their photos in PC, which makes the storing space of PC become less and less. Therefore, people need to delete some photos which are not necessary to be stored in PC. During this process, users may delete some photos by mistake.
It is possible to recover deleted photos from PC by using photo recovery software as long as deleted photos haven't been overwritten. There are many data recovery programs in the market. A professional photo recovery program is necessary to recover deleted photos from PC. DiskGenius is a well-known and professional recovery program which has all-round functions and great data recovery results. This software has been downloaded for millions of times by users. In this software, different types of advanced functions are available, such as file recovery, RAW drive recovery, lost partition recovery, sector editing, encrypted partition recovery, Ext4 partition recovery, RAID recovery and so on. It can easily recover lost photos from different devices. In following, this article will introduce the method of recovering photos from PC.
How do I recover deleted photos from Windows 10 PC/laptop?
Step 1: Restore deleted photos from Recycle Bin.
Open Recycle Bin and find the photos that you want to recover. Then right click the mouse and choose "Restore" option. In this way, you can recover deleted files to their original positions. If deleted photos cannot be found in Recycle Bin or Recycle Bin has been emptied, please continue with the following steps.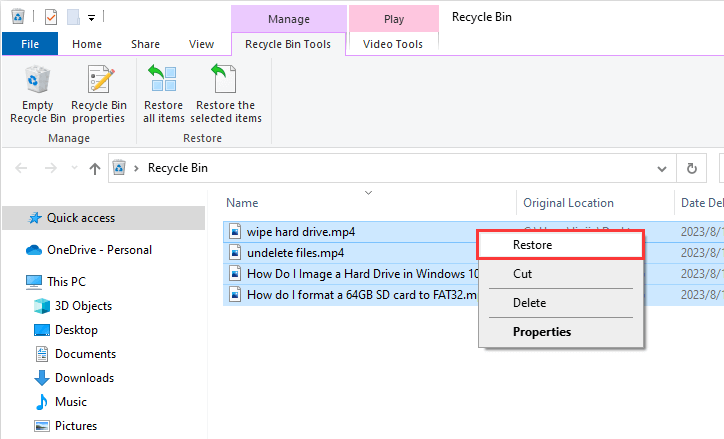 Step 2: Recover deleted photos from Backup.
There are various of methods to back up files. Therefore, different recovery methods will be adopted according to different way of data backup. If the deleted photos have not been backed up, recovery software is needed to recover deleted photos.
Step 3: Use photo recovery software to get back deleted photos.
1. Free download photo deleted recovery software DiskGenius and install it on a partition which does not need recovering data.
2. Run DiskGenius in computer and select the partition which has lost photos. And then click File Recovery button.
3. Click Start button, and the software will start the scanning of lost files.
Before clicking the Start button, select Recover Deleted Files. It is recommended to select Complete Recovery and Search For Known File Types options at the same time, which is helpful for the software to have a deep and complete scanning for lost data.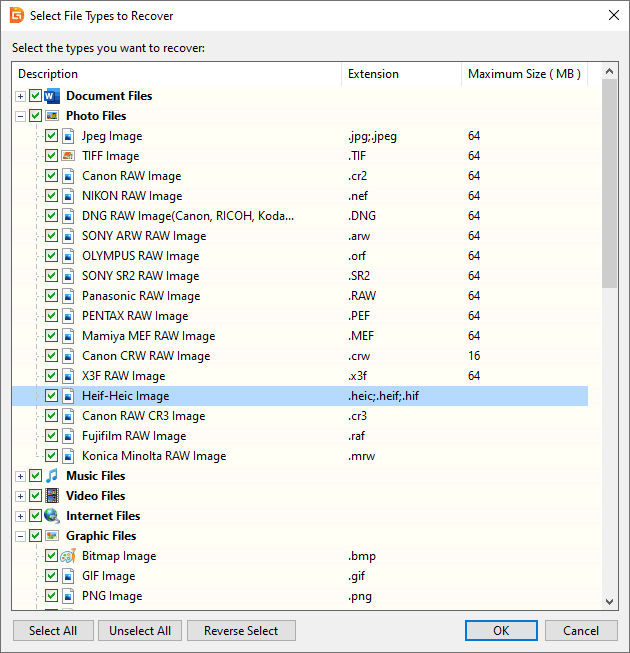 4. Preview files. After scanning is completed, lost files will be listed in the software. Find photos that you want to recover, and judge whether they can be recovered via previewing them. If photos can be opened normally, they can be recovered successfully. If not, the photos cannot be recovered as they might be damaged.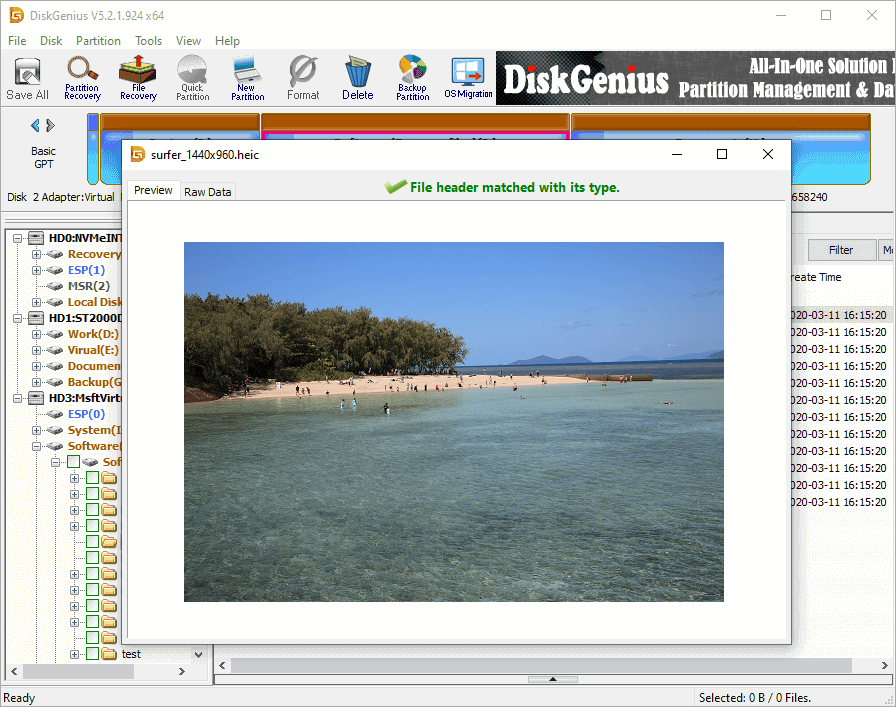 5. Copy the photos and finish the recovery.
Right-click photos you've selected, and then choose Copy To option. After this, deleted photos can be copied to a new position.
Things need to note
Some people may think that photos will disappear after being deleted for good. But it is not the fact. The deleting operation just changes the status of photos in FAT (or $MFT) and also hides the photos, which causes the false appearance that disk space that deleted files had occupied is released and available for storing other data. As a matter of fact, deleted photos still exist in the original position. However, if there is new data having been written in the space, deleted photos will be overwritten, which will make it hard or even impossible to recover deleted photos. That is why we always emphasize that don't do any reading or writing operations after noticing important photos are deleted by mistake.
Try best to avoid overwriting lost data after finding important files get lost. The reason why we need to pay attention to this has been mentioned in content above. This is the first and most important matter that you need to focus.
Do not recover lost data to the disk where data has been lost. If files are lost from desktop, we should not save files which need to recover to desktop when recovering data. This is similar to the first point. If we store them to desktop, lost data will be overwritten.
Power outages should not occur during operation. In data recovery process, in order to guarantee the completeness of data, we must avoid power outage or other abnormal things. Once this happened, the data will be damaged in some degree.
Choose professional recovery software to do data recovery. In current market, there are many types of recovery programs. The functions and features are different from each other. If we didn't choose a suitable software, it should cause bad effect to data which has been deleted by mistake. Maybe the unsuitable recovery software will damage the data during the recovery process.
Wrapping up
In order to avoid data losing, it is suggested to back up important data in time during using different devices. However, please do not worry if you deleted photos in PC by mistake although you haven't backup them. There is a strong possibility to get back photos as long as we use correct methods. I hope this article provides a little bit help about recovering photos from SD card, PC/laptop hard drive, and so on. Finally, hope everyone can successfully get back the photos correctly.
Related pages