Nowadays, laptop has become an indispensable part for people. It not only helps people improve efficiency at work, but also stores many important files which are related to individual privacy and development of the enterprise. However, when using laptop, we may meet different problems which affect the normal using. For example, it is unavoidable that users may delete some important files by mistake. Data losing leads to huge trouble for people. When facing this matter, what should we do to recover deleted files from laptop?
Where do deleted files go?
Before answering this question, let's learn about deleting operations on laptop. To deleted files in laptop, there are two methods:
1. Press "Delete" button to simply delete files. Through this operation, files will be moved to Recycle Bin. If you want to recover files which have been deleted, we only need to open the Recycle Bin and choose the files that you want to recover, and then right click the mouse. There will be a "Restore" option which can help you get back files.
2. Press "Shift" and "Delete" to permanently delete files. Files deleted by this way is regarded as permanently deleted from computer, as they won't be found in Recycle Bin.
As a matter of fact, files which are deleted by the second method can also be recovered from laptop, provided they are not deleted from SSDs or SMR hard drives. After we delete some files, files are really deleted from the device. When deleting files, the storage addresses of the files are simply removed from file system, which causes the device cannot find the route to deleted files. Therefore, the device itself will think that the files have been deleted and the space is released. But in fact, these files still exist in the original partition of the laptop.
However, if new files are stored into the partition where the deleted files existed, it will be very hard to recover deleted files as they might be overwritten. If there is no new file stored in the partition after deletion, there is big possibility for the deleted files to be recovered successfully. So, to make it easier to recover deleted files, all of the operations which are related to overwriting should be stopped. For example, users need to stop storing files to the partition which has lost data. Besides, users also should not access other data in the partition, because this operation will also cause overwritten to some extent. To undelete files from computer, professional recovery software is the best choice.
How can I recover permanently deleted files from my laptop in Windows 10?
DiskGenius is professional software for data recovery and disk partition management. It can recover data from computers, Recycle Bins, USB drives, hard drives, external hard drives, SD cards, cameras, voice recorders and other devices. This software provides the file recovery function which can deal with a variety of common problems about data losing, such as accidentally deletion, formatting, virus, RAW drive, partition missing, etc. This software has a unique intelligent data search algorithm. In this search algorithm, data can be finished scanning in very short time. During the searching process, data will be listed clearly. All files found by the software can be showed clearly to people. Download DiskGenius from the official website and install it. The you can start recovering deleted data from laptop/PC.
Step 1: Open the software and select the partition where files have been deleted by mistake. Then click File Recovery button.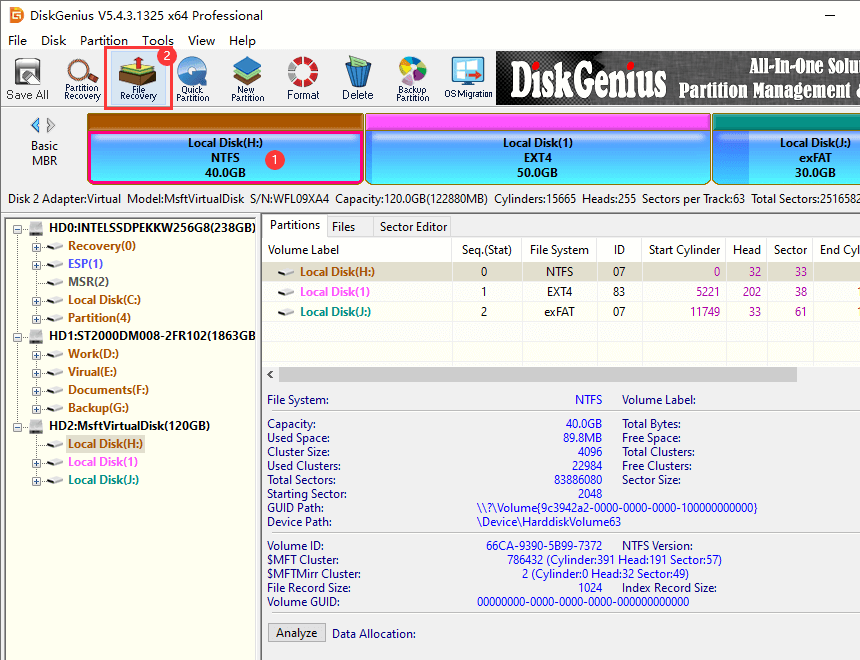 Step 2: Click Start button to start the scanning of the partition.
There are three options in DiskGenius. They are Recover Deleted Files, Complete Recovery and Search For Known File Types. Before starting scanning, it is suggested to select all of the three options so that the software can have a complete and deep scanning about the lost files.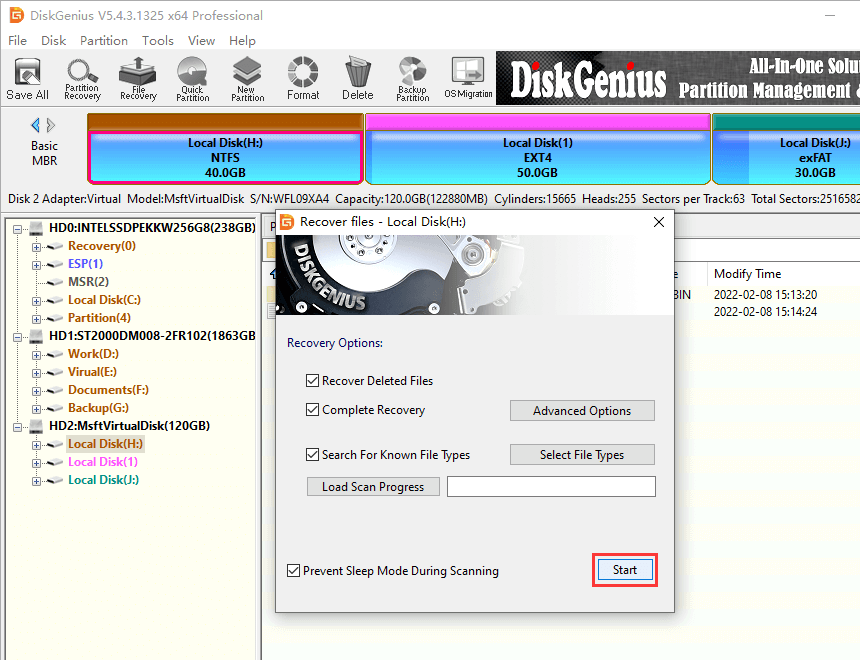 Step 3: Preview lost files and find out those that you need to recover.
If the files can be previewed normally, it means that these files can be recovered successfully. On the contrary, if the files cannot be view normally, which stands for the files have been damaged. For these files, they cannot be recovered by recovery software.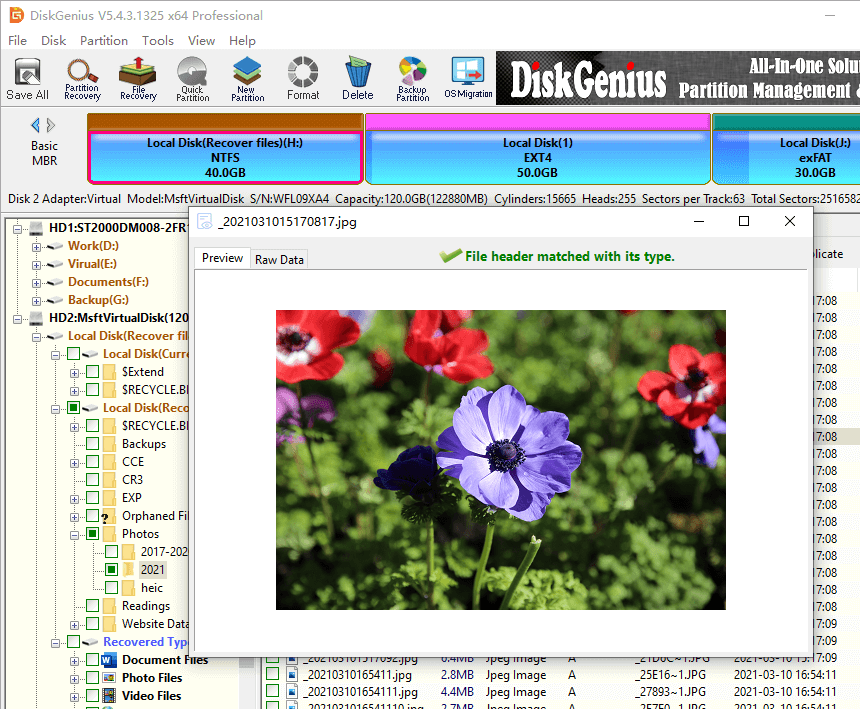 Step 4: Recover files. Select the files that you need and right click the mouse. Choose Copy To and copy the files to a new position.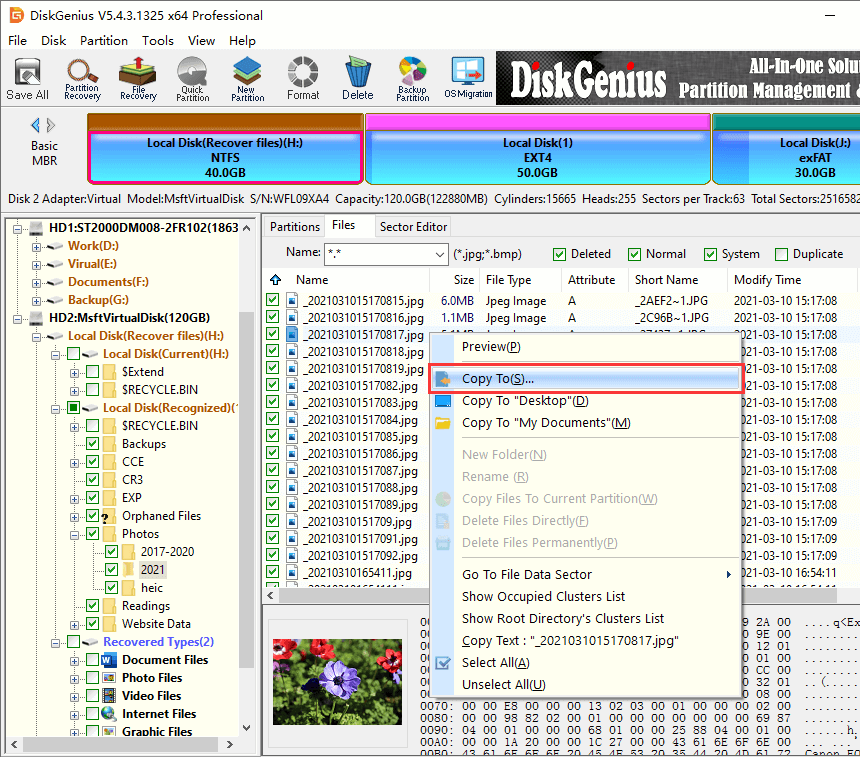 When recovering deleted data from laptop hard drive, there are several matters that need you to pay attention to:
When installing recovery software, please don't install it in the partition which has lost data.
When copying the files which are listed in scanning result, please don't copy them to the partition where files have been deleted by mistake.
During the process of recovery, please ensure the stable connection between devices. Power failure or other abnormal phenomenon will affect final recovery.
Conclusion
The above is the introduction about how to recover permanently deleted files from laptop in Windows 10/8/7. Hope this article can help all of you who are suffering the same data losing problem. Files that are deleted by mistakes are possible to be recovered in most cases, but the successful recovery requires that all of us to avoid data loss. More important, we should always take notice to keep our important files in safe. It is better to develop the habit to backing up important files in time, which will help us avoid the problem of losing important data. If we really meet the problems of losing data, it is not necessary to be scared as we can use DiskGenius to solve the problem.
Related topics