Can I recover deleted items after Recycle Bin has been emptied? Windows Recycle Bin takes a small portion of hard drive space to deal with deleted files, allowing users to restore deleted files before emptying the Recycle Bin. Can you recover deleted files if you use Shift + Delete to delete files or empty the Recycle Bin? Yes, deleted files are still recoverable in most situations if you use Recycle Bin recovery software. What is the best recovery software to recover files deleted from Recycle Bin on Windows 11/10/8/7?
Part 1: Top 6 Recycle Bin Data Recovery Software Free Download Full Version
There might be numerous tools that claim to support Recycle Bin file recovery on the Internet, and many are indeed effective at undeleting files. Here is a list of the best Recycle Bin recovery software, and you can free download one to start the recovery.
DiskGenius: Complete and professional data recovery and disk partition software. Data recovery covers features like undelete files, recover formatted partition, RAW partition recovery, lost partition recovery, recover data from unallocated disk space, etc. DiskGenius supports to perform file recovery and partition recovery for NTFS, exFAT, FAT32, EXT2, EXT3 and EXT4 drives and supports all types of storage devices like hard disks, external HDDs, memory cards, USB flash drives, virtual disks, Storage Spaces, RAID disks, dynamic disks, BitLocker drives, and more.
Eassos Recovery Free: A free data recovery tool with powerful features. It can recover a wide range of files including photos, documents, music, videos, archives from various data loss scenarios like accidental deletion, empty Recycle Bin, partition loss, RAW file system, formatted partition, unreadable/unformatted drive, virus attack, etc. The entire recovery is done through the wizard, making the task quite easy.
Glarysoft File Recovery Pro: It is an easy-to-use and functional application for FAT and NTFS drive recovery. It recovers deleted files from empty Recycle Bin as well as files lost due to virus, bug, system crash, formatting, etc. It offers solutions to recover data from hard drives, memory cards, flash memory, etc.
Recuva: It has the ability to recover any kinds of files deleted from computer hard drives, USB drives, MP3 players, memory cards. The recovery task does not involve any complicated steps, all you need to do is following the wizard. When the scanning is done, you will be presented with recoverable files. Moreover, the Deep Scan is provided to search for lost files.
Recover My Files: It enables you to look for deleted files and formatted drives on computer via several simple steps. The software guides you through the whole recovery process, for example, select drives to scan, view recovered data, select what to recover. With the software, you can recover graphics, documents, emails, archives, etc. The scanning is thorough and supports to scan external drives.
Windows File Recovery: It is a free command-line data recovery tool, and it can be obtained from Microsoft Store on computers with Windows 10 2020 update or higher versions. The file recovery supports FAT, exFAT and NTFS drives on HDDs, SSDs, external HDDs, flash drives, and USB drives. Since the tool does not have a GUI, it is not user-friendly to those who are not good at using command lines.
Next, we'll share 2 tutorials to demonstrate how to recover deleted files and folders with Recycle Bin recovery freeware and professional recovery software and 7 guides to recover deleted Recycle Bin files without using any recovery software.
Part 2: How Do I Recover Deleted Files and Folders with Free Software?
Normally, deleted files can be recovered even though they are on longer in the Recycle Bin on Windows 11/10/8/7. Paid data recovery software is available on the Internet, but it can be costly for some situations. For example, you may feel it is uneconomic to buy a program when you just want to recover several deleted files which are not too big. Alternatively, free Recycle Bin recovery software will be the best choice. It is available for Windows users and supports to recover deleted photos, documents, videos, music, emails, and other types of files. Here are steps to undelete files and folders with recovery freeware:
Step 1. Select a scanning mode in the light of actual data loss causes.
To recover files deleted from Recycle Bin, the "Recover Deleted Files" can be the first choice to try.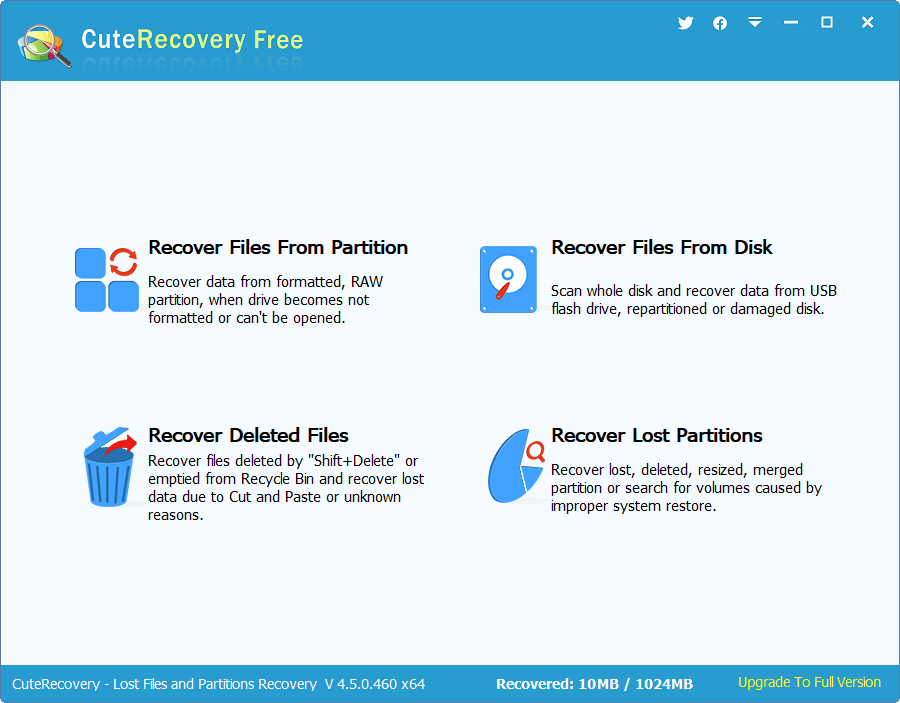 Step 2. Select the drive to scan.
Here you need to select the drive where deleted files were locate and click "Next" button. Then Eassos Recovery Free starts to scan the drive immediately.
You can pause or stop the scanning whenever you want to, and you can also preview files listed in the software to verify the possibility of successful recovery.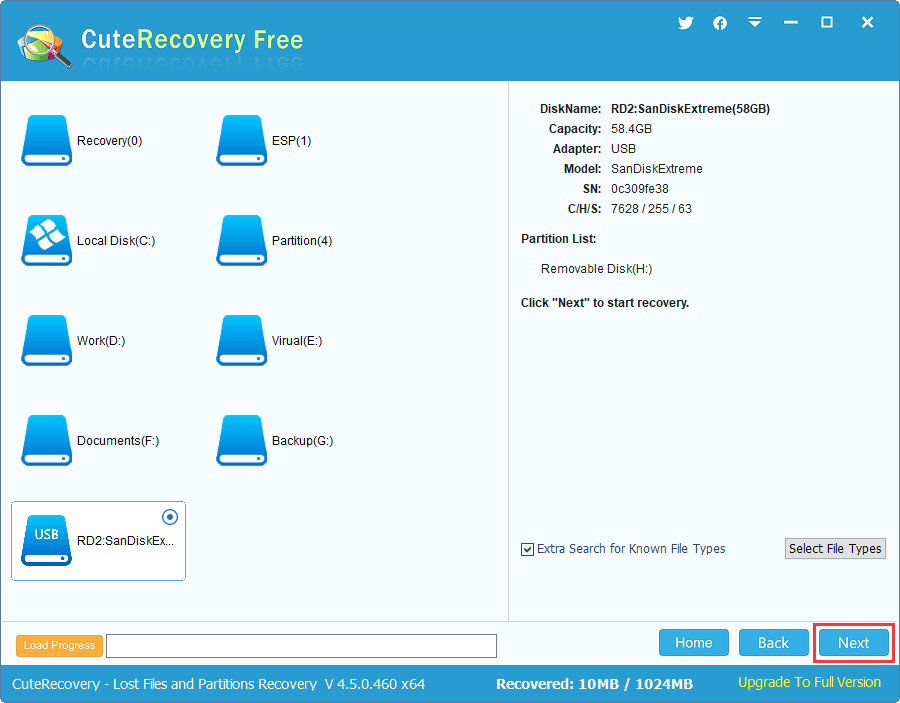 Step 3. Select files that you want to recover and click "Recover" button on the lower right corner. Then you will be asked to specify a location to store lost data.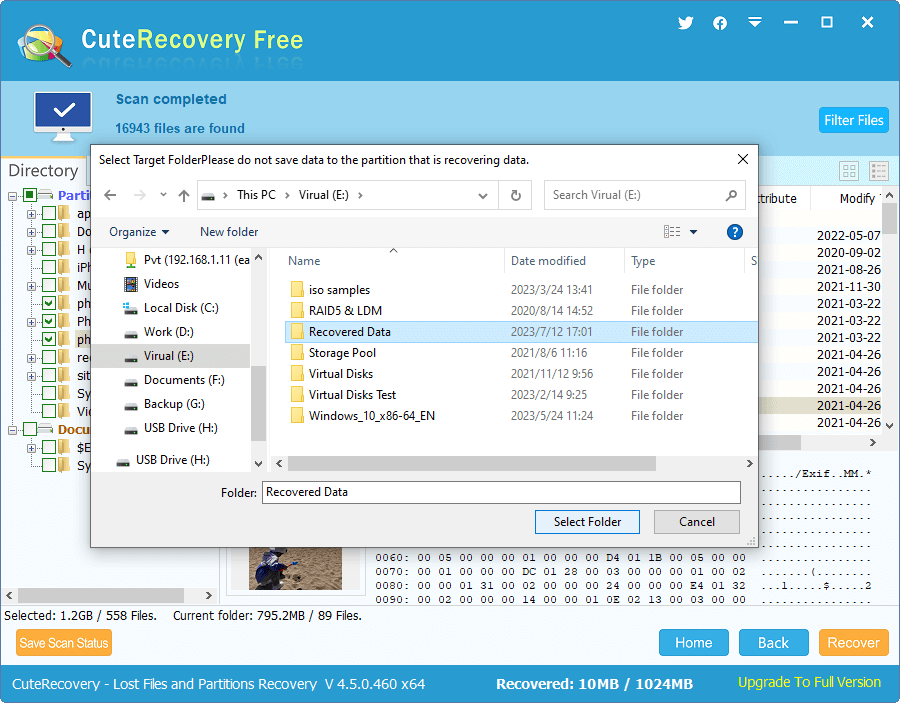 The free edition of Eassos Recovery allows you to output up to 1GB lost data. Despite the limitation, you can view all found files in the software by previewing them one by one. Thus, by using the free edition, you can fully evaluate the chances of successful recovery before upgrading to the Full Edition. You need to get a license code to upgrade to the Full Edition in order to output more recovered files.
Part 3: How to Undelete Files with Professional Recycle Bin Recovery Software?
We use DiskGenius Professional Edition to restore deleted files. If you have already bought a license key, make sure to register the software properly. If you haven't purchased one, you can start with the demo (unregistered) edition. With the unregistered edition, you can carry out tasks such as scan the drive to search for lost files, preview files found by the software, and copy small files. The only limitation on the unregistered edition is that it cannot copy large files. These activities enable you to explore the chances of successful recovery prior to buying a registration key. The registration can be done at any point except for the scanning process. The following tutorial illustrates how to recover deleted and lost files from an exFAT partition.
Step 1. Free download, install and launch DiskGenius on your computer, and then you can see all attached disks in the software.
Remainder: If you want to recover deleted files from system partition, say desktop, install DiskGenius on a non-system drive such as a USB disk to prevent data overwritten.
Step 2. Select the drive where lost files resided and click "Tools" > "Recover Lost Files" (or click "File Recovery" button from the toolbar).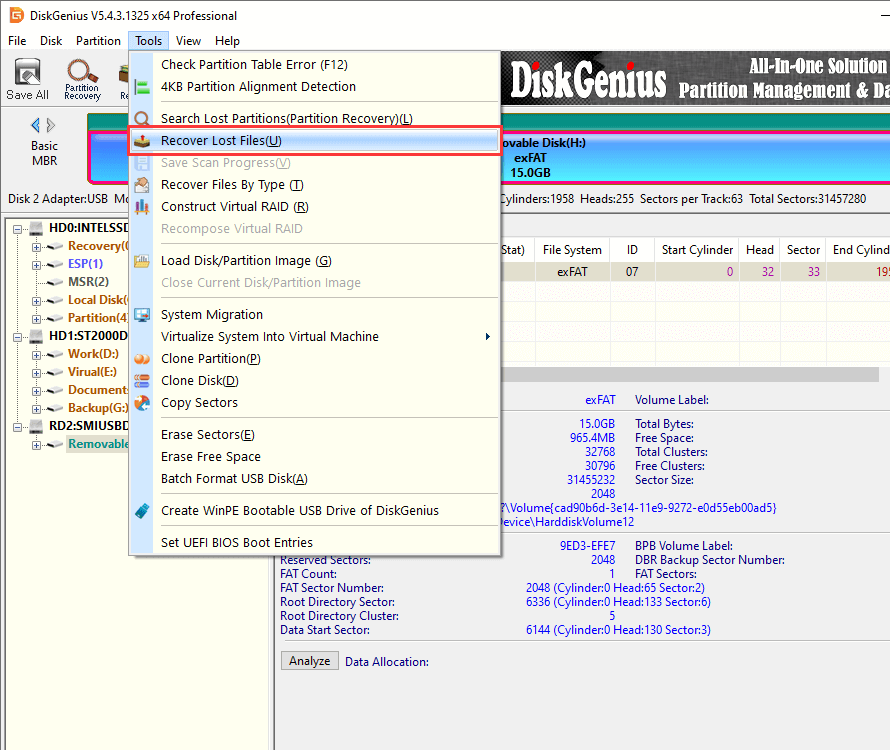 Step 3. Click "Start" button on the pop-up windows, and DiskGenius begins to search for lost files right away.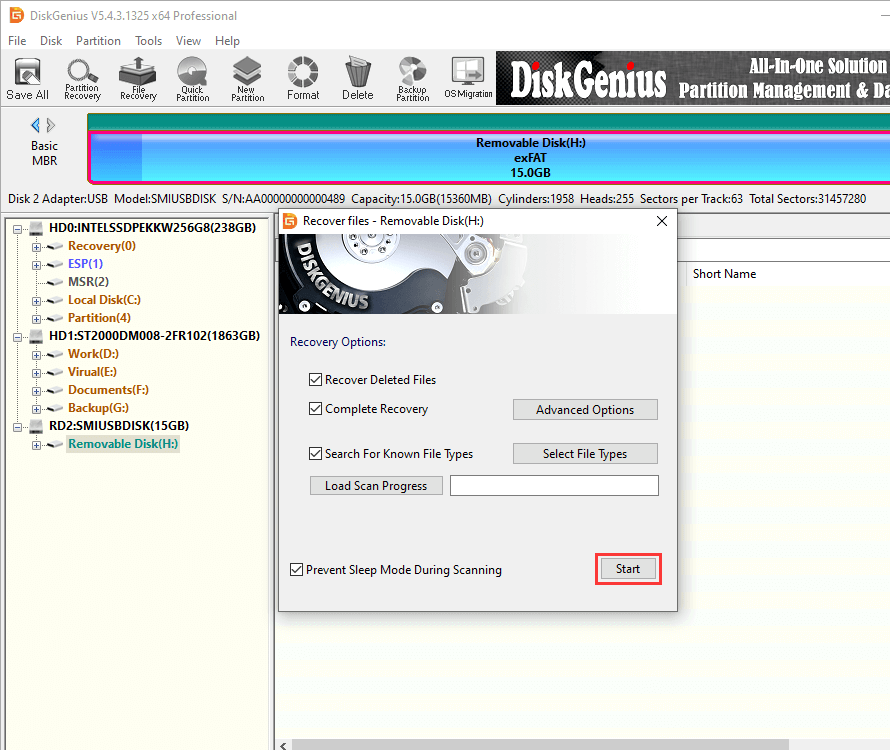 The file searching procedure may take a few minutes or even hours, which mainly relays on the capacity to be scanned, disk speed and disk health status. You can view found files while the scanning is in progress.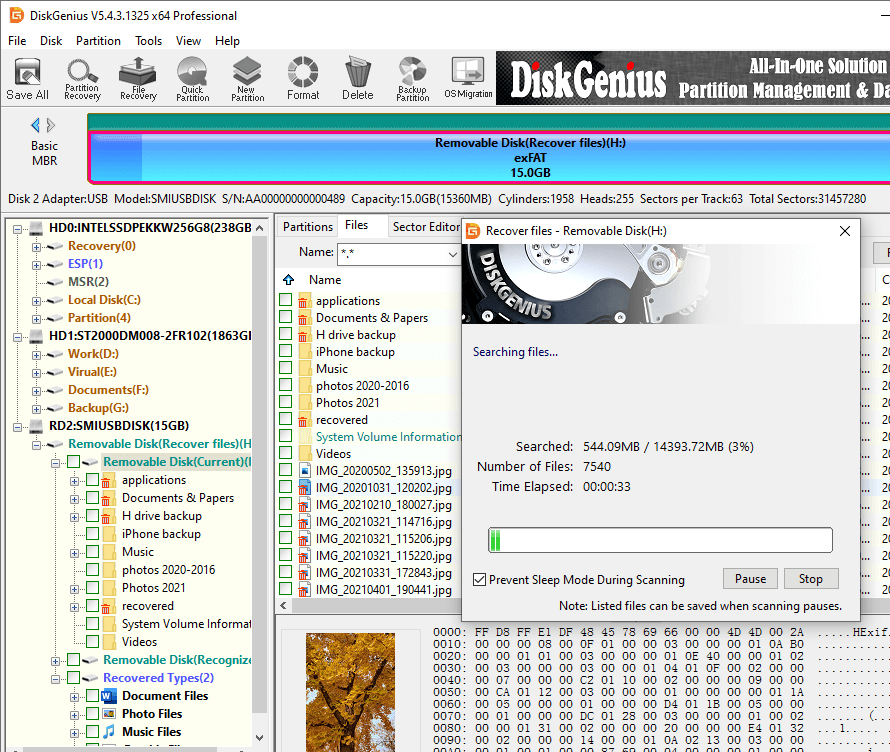 Step 5. Copy lost files to another partition or disk to get them recovered.
Do not store recovered files to the drive which is recovering data, otherwise you will overwrite them completely.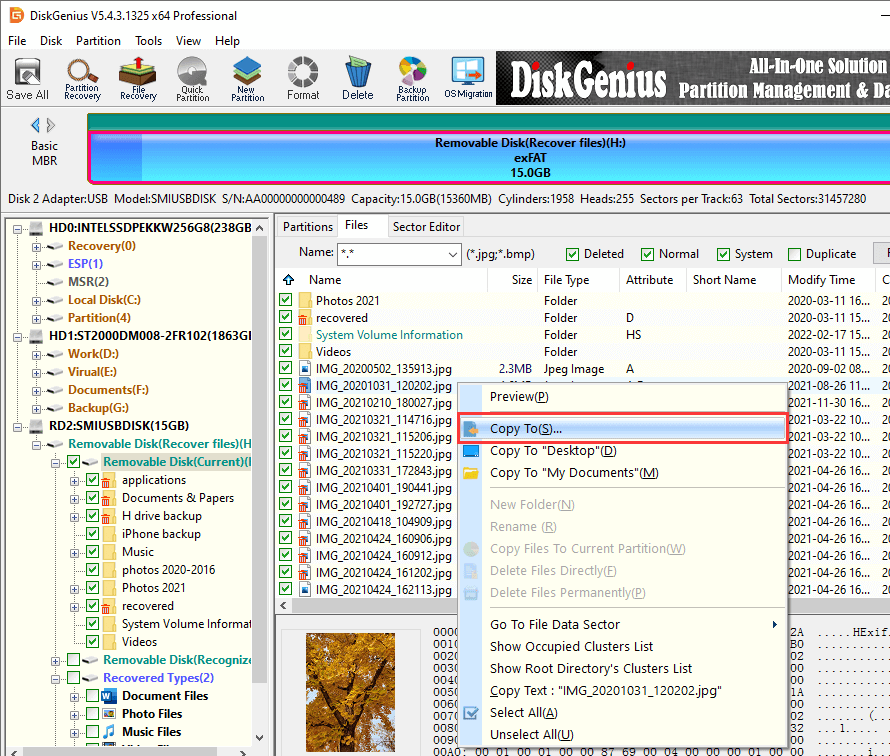 Part 4: How Can I Recover Permanently Deleted Files Without Recycle Bin Recovery Software? [7 Methods]
How can I recover files permanently deleted from Recycle Bin without software in Windows 11/10/8/7? Assuming you don't want to download and install any third-party software, you can try the following 7 methods. However, it should be noted that these methods do not guarantee the recovery quality. When these methods fail to recover your files successfully, it is time to use data recovery software to solve the problem.
Method #1: Search for Files in Windows File Explorer
It is possible that you did not delete any files when you fail to locate them their original paths. The reason behind this might be that you just moved these files to another folder or partition. In this case, you can easily find them by searching this PC.
Step 1. Double-click This PC to open File Explorer.
Step 2. Click the search box and enter the search items. You can search for files by file extension or names.
Step 3. Files found by the searching will be highlighted.
Method #2: Check Your Backups
One of the purposes of creating backups is to perform disaster recovery when you encounter data loss issue someday. The backup can be stored on your local hard drive or cloud drives such as Google Drive, Dropbox, etc.
Check your backups and try to restore lost files from backups. If you haven't created any backups, it is strongly recommended to start backing up files right now so that you can protect data against disaster with ease.
Method #3: Restore to a Previous Version with Windows File History
Way #1: Restore a Deleted File or Folder Within File Explorer
Step 1. In Windows File Explorer, locate the folder where the deleted file or folder were stored.
Step 2. Right-click the folder and choose "Restore previous versions".
Step 3. Select one folder version from the list and click "Restore" button.
Way #2: Restore a File or Folder to a Previous State Using Control Panel
Step 1. Type "restore your files" in the searching box and click "Restore your files with File History" in searching result.
Step 2. You will be presented with folders available for the recovery, click the left and right arrows to find the one you want to restore.
Step 3. Select what you want to restore and click the Restore button.
Method #4: Recover Deleted Files using Windows CMD
This file recovery method is performed via Command Prompt, which means you need to type command lines manually, and thus it is not suitable for users who are not skilled in using command lines.
Step 1. Launch Command Prompt as administrator.
Step 2. Type the following command and press Enter key.
drive letter : \ >attrib –h –r –s /s /d *.*
Method #5: Recover Lost Files by Ctrl +Z
Ctrl + Z combination is the shortcut to undo the last action, including file deletion. When you delete some files by mistake, you can undo the deletion to get back deleted files via Ctrl Z.
Step 1. Open the folder that contains deleted files.
Step 2. Right-click the blank space and choose "Undo Move".
Method #6: Use Windows File Recovery
Windows File Recovery is a command line app, and it can be downloaded and installed from Microsoft Store. It is currently available for Windows 10 2004 and above. It can help you recover deleted files from either local hard disk or USB drives. The point is that the entire recovery process requires you type commands correctly.
Step 1. Open Microsoft Store and search for "Windows File Recovery". Then click Get and wait for the downloading and installation to complete.
Step 2. Launch the tool and type the following command in Command Prompt and press Enter key.
winfr source-drive: destination-drive: [/mode] [/switches]
Method #7: Recover Files with Windows System Restore
If you are sure lost files are contained in one of the the previous system backups, you can perform system restore via these steps.
Step 1. Type "Create a restore point" in the searching box and then click "Create a restore point" from the searching result.
Step 2. Click "System Restore" button on the pop-up window.
Step 3. Follow steps in the wizard.
Part 5: Increase Success Rate of Recycle Bin File Recovery
Here are some dos and don'ts to help you increase the chances of successful file recovery:
Avoid using the drive: When files get deleted from hard drive, the disk space used by deleted files is marked as free and can be used to store other data. Deleted files remain recoverable before the disk space is taken by other data. Therefore, it is quite necessary to minimize or stop using the hard drive which needs data recovery.
Keep the hard drive in good physical condition: Protect the drive from any hardware damages.
Start file recovery as soon as possible: There are chances that Windows generates write actions to the drive, overwriting lost files. Hence, the sooner you start the recovery, the better recovery you get.
Conclusion
Although there are many ways that can help us recover permanently deleted files, such as Recycle Bin recovery software, backup, File History, cmd, ctrl + Z, etc., the best method to protect data against loss is backup. When backups are not available, the best solution is professional data recovery software which can perform a deep scanning and restore lost files with ease. Should you need any help or have questions regarding undeleting data, feel free to contact us via email.
FAQs on Recycle Bin Recovery
1. How can I recover permanently deleted files from Recycle Bin using CMD?
The "drive letter : \ >attrib –h –r –s /s /d *.*" command line is frequently used to recover deleted files when you do not want to use or install third-party software. Once the process is done, a new folder will be shown on the drive, and you can view recovered files there.
2. How can I recover permanently deleted files from recycling?
Here are some reliable methods you can try to recover permanently deleted files from Recycle Bin after empty:
Method 1: Restore data from Windows File History.
Method 2: Retrieve deleted files via previous version.
Method 3: Recover deleted data using Recycle Bin recovery software.
3. How do I recover Recycle Bin in Windows 10?
Follow steps below to get back lost/hidden Recycle Bin in Windows 10:
Step 1. Right-click the blank area of the desktop and choose "Personalization".
Step 2. Click Themes > Desktop icon settings.
Step 3. Select the "Recycle Bin" option and click Apply and OK.
4. How can I restore Recycle Bin for free?
There are several ways of restoring lost Recycle Bin files free of charge, for example, restore files via File History, use Recycle Bin recovery freeware full version, etc. For detailed tutorials, read this article: How to Recover Deleted Files from Recycle Bin in Windows 11/10/8/7?
5. Is data removed from the Recycle Bin permanently lost?
It depends on the storage device. If the drive is an SSD, files deleted from the Recycle Bin will be permanently lost and cannot be recovered, while for hard drives and other USB drives, deleted files are recoverable even though they seem to have been permanently deleted.
6. Where are files stored after deleted from Recycle Bin?
Where do deleted files go after Recycle Bin? All deleted files that have been deleted files Recycle Bin still store on hard drive being invisible. Although you cannot see them, that does not mean they do not exist. Deleted files remain recoverable until they are overwritten (the disk space is reused again).
More Guides: