If you have ever looked at your hard drive or solid-state drive in Windows disk manager and saw a partition described as "Health (recovery partition)", it is your recovery partition. Windows or your computer manufacturer put this partition there to restore the system to its original state in an emergency. However, if you already have a full backup image on an external drive, you may need to delete the recovery partition to save space.
Windows won't let you delete the recovery partition in Disk Management. When you try to right-click it, the option to delete the volume is grayed out. This restriction can be particularly annoying when you have a larger disk and you want to merge partitions. Whether you want to merge partitions or save some space, the following describes how to delete recovery partition in Windows.
What is recovery partition?
The recovery partition is a special section on the system hard drive that is reserved for system recovery purposes. Thanks to the recovery partition, the Windows operating system can restore itself to factory settings in the event of critical system problems, saving you from reinstalling the entire system.
In Windows 10, you can have a Windows recovery partition or a computer manufacturer's OEM factory recovery partition on your Windows disk.
The Windows Recovery Partition allows you to boot into the Windows Recovery Environment (WinRE) to recover your computer if something goes wrong. The OEM recovery partition allows you to press a specific key (usually F9 for HP and F12 for Dell) to restore your computer to factory default settings. This partition is usually around 12-18 GB, much larger than the Windows recovery partition.
Windows Recovery Environment, or WinRE for short, is a recovery environment that fixes common problems that prevent an operating system from starting.
Do I need recovery partition?
Although Windows considers the recovery partition very important, you can actually delete the recovery partition without any harm. While deleting the recovery partition may prevent you from using some of the built-in recovery features in all recent versions of the Windows operating system, there are many other ways to repair your computer, many of which are far less destructive than doing a full system recovery.
Important: Do create a full backup for Windows OS and the recovery partition in advance. Thus, you can restore computer to the working status once something unexpected occurs.
Method 1: Use diskpart command to delete the recovery partition
Windows' built-in disk management tool doesn't allow you to delete the recovery partition, but you can also use the command prompt to delete it, please follow the process below.
Step 1. Enter cmd in the search box and run Command Prompt as administrator.
Step 2. Enter the following commands in sequence and press Enter once after each line of commands to execute.
diskpart list volume (list all volumes on the selected disk)
select volume # (replace # with the number of the recovery partition)
delete volume
The command prompt is still too difficult for many computer users. Since the operation cannot be undone, it is easy to fail the operation task or delete the wrong partition due to improper operations. Therefore, we recommend you use more professional but simpler disk partition management software to delete the recovery partition!
Method 2: Use DiskGenius Free Edition to delete the recovery partition
Step 1. Select the partition you want to delete, click the "Delete" button on the toolbar, or right-click the partition and select "Delete Current Partition".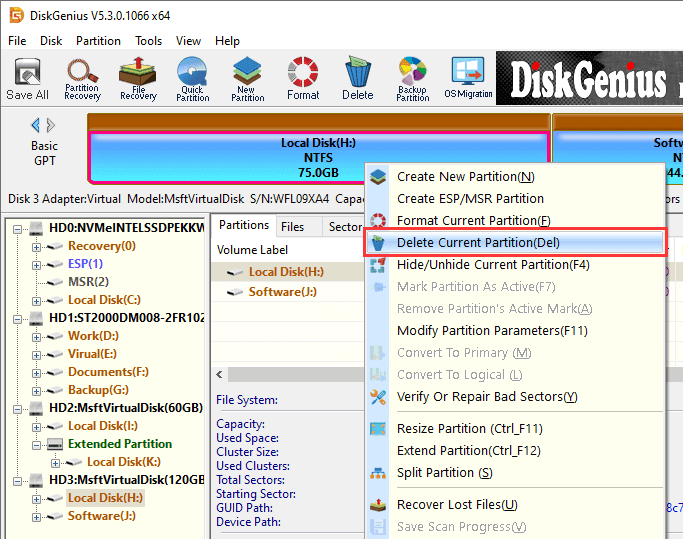 Step 2. Click the "Yes" button when the DiskGenius pop-up window asks for confirmation.

Step 3. Click the "Save All" button on the toolbar for the deletion to take effect.
Conclusion
If you are bothered by multiple Windows recovery partitions taking up a lot of free disk space and desperately want to delete the recovery partition to reclaim disk space, we recommend you to use DiskGenius, which is easier to operate than the command prompt and is easier to learn, the unallocated space created by deleting partitions, you can also use it to merge partitions or create new ones. In addition, DiskGenius also has various disk partition management functions, such as making a bootable USB drive, converting between NTFS and FAT32, expanding C disk, etc. Download it and try it now!
Related guides