Contents
Overview
The error code 0x80070005 is a general error code to Windows users. It occurs in fairly broad cases which involve system and app update as well as applications. Likewise 0x80004005, the error code 0x8007005 should not be ignored, otherwise the final result can be that apps become inaccessible and operating system slows down or even crashes. In this article we'll go through troubleshooting the problem with simple solutions.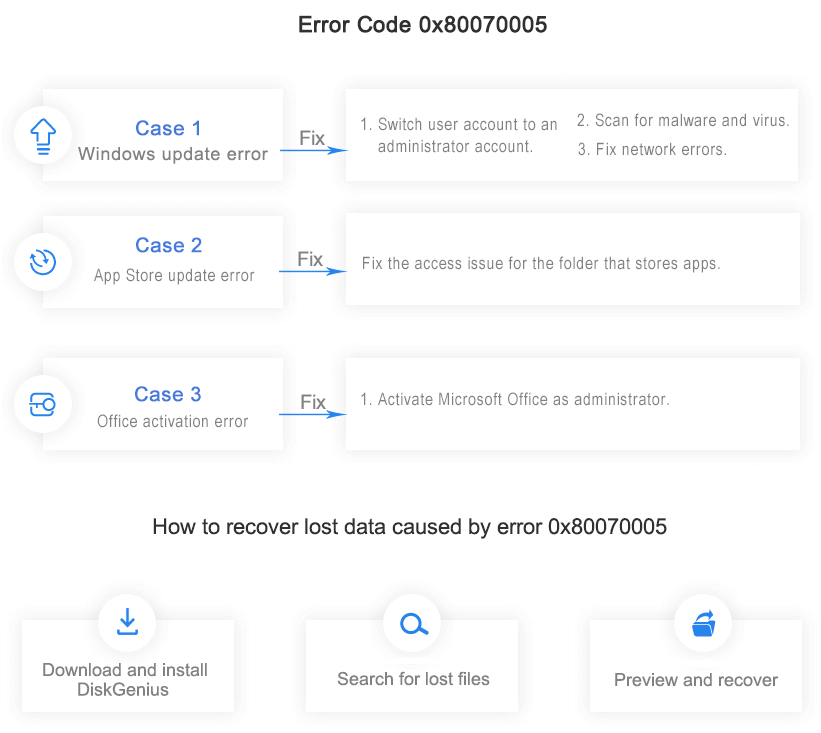 Case 1: Windows update Error 0x80070005
This is one rather common Windows update error and it usually appears when system updates. Windows update is an important task for your computer. By default, operating system is set to detect available updates automatically on a regular basis and then download and install updates on request. Alternatively, you can manually check possible updates and install them. Installation of Windows updates can protect computer from system vulnerabilities so that computer can work in secure status. Besides, the updating is able to update Microsoft software for instance Microsoft Office. The update process may fail to work smoothly when you try to install a certain update and you may get errors and the error code 0x80070005 is one of the most common issues.
The error code is also described as ACCESS DENIED and it usually appears when you lack of permissions of file or registry which are demanded when reinstalling updates. That's because file or registry permissions might have been modified by virus or malware. However, more often, the error covers a wide range of situations, making it hard to find out the exact reasons. Apart from circumstances mentioned in previous parts, the error may also happen when you try to activate Windows or connect to network. Despite of that, the causes of the error are almost the same, thus it's quite easy to deal with the problem.
Common causes of the error code
Error 0x80070005 occurs when you attempt to install system updates and you do not get the required permissions to do the operation. This is apparently on account of computer's security settings and policies. Supposing that you are logged in system as standard account instead of an administrator user or make inappropriate settings in the local group policy management utility , then you are far more likely to run into the problem when you try to install Windows updates or other applications.
This error also happens even though you are indeed logged in as an administrator user. For that matter, the possible causes relate to User Account Control, antivirus programs or configures in Local Security Policy. For example, if the error 0x80070005 occurs when you are trying to access a share folder built via network, then the possible cause will be the sharing and security settings of that shared folder.
In addition, malware on your PC can also become the reason, as malicious software or virus may block any actions. In that case, computer users should update antivirus software and remove malicious applications and infected data.
Resolution Advice
Method 1: Switch user account to an administrator account
An administrator is the user who is allowed to make changes on computer and changes will influence other users of the PC. Administrator account is able to configure security settings, manage software, hardware and all files on the computer and make changes to other users. Some administrator account is password protected, and in that case you need to know the password to log on the account.
Step 1 The easiest way is to restart computer and log in with administrator account. If you do not want to restart computer, then you can switch user account to administrator with following steps.
Step 2 Click "Start" button and choose "Control Panel" on which you can see the "User Account" option. Click and open it.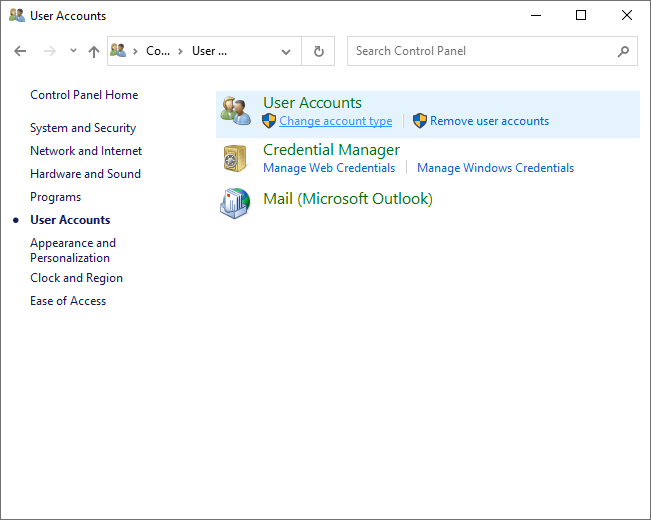 Step 3 You can see all user accounts on the User Accounts window, and then please select the one that represents your user account. Go ahead and click "Change the account type" and enter password if required.
Step 4 Then log out Windows and log back in once again, after which you'll have the same access rights to all operations as administrator account. Then you can try installing Windows updates now.
Method 2: Scan for malware and virus
If your computer has installed antivirus software, please make sure the software is always up to date. If you haven't had antivirus software installed on your computer, you can use Microsoft Safety Scanner which is freeware and can be used to scan system for computer viruses and malware. Though it's not full-featured software and can't provide real-time protection against virus, it can be used manually on a PC and scan computer which contains any potential infection.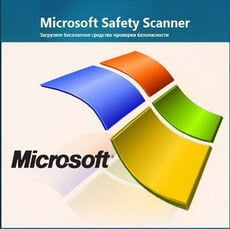 Step 1 Download Microsoft Safety Scanner from Microsoft website and get it installed on your computer following its installation instructions. Make sure you add a shortcut of Safety Scanner on desktop.
Step 2 Double-click the Safety Scanner shortcut icon on the desktop and get it started. Next click "Scan Type" and "Full Scan" in sequence and continue to click "Next".
Step 3 It starts scanning process and you need to wait for it to complete. This process may take some time and after the scan is done, you can remove all detected viruses or malware entries. Restart computer and try again to run Windows Update.
Method 3: Fix network Errors
As to the error code 0x80070005 which happens to shared network resource, you need to alter sharing permissions of the folder in question:
Step 1 Find the shared folder on your computer and right-click it to view its Properties.
Step 2 Click the Security tab and select "Add" and "Advance". Click "Find now" and wait for a while and then choose "Everyone".
Step 3 Click "OK" to confirm and "Apply" to get settings applied. Then close the window and the folder will be shared to everyone who is able to connect to your network.
Case 2: Update Windows app store and 0x80070005
As everyone knows Windows is one of the most popular operating systems and Windows system updates with version number in sequence such as Windows 8 released after Windows 7. Microsoft tries to add new feature and improve existing functions for users in order to provide better user experience. However, there are still some users complaining Windows system fails to meet their demands in some cases. And one of them is the error code 0x80070005 occurs in app store. This code comes across while using Windows Stores with messages: "Something happened and this app couldn't be installed. Please try again. Error code: 0x80070005"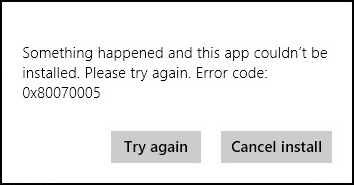 This error blocks app updates from Windows Store and it seems that the error associates with system update as same error happens in Windows Update. In fact, however, Windows Update service works smoothly on your computer when you encounter the issue in app store. Thus the most possible reason is that there is something wrong with accessing the folder that stores apps. How to fix the error?
Step 1 Launch Run box by pressing Windows key together with R key. Type C:\Users\ \AppData\Local in the searching box. Please replace with user account name and C with the drive that installs Windows.
Step 2 The Local folder will be opened and locate Packages folder by scrolling scrollbar with mouse. When you find the folder, please right-click it and select Properties.
Step 3 Give permission to everyone in the usernames as full control and click "Advanced" button. On the pop-up windows make sure that all users are given full control. If not, click Add.
Step 4 Now a new window pops up and click Select a Principal and enter Users in Select User or Group Box and click Check names. Then you can check Full control in Basic Permissions Section.
In the end, click OK and Apply to save changes and restart computer to make these changes take effect. When these operations complete, you'll be able to update any apps in Windows Store.
Case 3: Office activation error code 0x80070005
Have you ever come across the error code 0x80070005 when you attempt to activate Office 2013 or Office 365? Some users have trouble activating it successfully and get the error message "We're sorry, something went wrong and we can't go this for you right now. Please try again later. (0x80070005)".

This error may happen to all versions of Microsoft Office 360 and 2013 (Personal, Student, Pro, Home, and Business version). If you are among those who are facing this error, please follow steps below to solve the problem. In this section, we'll take Windows 8 as an example to explain steps of resolving the error code.
Method 1: Activate Office as administrator
Before we start, we need to close all running Office programs and documents and restart computer.
Step 1 Open the Start menu. You can press the "Windows" key from keyboard or just move mouse to the upper-right corner of screen to open the charm bar and click Search.
Step 2 Type program name such as "Word 2013" in the search box and you can see the application icon on the searching result.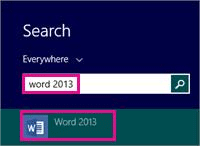 Step 3 Right-click the icon representing Word and choose Run as administrator. Then follow steps to activate Office.
These steps will enable you to activate MS Office successfully. If you still get the error, try steps in method 2.
Method 2: Repair Microsoft Office errors
Step 1 Open Control Panel. Press key combination Windows logo key and "R" to open Run window. Type the command "control" and press "Enter".
Step 2 Select Programs and click "Programs and Features" on next interface.
Step 3 Scroll mouse to look for Office and right-click it to select Change. Next choose "Quick Repair" and click "Repair" button.
When the repairing process completes, MS Office will be working without problem. If the issue still exists, you'll need to uninstall Office and install the program once again.
How to recover lost data caused by error 0x80070005?
The error code 0x80070005 talked in this article appears in various situations, and some users fail to handle it with correct solutions or just leave the problem unsolved. Still some users would like to try repartitioning hard drive or reinstalling system to fix the issue. But, not all users are familiar with system reinstallation and data loss happens all the time due to improper operations.
We recommend you the best and easiest solution to fix data loss issue, which is to employ secure and reliable hard drive data recovery software - DiskGenius. With DiskGenius, you are capable of restoring lost files or partitions via simple steps. The intuitive layout enables inexperienced users to install and working with this program without any difficulty.
Step 1 Install and launch DiskGenius. Select the drive that loses data and click File Recovery button.
Step 2 Select recovery options and click Start button to search for lost data from selected disk area.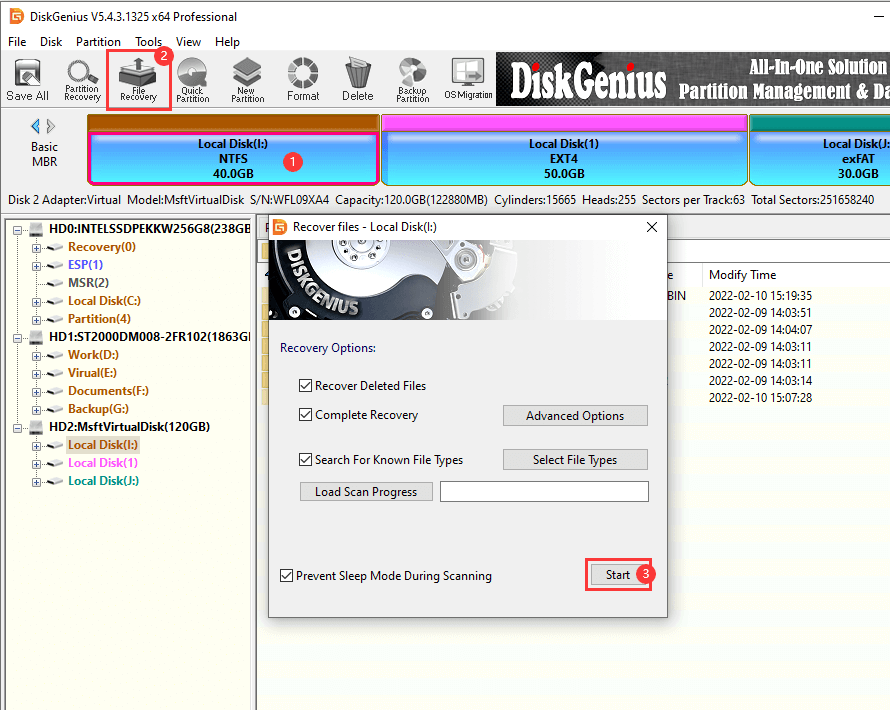 Step 3 When scanning pauses or stops, you can select desired files and save them to a specified location.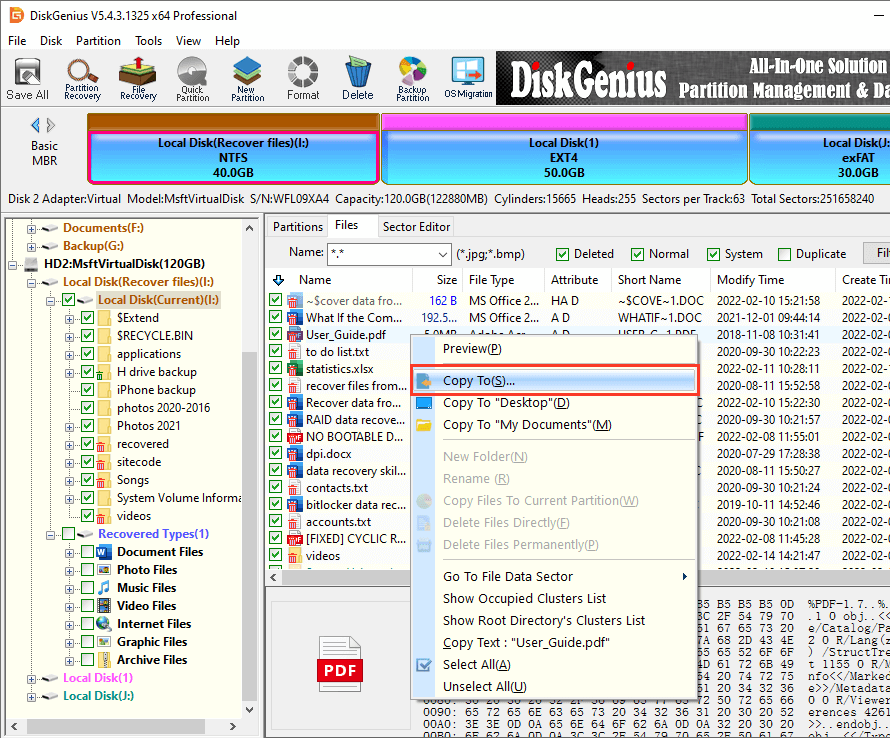 You can preview files listed by DiskGenius when scanning is in progress so as to check whether lost files can be recovered correctly.
You may also like