Cloning partition is the process that copies content of one partition on the disk to another partition without any data loss. The destination partition will be loaded with same data as the source partition. DiskGenius provides three ways of cloning partition:
Clone partition sector by sector: A sector-by-sector partition cloning ensures the destination partition is exactly the same as source partition, as it copies all sectors of source partition, including used sectors, blank sectors and bad sectors. The target partition should be equal in size to the partition being cloned.
Copy all valid sectors according to the layout of the file system: This partition cloning method copies all valid data of source partition to destination volume in line with the layout of data organization structure. The cloning process excludes invalid data but does not reorganize data. It is the fasted cloning method. The destination partition and source partition should be in the same size.
Clone partition by files: Copies all files from source partition to destination partition by analyzing data organizing structure. Files in destination partition will be reorganized and there won't be fragments. The cloning works as long as destination partition is able to hold files to be cloned in source partition.
Step 1. Select the partition you want to clone and click Tools -> Clone Partition.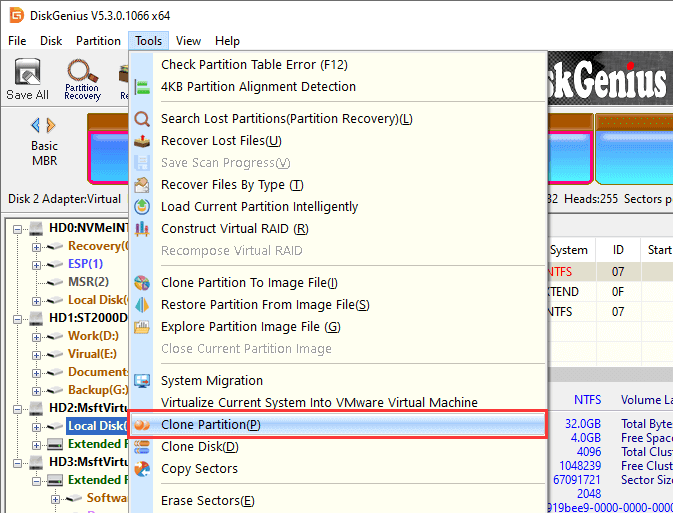 Step 2. Select destination partition and click OK.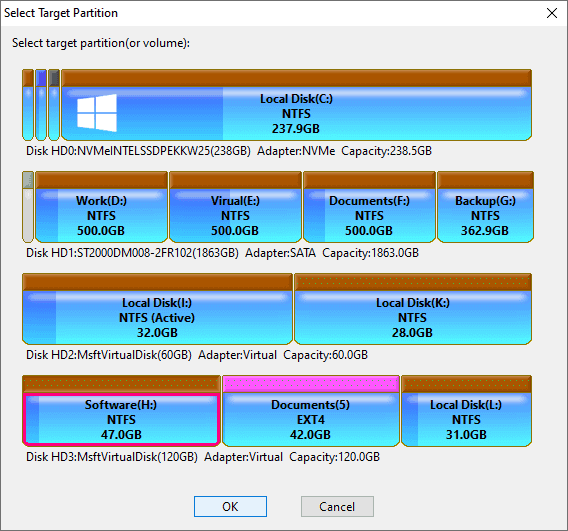 Step 3. Select cloning mode and click Start button.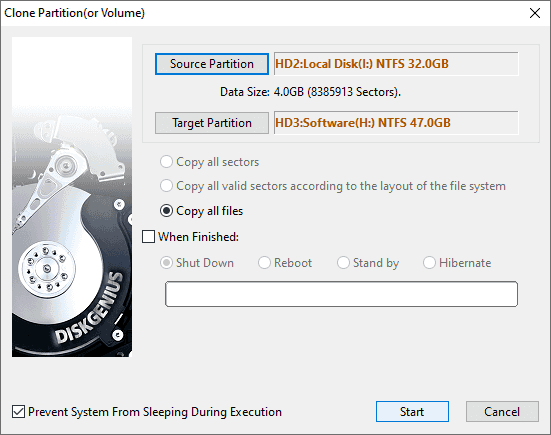 Step 4. Click OK to continue when you see following message box.
Note: the cloning process deletes all data of destination partition and writes data of source partition. Please make sure the destination partition does not contain important data.

Step 5. Choose the way to execute partition cloning task.

Step 6. DiskGenius is cloning partition and you should wait for the process to complete.